[Hyatt Only] ★Two-story,Okinawan Open Top Bus<3 Courses – Shuri Castle, American Village and Umikaji Terrace>~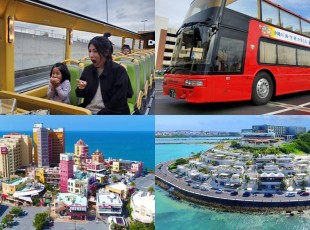 30% Discount Campaign

Answer a questionnaire after the tour in order to enjoy the discount
※Every Tuesday and Thursday are out of service.
The ONLY open-top bus in Okinawa !
-The sky is above you and popular sights are all around!
-Feels tthe wind and nature in your hair while getting a taste of Okinawa's cityscape, which is out of the norm!
-Visits locations such Shuri Castel, American Village and the seaside areas!
-Visit Kokusai street from a new perspective with us!
With 3 departures a day!
<1st trip to Shuri Castle>–

The centre of politic, diplomacy, and culture of the Ryukyu Kingdom which was identified as one of the UNESCO World Heritage

Tour wise- include the entrance ticket,  tourists are encouraged to visit the Castle and observe the reconstruction works
<2nd trip to American Village>–

Watch the scenery along the sea as you cruise the oceanside highway, the Okinawa West Coast Road while heading to American Village
<3rd trip to Umikaji Terrace>–

Enjoy shopping and dining with a beautiful view like Greek village

Famous to watch the planes as they take off and land and the sea dyed in the setting sun
Plan Details
Operating days

2023-07-01 〜 2023-12-31
※Every Tuesday and Thursday are out of service.

Venue

Okinawa main island

Time required

Between 140 and 180 minutes.

Number of passengers required

At least 5 people

age limit

0~

Reservation deadline

1 days 23 before
※Please contact us by phone after the deadline of booking application by e-mail or TEL:098-941-6828

Payment method
[Hyatt Only] ★30% discount★Course 1:Shuri Castle

Price

Adult(13 years old or above) &yen1,730
Child(4 to 12 years old &yen1,000
Infant(3 and below・with seat) &yen700
Infant(3 and below・No seat) &yen0

What is included

Bus fare, Shuri Castle entrance ticket

Schedule

09:20 Departure from Okinawa Prefectural Assembly
~Going through Road 58・Okinawa Prefectural Museum & Art Museum・Omoromachi T-Galleria~
↓
10:00 Arrival at Shuri Castle ~ Entrance ticket included(around 60 minutes.)~
↓
11:00 Departure from Shuri Castle
~Kokusai Street~
↓
11:40 Back at Okinawa Prefectural Assembly and dismiss

※Kokusai Street is blocked and changed to a pedestrian coexistence street which will be a priority road for people on Sundays, so the open-top bus will not pass through there.



What to bring

Please bring sunblock, a windbreaker jacket, a hat, a towel, drinks, etc. to prevent sunburn and heat stroke.

※If it is raining on the day, please prepare a your own towel.

Meeting place・Map

Okinawa Prefectural Assembly
[Map]



Meeting place・Time

09:20 Okinawa prefectural Assembly

Assembly point

Okinawa Prefectural Assembly at 09:20

Dissolution place

11:30 Okinawa Prefectural Assembly

Transportation Companies

CeruleanBlue

▼Schedule・Read the details▼
[Hyatt Only]★30% discount★ Course 2: American Village

Price

Adult(13 years old or above) &yen1,730
Child(4 to 12 years old) &yen1,000
Infant(3 and below・with seat) &yen700
Infant(3 and below・No seat) &yen0

What is included

Bus fare

Schedule

12:30 Departure from Okinawa Prefectural Assembly
~Going through Tomari Ohashi → West Coast Road→ American Village~
↓
13:40 Arrival at Chatan Tourist Information Centre
~ 60 minutes free-time at American Village~
↓
14:40 Departure from Chatan Tourist Information Centre
~Going through Kokusai Street~
↓
15:30 Back at Okinawa Prefectural Assembly and dismiss

※Kokusai Street is blocked and changed to a pedestrian coexistence street which will be a priority road for people on Sundays, so the open-top bus will not pass through there.

What to bring

Please bring sunblock, a windbreaker jacket, a hat, a towel, drinks, etc. to prevent sunburn and heat stroke.

※If it is raining on the day, please prepare a your own towel.


Meeting place・Map

Okinawa Prefectural Assembly
[Map]



Meeting place・Time

Okinawa Prefectural Assembly at 12:20

Assembly point

12:20 Okinawa Prefectural Assembly

Dissolution place

15:30 Okinawa Prefectural Assembly

Transportation Companies

CeruleanBlue

▼Schedule・Read the details▼
[Hyatt Only]★30% discount★ Course 3:Umikaji Terrace

Price

Adult(13 years old or above) &yen1,730
Child(4 to 12 years old) &yen1,000
Infant(3 and below・with seat) &yen700
Infant(3 and below・No seat) &yen0

What is included

Bus fare

Schedule

16:00 Departure from Okinawa prefectural Assembly
~Cellular Stadium・Naha Military Airport・By-Pass Road~
↓
16:30 Arrival at Umikaji Terrace
~Around 50 minutes free time for sighseeing・shopping~
↓
17:20 Departure from Umikaji Terrace
~Senaga island, Naha Airport, Kokusai Street~
↓
18:20 Back at Okinawa Prefectural Assembly and finish

※Kokusai Street is blocked and changed to a pedestrian coexistence street which will be a priority road for people on Sundays, so the open-top bus will not pass through there.

What to bring

Please bring sunblock, a windbreaker jacket, a hat, a towel, drinks, etc. to prevent sunburn and heat stroke.

※If it is raining on the day, please prepare a your own towel.


Meeting place・Map

Okinawa Prefectural Assembly
[Map]



Meeting place・Time

Okinawa Prefectural Assembly at 15:50

Assembly point

15:50 Okinawa Prefectural Assembly

Dissolution place

18:30 Okinawa Prefectural Assembly

Transportation Companies

CeruleanBlue

▼Schedule・Read the details▼
Precautions
Precautions

.※A minimum of 5 passengers are needed for the bus to operate. If the numbers do not reach, the tour will be cancelled. We will contact you 2 or 3 days before the tour.
※If there are special events on the sites or the open-top is booked for other events , the tour may get cancelled.
※The tour may be cancelled due to the weather and traffic conditions.
※The bus will be out of service every Tuesday and Thursday.

1. After the tour, please fill in a questionnaire. Otherwise, you may be asked for the price difference.
2. The seats on the bus are arranged in advance. You may be assigned to sit ath the back of the bus.
3. If you participate the tour alone, it may be someone you do not know to sit next to you.
4. Seats are only avaliable on the second floor.
5. Please bring sunblock cream, windbreaker jacket, hat, drinks, etc.
6. In the event of cancellation due to bad weather, we will refund to your credit card. Please note that the bank may take weeks to return the money back to your credit card and there may be a exchange difference in return.
7. Please DO NOT stand and touch anything outside the bus while the bus is moving.
8. The top of the bus will be closed due to the extremee weather condition. Sometimes, it will be opened under raining conditions.
9. If it is raining, we will provide you with a disposal raining coat.
10. If it is raining, we recommend you to bring your own towel.
11. You may get wet or become dirty because of rain, bird droppings.
12. Please keep an eye on your belongings under strong wind.
13. Please be aware when getting on and off the bus especially on rainy day.
14. Always protect yourself against sunburn and heat stroke.
15. Be seated when the bus is moving.
16. No eating and smoking on the bus. Please bring the drink which has a cup lip.
17. Umbrella is not allowed to be used on the bus.
18. The time or schedule of the tour may subject to be changed due to the traffic conditions.
19.Please note that you will not be able to get on or off the bus at the location other than the scheduled points.
20. We are not responsible if you are late for a scheduled event after this tour because of traffic jams or other delays, which may occur. If you are flying after the tour, please plan accordingly and give yourself at least two hours time before departure time of the plane.
21. We will call you in the case of cancellation due to bad weather. Please provide us with either a mobile phone number by which we may contact you or the name of the hotel you will be staying at the day before your scheduled tour.
22. Please read the terms and conditions before applying for the tour.


Cancellation policy

If for any reason, the customer cancels his or her reservations, he or she will have to pay the following cancellation fees. Furthermore, please keep in mind that any bank transfer fees will be the customer's responsibility.
Cancellation 8-10 days before reservation date・・・20% of the original price
Cancellation 2-7 days before the reservation date・・・30% of the original price
Day before the reservation date・・・50% of the original price
On the reservation date・・・100% of the original price