【Entry from Onna Beach】Blue cave Snorkeling for beginners!¥3,000~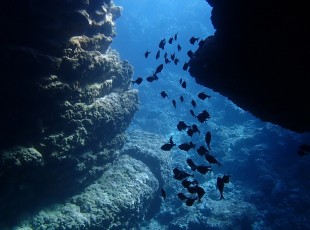 Snorkeling or diving tour for beginners at the famous Okinawan blue cave!!
The light of the sun goes through the surface of the sea and its reflected on the ryukyuan limestone, illuminating the caves with an unique bright blue colour, creating an amazing and otherwordly atmosphere.
Recommended for those who do not want to ride a boat and those on a low budget looking for a cheap snorkeling or diving tour.
This snorkeling point is easy and available for beginners and children too.
*Please be aware that the beach point entry is about one hundred steps away from cape Maeda. We recommend to take the boat tour for those who are not used to such hikes.

Waterproof camera rental available (SD card included) ¥3,000

Shower, changing room, parking lot and  toilet are also available!

Tropical fish feeding experience also included!!
Plan Details
Operating days

2020-05-08 〜
All year round

Venue

Blue cave at Onna

Time required

Approximately 2~3 hours


Number of passengers required

From 1 person ( 2 persons for pickup service)

Participation age

From 6 (snorkeling) or from 10 (diving) to 60 years old.

Reservation deadline

2 days 12 before
For any inquiries after the WEB reservation deadline, Please contact us at
TEL: +81-98-941-6828 (8:00~21:00)

Payment method
Blue cave snorkeling 10:00 Departure

Price

Beach Entry Snokeling (age 6-69) &yen3,000
Beach Entry Experience diving (10-59 years old) &yen8,700

What is included

Wet suit, All equipment, Guide fee, Insurance.

Schedule

【(Beach Entry) Blue cave Snorkeling tour】

EX)
9:30 Marine Club UMI gather
  ↓
Reciep, Gear checking, short instruction
  ↓
Move to snorkeling point of Beach Entry (Maeda cape)
  ↓
At the point, mover along the stairs
  ↓
Snorkeling tour (about 4~50min)
  ↓
Back to the shop, take a shower, dismiss

What to bring

Please arrange your own swimsuit wear, bath towel, sunscreen and shoes.

Price note

*Waterproof camera rental (Including SD card) ¥3000

Meeting place・Time

Before 30min of Departure time

Parking lot

Assembly point

Marine Club UMI (沖縄県国頭郡恩納村山田2668-1)
https://goo.gl/maps/FMjTawHnkKB2
*In case of Pickup service, we will announce the exact pick up time after reservation.

Dissolution place

Marine Club UMI

Transportation Companies

▼Schedule・Read the details▼
Blue cave snorkeling 11:00 Departure

Price

Beach Entry Snokeling (age 6-69) &yen3,000
Beach Entry Experience diving &yen8,700

What is included

Wet suit, All equipment, Guide fee, Insurance.

Schedule

【(Beach Entry) Blue cave Snorkeling tour】

EX)
9:30 Marine Club UMI gather
  ↓
Reciep, Gear checking, short instruction
  ↓
Move to snorkeling point of Beach Entry (Maeda cape)
  ↓
At the point, mover along the stairs
  ↓
Snorkeling tour (about 4~50min)
  ↓
Back to the shop, take a shower, dismiss

What to bring

Please arrange your own swimsuit wear, bath towel, sunscreen and shoes.

Price note

*Waterproof camera rental (Including SD card) ¥3000

Meeting place・Time

Before 30min of Departure time

Parking lot

Assembly point

Marine Club UMI (沖縄県国頭郡恩納村山田2668-1)
https://goo.gl/maps/FMjTawHnkKB2
*In case of Pickup service, we will announce the exact pick up time after reservation.

Dissolution place

Marine Club UMI

Transportation Companies

▼Schedule・Read the details▼
Blue cave snorkeling 12:00 Departure

Price

Beach Entry Snokeling (age 6-69) &yen3,000
Beach Entry Experience diving &yen8,700

What is included

Wet suit, All equipment, Guide fee, Insurance.

Schedule

【(Beach Entry) Blue cave Snorkeling tour】

EX)
11:30 Marine Club UMI gather
  ↓
Reciep, Gear checking, short instruction
  ↓
Move to snorkeling point of Beach Entry (Maeda cape)
  ↓
At the point, mover along the stairs
  ↓
Snorkeling tour (about 4~50min)
  ↓
Back to the shop, take a shower, dismiss

What to bring

Please arrange your own swimsuit wear, bath towel, sunscreen and shoes.

Price note

*Waterproof camera rental (Including SD card) ¥3000

Meeting place・Time

Before 30min of Departure time

Parking lot

Assembly point

Marine Club UMI (沖縄県国頭郡恩納村山田2668-1)
https://goo.gl/maps/FMjTawHnkKB2
*In case of Pickup service, we will announce the exact pick up time after reservation.

Dissolution place

Marine Club UMI

Transportation Companies

▼Schedule・Read the details▼
Blue cave snorkeling 13:00 Departure

Price

Beach Entry Snokeling (age 6-69) &yen3,000
Beach Entry Experience diving &yen8,700

What is included

Wet suit, All equipment, Guide fee, Insurance.

Schedule

【(Beach Entry) Blue cave Snorkeling tour】

EX)
12:30 Marine Club UMI gather
  ↓
Reciep, Gear checking, short instruction
  ↓
Move to snorkeling point of Beach Entry (Maeda cape)
  ↓
At the point, mover along the stairs
  ↓
Snorkeling tour (about 4~50min)
  ↓
Back to the shop, take a shower, dismiss

What to bring

Please arrange your own swimsuit wear, bath towel, sunscreen and shoes.

Price note

*Waterproof camera rental (Including SD card) ¥3000

Meeting place・Time

Before 30min of Departure time

Parking lot

Assembly point

Marine Club UMI (沖縄県国頭郡恩納村山田2668-1)
https://goo.gl/maps/FMjTawHnkKB2
*In case of Pickup service, we will announce the exact pick up time after reservation.

Dissolution place

Marine Club UMI

Transportation Companies

▼Schedule・Read the details▼
Blue cave snorkeling 14:00 Departure

Price

Beach Entry Snokeling (age 6-69) &yen3,000
Beach Entry Experience diving &yen8,700

What is included

Wet suit, All equipment, Guide fee, Insurance.

Schedule

【(Beach Entry) Blue cave Snorkeling tour】

EX)
13:30 Marine Club UMI gather
  ↓
Reciep, Gear checking, short instruction
  ↓
Move to snorkeling point of Beach Entry (Maeda cape)
  ↓
At the point, mover along the stairs
  ↓
Snorkeling tour (about 4~50min)
  ↓
Back to the shop, take a shower, dismiss

What to bring

Please arrange your own swimsuit wear, bath towel, sunscreen and shoes.

Price note

*Waterproof camera rental (Including SD card) ¥3000

Meeting place・Time

Before 30min of Departure time

Parking lot

Assembly point

Marine Club UMI (沖縄県国頭郡恩納村山田2668-1)
https://goo.gl/maps/FMjTawHnkKB2
*In case of Pickup service, we will announce the exact pick up time after reservation.

Dissolution place

Marine Club UMI

Transportation Companies

▼Schedule・Read the details▼
Precautions
Precautions

*Pickup & Drop off service avilable (Naha only).
Please check availability with us for the pickup service at other places outside Naha.
*Departure time is usually 15:00, please contact us if you wish to participate in this tour at a different time.
*Please pay in advance and make the reservation beforehand.
*Snorkeling tour is only available for 5-59 years old. Scuba diving tour is only available for 10-59 years old.
※Medical certification is required for those over 60 years old wishing to participate in this tour.
*Tour not available for expecting mothers.
*Please arrange your own swimsuit wear, bath towel, sunscreen and shoes.
*At the time of your application, please provide us with a mobile phone number (Japanese number), age, height, weight, foot size, eyesight and the hotel's name of all participating persons.
*Persons which the following conditions will not be able to participate in this activity: Circulatory system or respiratory system diseases, high blood pressure, otitis media, pregnancy, epilepsy, diabetes, liver failure, hangover or under the influence of alcohol. In addition, accordingly to your health condition on the day of the activity, you might not be able to join us.
*Please be aware that, due to medical reasson, participants in this tour will not be able to take a flight on the same day they are participating in this tour.
*We higlhy recommend the use of disposable lenses over regular ones due to the high probability of loosing them over the course of the tour.
*If the waves are calm, it is still possible to do snorkeling even in the event of rain.
*Depending on the sea conditions, the tour may be cancelled due to bad weather. In that event, you may choose another date to participate in the tour or receive a full refund.

Cancellation policy

If for any reason, the customer cancels his or her reservations, he or she will have to pay the following cancellation fees. Furthermore, please keep in mind that any bank transfer fees will be the customer's responsibility.
Cancellation 8-10 days before reservation date・・・20% of the original price
Cancellation 2-7 days before the reservation date・・・30% of the original price
Day before the reservation date・・・50% of the original price
On the reservation date・・・100% of the original price