[Departure from Onna village] Free diving at the blue cave!!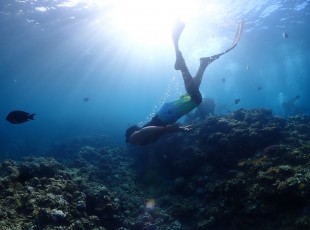 One of the most famous diving spots in Okinawa, the blue cave in Onnason!
This tour is specially designed for those who feel like snorkeling is not enough for them and want to dive freely at the blue caves!!
The light of the sun goes through the surface of the sea and its reflected on the ryukyuan limestone, illuminating the caves with an unique bright blue colour, creating an amazing and otherwordly atmosphere.
Without the hassle of the diving equipment, have fun on this free diving tour!
Shower, changing room, locker, parking lot and toilets available!
*Free underwater camera rental available (Micro SD card sold separately, ¥1,500)
Plan Details
Operating days


All year round

Venue

Blue cave at Onnason

Time required

Approximately 2.5 hours


Number of passengers required

One person minimum ( 2 for the pickup service)

Participation age

From 10 to 59 years old.

Pick-up guide

Pickup service available for Naha city.

Reservation deadline

3 days 12 before
Please contact us for any inquiries or reservations after the website deadline:
TEL 098-941-6828(8:00~21:00)

Payment method
Free diving at Onna blue cave - 8:00 AM

Price

From 10 to 59 years old. &yen8,500
From 10 to 59 years old. (Pickup included) &yen11,000

What is included

Wetsuit, equipment, guidance fee and insurance.

Schedule

8:00 Meeting at Marine station
  ↓
9:00 Preparations, briefing and departure.
  ↓
Free diving (40 to 50 minutes)
  ↓
Back at the boat
  ↓
10:00 aprox. Shower, changing clothes and departure to Naha.

What to bring

Please wear your swimsuit before you come and prepare beach towels and suitable shoes.
Do not bring heavy or big objects with you.

Meeting place・Time

8:00 AM

Parking lot

Free parking lot available.

Assembly point

Marine Station Okinawa, Maekaneku 9, Onna.

Dissolution place

Marine Station Okinawa, Maekaneku 9, Onna.

Transportation Companies

▼Schedule・Read the details▼
Free diving at Onna blue cave - 10:00 AM

Price

From 10 to 59 years old. &yen8,500
From 10 to 59 years old. (Pickup included) &yen11,000

What is included

Wetsuit, equipment, guidance fee and insurance.

Schedule

10:00 Meeting at Marine station
  ↓
11:00 Preparations, briefing and departure.
  ↓
Free diving (40 to 50 minutes)
  ↓
Back at the boat
  ↓
12:00 aprox. Shower, changing clothes and departure to Naha.

What to bring

Please wear your swimsuit before you come and prepare beach towels and suitable shoes.
Do not bring heavy or big objects with you.

Meeting place・Time

10:00 AM

Parking lot

Free parking lot available.

Assembly point

Marine Station Okinawa, Maekaneku 9, Onna.

Dissolution place

Marine Station Okinawa, Maekaneku 9, Onna.

Transportation Companies

▼Schedule・Read the details▼
Free diving at Onna blue cave - 12:30 PM

Price

From 10 to 59 years old. &yen8,500
From 10 to 59 years old. (Pickup included) &yen11,000

What is included

Wetsuit, equipment, guidance fee and insurance.

Schedule

12:30 Meeting at Marine station
  ↓
13:30 Preparations, briefing and departure.
  ↓
Free diving (40 to 50 minutes)
  ↓
Back at the boat
  ↓
14:30 aprox. Shower, changing clothes and departure to Naha.

What to bring

Please wear your swimsuit before you come and prepare beach towels and suitable shoes.
Do not bring heavy or big objects with you.

Meeting place・Time

12:30 PM

Parking lot

Free parking lot available.

Assembly point

Marine Station Okinawa, Maekaneku 9, Onna.

Dissolution place

Marine Station Okinawa, Maekaneku 9, Onna.

Transportation Companies

▼Schedule・Read the details▼
Free diving at Onna blue cave - 14:30 PM

Price

From 10 to 59 years old. &yen8,500
From 10 to 59 years old. (Pickup included) &yen11,000

What is included

Wetsuit, equipment, guidance fee and insurance.

Schedule

14:30 Meeting at Marine station
  ↓
15:30 Preparations, briefing and departure.
  ↓
Free diving (40 to 50 minutes)
  ↓
Back at the boat
  ↓
16:30 aprox. Shower, changing clothes and departure to Naha.

What to bring

Please wear your swimsuit before you come and prepare beach towels and suitable shoes.
Do not bring heavy or big objects with you.

Meeting place・Time

14:30 PM

Parking lot

Free parking lot available.

Assembly point

Marine Station Okinawa, Maekaneku 9, Onna.

Dissolution place

Marine Station Okinawa, Maekaneku 9, Onna.

Transportation Companies

▼Schedule・Read the details▼
Precautions
Precautions

・At the time of reservation, please let us know your name, age, height, weight, foot size and mobile phone number.
・Please wear your swimsuit before you come and prepare beach towels and suitable shoes.
・Free camera rental available (one per group) depending on availability. Availability is not guaranteed, sorry for the inconveniences. (SD card is ¥1000).
・For safety reasons this tour is not available for those over 60 years old, sorry for the inconvenience.
・Persons which the following conditions will not be able to participate in this activity: Circulatory system or respiratory system diseases, high blood pressure, otitis media, pregnant, epilepsy, diabetes, liver failure, hangover or under the influence of alcohol.
・Unaccompanied minors (under 18 years old) must bring a letter of consent signed by their legal tutors. Kids under 12 years old must be accompanied by their legal tutor.
・If the waves are calm, it is still possible to do snorkeling even in the event of rain.

Cancellation policy

If for any reason, the customer cancels his or her reservations, he or she will have to pay the following cancellation fees. Furthermore, please keep in mind that any bank transfer fees will be the customer's responsibility.
Cancellation 8-10 days before reservation date・・・20% of the original price
Cancellation 2-7 days before the reservation date・・・30% of the original price
Day before the reservation date・・・50% of the original price
On the reservation date・・・100% of the original price