【From Naha/North Okinawa bus tour&Dinner】Churaumi one day bus tour(Ccourse)& Okinawan Traditional food & Live music from「Angama」!!¥7,600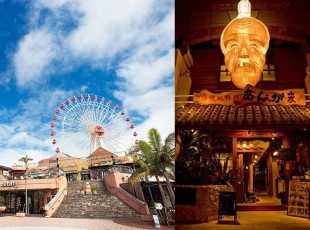 The bus tour which can visit the most attractive tour points & Okinawan dishes with live music of traditional instrument!
---
Tour points
・【Churaumi Aquarium】
We will stay here for about 2hrs 30min!Watch the whale sharks and the Manta rays swim in the 8.2m x 22.5m huge tank. You will be overwhelmed with excitement.
・【Kouri Beach】
Visit Kouri island, The island of myth and love! You can enjoy the transparent emerald beach while the bus passes the 2 kilometer long bridge!
・【Okashigoten】
At this souvenir shop you can taste Beniimo tarts and other sweets, too!.
・【Manzamo】
Take look the scenery, coral reef of 20 meters length! It's the famous tourist attraction for an elephant trunk shape reef!
・【American village】
The tourist attraction spot with a shopping center and Sunset beach which you can walk along.
---
After the tour, Please try the Okinawa dishes at "Aganma"

There is also live music when you have a dinner


Please enjoy the live music of the traditional instrument 'Sanshin'

Plan Details
Operating days

2020-03-16 〜
All season
※Every first wednesday and the next day(thursday) in December -churaumi aquarium's holiday -are not operated.

Venue

Middle and North of Okinawa

Time required

Approximately 12 hours
Bus tour 10hs + Dinner

Number of passengers required

From 2 person

Participation age

From age 0

Pick-up guide

Reservation deadline

2 days 17 before
※For any inquiries after the WEB reservation deadline, Please contact us at: (TEL:098-941-6828)

Payment method
「Angama」Okinawan traditional disheds&North tour bus(C course)

Price

Adult (aged 15 and older) &yen7,600
Kid (3 year-old ~ 14 year-old) &yen6,200
Infant(0~2) *no seat &yen0

What is included

Transportation/Admission fees/Japanese tour guide/Dinner at 「AnGaMa」/Tax/Insurance
※「AnGaMa」The menu:Vegetable of Pickle/Mimiga/Peanut tofu/Kelp with vinegar/Port of stew/Chicken and vegetable salad/Juicy rice/Okinawa noodle/Pineapple

Schedule

08:45 Departure Palette Kumoji(In front of Nippon rental car)
  ↓
09:15 Departure moromachi DFS Galleria(Across the street of clothes of Aoyama)
  ↓
09:55 Departure American Village
  ↓
11:15 Arrival Churaumi aquarium (About 2h 30min) 
  ↓
14:25 Arrival Kouri beach (About 20min) 
  ↓
15:45 Arrival Okashigoten (About 20min) 
  ↓
16:25 Arrival Manza cape (About 20min) 
  ↓
17:35 Arrival American village(About 50min)
  ↓
19:05 Arrival moromachi DFS Galleria
  ↓
19:25 Arrival Palette Kumoji
↓
19:30 ~ Please come to the restaurant by yourself. It takes about 5 min by walk from Palette Kumoji

※The time may vary by the traffic condition.

Meeting place・Map

front of prefectural office Pallette Kumoji/front of Nippon Rent-A-Car
1 Choume-1-1 Kumoji, Naha-shi, Okinawa-ken [Map]

Omoromachi DFS Galleria/洋服の青山向かい側
4 Choume-1 Omoromachi, Naha-shi, Okinawa-ken [Map]

Okinawan Cuisine Restaurant ""Angama""
1 Choume-2-2 Matsuo, Naha-shi, Okinawa-ken [Map]



Meeting place・Time

08:45 Departure Palette Kumoji(In front of Nippon rental car)

Assembly point

08:35 Departure Palette Kumoji(In front of Nippon rental car)
09:05 Departure moromachi DFS Galleria(Across the street of clothes of Aoyama)
09:45 Departure American Village

Dissolution place

In front of prefectural office Pallette Kumoji 

Transportation Companies

CeruleanBlue

▼Schedule・Read the details▼
Precautions
Precautions

・You may be seated with other people.
・According to the condition of the traffic, the order of places visited could be changed.
・Lunch is not included. Please arrange lunch by yourself at Churaumi Aquarium.
・The bus guide will inform you of the time when should you come back to the bus.
・According to the condition of traffic, the time could change.
・No smoking.
・Please make your own way to the restaurant. It takes abut 5 min after getting off the bus at the Pallet Kumoji. We kindly ask to return to your hotel by yourself.
・Due to bad weather conditions, The tour may be cancelled. In case of cancellation 100% of the cost paid will be refunded by bank transfer. Bank transfer costs will be covered by the customer.
・Before making a reservation please read our terms and conditions.

・悪天候により、ツアーが中止になる場合があります。ツアーが中止になった場合のご返金は、銀行振り込みにて行います。その際の振込手数料はお客様ご負担となりますので、予めご了承ください。
・お申し込みの際には、必ずご旅行条件書をお読みください。

Cancellation policy

If for any reason, the customer cancels his or her reservations, he or she will have to pay the following cancellation fees. Furthermore, please keep in mind that any bank transfer fees will be the customer's responsibility.
Cancellation 8-10 days before reservation date・・・20% of the original price
Cancellation 2-7 days before the reservation date・・・30% of the original price
Day before the reservation date・・・50% of the original price
On the reservation date・・・100% of the original price