<Naha Departure・Pick up Included> Pool・Shopping・Lunch・Experience Enjoy All that Naha has to offer!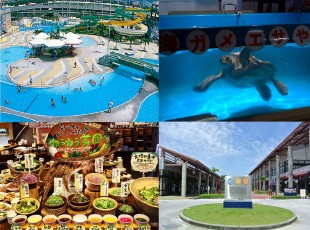 Visit all of the fun places in Naha in one day!

Naha City Hotel pick up included!

Enjoy the water slide at Itoman city pool!

Enjoy shopping at the Ashibina Mall!

Enjoy a buffet lunch!

Meet sea turtles, Experience coral making and touch pool.
Plan Details
| | |
| --- | --- |
| Venue | Naha Area |
| Time required | Approximately8hours |
| Number of passengers required | More than 4 adults |
| Participation age | |
| Pick-up guide | Naha City hotels only |
| Reservation deadline | 1 days 12 before |
| Payment method | |
新規コース

Price

Adults (12-59 years) &yen7,800
Children (5-11 years) &yen3,900
Infants ( 4 years and under) &yen1,500

What is included

Pool Entrance・Buffet Lunch・Touch pool(Sea turtle feeding and coral making)
※Free Naha hotel pick up!

Schedule

9:00 Naha City hotel pick up
(You will be notified with the pick up time the day before.)
↓
9:30 Itoman pool- Free time(2.5 hours)
↓
↓ Travel by car 20 mins
↓
12:30 Lunch buffet、
Shopping at Ashibina mall
2.5 hours including lunch
↓
↓Travel by car 40 mins
↓
15:00 Touch pool experience(Sea Turtle feeding experience・Coral making experience)
↓
16:30 Travel back to Naha hotel

What to bring

Swim wear, Towel and change of clothes

Price note

Meeting place・Time

Naha Hotels 9am

Note

Assembly point

Naha City Hotels

Dissolution place

Naha City Hotels

Transportation Companies

CeruleanBlue

▼Schedule・Read the details▼
Precautions
Precautions

・Advance booking and payment required。
・Please bring swimwear, towel and change of clothes.(A swimming cap must be worn in the pool)
・The tour may be cancelled in the case of bad weather or typhoon.
If this happens you will be contacted.
・You will be refunded by bank payment. Customers will have to pay transfer fees. Thank you for your understanding.

<Notes about Nishizaki Pool>
・Whirlpool Depth 0.2m~1m/Waterslide pool Depth 0.8m
・Indoor pool There is an infant pool(Depth 0.2m~0.4m)/25m There are 6 pools available.
・Waterslider 70m 
Customers with heart problems, vision problems, skin allergies or existing health problems will need to provide a doctors certificate.
※Infants must enter the pool with an adult over 19 years. (1 Adult to 2 children)
※A swimsuit is required to swim in the pool. A swimming cap must be worn when in the pool.
※Customers over 120cm may use the water slider.
Rubber rings can not be used on busy days.
※Body boards etc are not allowed.
※Swimwear must be worn over children's diapers.
※Animals are not allowed.
※Customers who are sleep deprived or intoxicated can not participate,
※Food can not be brought in from outside shops.
※It is a non smoking venue
※Please do not bring masks or fins. 
※Customers with disabilities must be supervised with someone over 18 years of age.
※Due to bad weather conditions or typhoons, The pools hours may change.
※Tattoos are not allowed.

Cancellation policy

If for any reason, the customer cancels his or her reservations, he or she will have to pay the following cancellation fees. Furthermore, please keep in mind that any bank transfer fees will be the customer's responsibility.
Cancellation 8-10 days before reservation date・・・20% of the original price
Cancellation 2-7 days before the reservation date・・・30% of the original price
Day before the reservation date・・・50% of the original price
On the reservation date・・・100% of the original price