【Departure from Onnason】Snorkeling + Beach BBQ at Manzamo cape ¥6,500~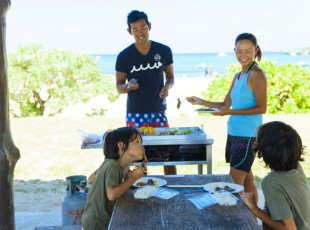 Have a BBQ at the shore of Manzamo cape, famous for its great view!

No worries even during rainy days! Roofed areas available!
After the BBQ, let's go snorkeling at the clear waters of Manzamo cape

Beautiful corals and tropical fishes!!
Recommended for Families

Plan Details
Operating days


All season

Venue

Onnason

Number of passengers required

2 persons minimum
(Pick up service from 4 persons)

Participation age

3 years old and above

Pick-up guide

Reservation deadline

3 days 0 before
Please contact us for any inquiries after the WEB reservation deadline:
TEL: +81-98-941-6828 (8:00~21:00)

Payment method
[AM] Snorkeling + BBQ at the Manza cape

Price

From age 3(no pick-up service) &yen6,500
From age 3(with pick-up service /only from 4 person) &yen9,000

What is included

Snorkeling gear rental (Wet suit included) / Snorkeling tour /Life jacket/ Beach BBQ /BBQ for 1 person (beef rip 200g / 2 sausages / 2 portked chicken / a quarter of corn / cabbage 70g / Union 50g / Piment 30g /Rice 200g)

Schedule

10 : 45 Meeting at the Nabi beach →
11 : 00 Snorkeling lessen, move to the point by the banana boat →
~ Snorkeling about 40min ~
12 : 00 Return to the beach, have a BBQ time during 2hs→
14 : 00 Tour finishes

What to bring

Swim suit on before the tour, bring your towel and the shoes that OK to be wet.

Price note

The pick up service from hotel in Naha is available (Only provide from 4 perosn)

Meeting place・Time

AM course 10:45/ PM course 11:45

Parking lot

Free parking lot

Assembly point

419-4 Onna, Onna-son, Kunigami-gun,

Dissolution place

Onna beach park Nabi beach

Transportation Companies

▼Schedule・Read the details▼
[PM] Snorkeling + BBQ at the Manza cape

Price

From age 3(no pick-up service) &yen6,500
From age 3(with pick-up service /only from 4 person) &yen9,000

What is included

Snorkeling gear rental (Wet suit included) / Snorkeling tour /Life jacket/ Beach BBQ /BBQ for 1 person (beef rip 200g / 2 sausages / 2 portked chicken / a quarter of corn / cabbage 70g / Union 50g / Piment 30g /Rice 200g)

Schedule

11 : 45 Meeting at the Nabi beach →
12 : 00 Snorkeling lessen, move to the point by the banana boat →
~ Snorkeling about 40min ~
13 : 00 Return to the beach, have a BBQ time during 2hs→
15 : 00 Tour finishes

What to bring

Swim suit on before the tour, bring your towel and the shoes that OK to be wet.

Price note

The pick up service from hotel in Naha is available (Only provide from 4 person)

Meeting place・Time

AM course 10:45/ PM course 11:45

Parking lot

Free parking lot

Assembly point

Onna beach park Nabi beach 419-4 Onna, Onna-son, Kunigami-gun

Dissolution place

Onna beach park Nabi beach

Transportation Companies

▼Schedule・Read the details▼
Precautions
Precautions

※ Activity might be cancelled on the same day due to weather conditions. In the event of a cancellation due to weather conditions, you can ask for a full refund or a date change.
※ Shower room available (not free).
※In the event of the BBQ being cancelled because of the weather, it will be replaced with a meal at a restaurant near the beach. (Thursdays closed) Menu: Okinawa soba, chop steak set meal, rice topped with Umibudo, rice topped with raw fish, Okinawan fish set meal.

Cancellation policy

If for any reason, the customer cancels his or her reservations, he or she will have to pay the following cancellation fees. Furthermore, please keep in mind that any bank transfer fees will be the customer's responsibility.
Cancellation 8-10 days before reservation date・・・20% of the original price
Cancellation 2-7 days before the reservation date・・・30% of the original price
Day before the reservation date・・・50% of the original price
On the reservation date・・・100% of the original price