【Okinawa Rediscover Campaign】2 Days 1 Night at Tokashiki Marine Village Hotel (Dinner & Breakfast Included) PLUS Snorkeling Activity at Aharen Beach in Tokashiki Island (Discount Offer up to 80%)!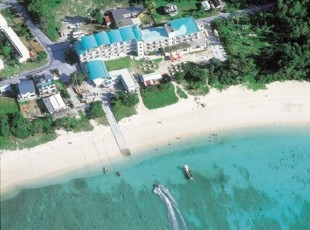 ************************
This package tour is under Okinawa Rediscover Campaign (Saihakken) supported by Okinawa prefectural government offer to who current living in Okinawa only.
This campaign offer 80% discount to the reservation of accommodation but not exceed 8,000 yen on weekdays and not exceed 5,000 yen on weekends and special holiday.
This campaign will be open until April 30th, 2021.
Price example : for 1 Adult
Original price : ¥21,000 (A),
Campaign Discount : ¥16,000(B),
Final price (A) – (B) : ¥5,000 only.
************************

 The biggest island in Kerama "Tokashiki Island".

 Stay 1 night at Tokashiki Marine Village

 Ferry round trip, Dinner and  breakfast, Transport fee from Tokashiki pot to Hotel, and Snorkeling at uninhabited island by banana boat near Aharen Beach are INCLUDED!!.
【Tokashiki Marine Village Hotel】
Located in  Tokashiku Beach, where it famous as the home of the sea turtles. There is a high chance you may meet them as you snorkel off the beach

 The chance of meeting them is 90% in one day!
【Aharen Beach】
Located at Aharen Village, it is surrounded by a lot of mysterious stones and rocks which were formed by wind and rain. One of the most famous attractive part of Tokashiki Island.
This package will make you explore both of wonderful beach of Tokashiki Island !!
★Price is difference depends on period please see the date of period below.
A Period : February 8th to April 23rd.
C Period : April 24th to April 30.
★This campaign is offer to who current living in Okinawa. So, you will be asked for proof of residency (ID card, driving license or any document with your address and picture) after your reservation was confirmed.
★Cancellation policy: There will be cancel fee for each tours. Cancel fee will be calculated from normal price (Before discounted price).
★This package cannot choose the room type.
★Please read all the precautions before making the reservation. if you have any doubt please feel free to contact by the contact detail on the bottom of this page.
Plan Details
Operating days

2021-03-10 〜 2021-04-30

Venue

Takashiki Island

Time required

Approximately32hours

Number of passengers required

from 2 people.

age limit

No limit

Reservation deadline

3 days 17 before
※Please contact us by phone after the deadline of booking application by e-mail or TEL:098-941-6828
(Open hour is 8:00 - 18:00)

Payment method
※A Period※ Tokashiki Marine Village Hotel ▶ Dinner & Breakfast + Ferry Round Trip + Snorkeling at Aharen Beach.

Price

Adult ▶ 1 Person/ Room, Original Price ¥22,500 (Discount ¥16,000) Final Price → &yen6,500
Adult ▶ 2 Person/ Room, Original Price ¥21,500 (Discount ¥16,000) Final Price → &yen5,000
Adult ▶ 3 Person/ Room, Original Price ¥19,500 (Discount ¥15,600) Final Price → &yen3,900
Adult ▶ 4-6 Person/ Room, Original Price ¥18,800 (Discount ¥15,040) Final Price → &yen3,760
Children (6-12 years old) ▶ 1 Child, Original Price ¥14,600 (Discount ¥11,680) Final Price → &yen2,920

What is included

Overnight fee (This package cannot choose room type), Services fee, Cleaning Fee, Breakfast and Dinner, Ferry roound trip, Bus pick-up and drop-of from Tokashiki Port to Hotel, Snorkeling activity fee.

※Meals is made by local ingredients so menu may changing very day

Schedule

Day 1 :

09 : 30 Meet up at NahaTomarin Port.
(At the bench near the ticket booth inside port terminal).
 ↓
10 : 00 Ferry Departure.
 ↓
11 : 10 Tokashiki port arrival, move to the Tokashiku beach by bus.
 ↓
~ Free time and have a lunch~
 ↓
13:00 Move to Aharen Beach for Snorkeling. (Staff will pick up and returning time will be inform again on site)
 ↓
~ Check-in 15:00 ~
 ↓
Dinner.

-------------------------------------------------------------------
Day 2 :
Breakfast.
↓
Checkout 11:00.
 ↓
~ Free time ~
 ↓
15 : 30 Move to Tokashiki port by bus.
 ↓
16 : 00 Departs from Tokashiki port.
 ↓
17 : 10 Arriaval back in Tomarin port Naha.

*Schedule may got change following to ferry operation time

Price note

A Period : February 8th to April 23rd.

Meeting place・Time

09:30 AM Meet Up at Naha Tomari Port.

Parking lot

In case you bring the car, please use the Tomarin port parking lot. (First 1 hour take place¥100, after then plus 100 YEN per 1 hour ). 3,000 JPY for long parking 20-30 hours, and 3,500 JPY for parking 30-40 hours.

Assembly point

09 : 30 at Naha Tomari Port.
(At the bench near the ticket booth inside port terminal).

Dissolution place

Naha Tomari Port.

Transportation Companies

▼Schedule・Read the details▼
C Period※ Tokashiki Marine Village Hotel ▶ Dinner & Breakfast + Ferry Round Trip + Snorkeling at Aharen Beach.

Price

Adult ▶ 1 Person/ Room, Original Price ¥28,300 (Discount ¥16,000) Final Price &yen12,300
Adult ▶ 2 Person/ Room, Original Price ¥25,500 (Discount ¥16,000) Final Price &yen9,500
Adult ▶ 3 Person/ Room, Original Price ¥21,700 (Discount ¥16,000) Final Price &yen7,200
Adult ▶ 4-6 Person/ Room, Original Price ¥21,700 (Discount ¥16,000) Final Price &yen5,700
Children (6-12 years old) ▶ 1 Child, Original Price ¥17,200 (Discount ¥13,760) Final Price → &yen3,440

What is included

Overnight fee (This package cannot choose room type), Services fee, Cleaning Fee, Breakfast and Dinner, Ferry roound trip, Bus pick-up and drop-of from Tokashiki Port to Hotel, Snorkeling activity fee.

※Meals is made by local ingredients so menu may changing very day

Schedule

Day 1 :

09 : 30 Meet up at NahaTomarin Port.
(At the bench near the ticket booth inside port terminal).
 ↓
10 : 00 Ferry Departure.
 ↓
11 : 10 Tokashiki port arrival, move to the Tokashiku beach by bus.
 ↓
~ Free time and have a lunch~
 ↓
13:00 Move to Aharen Beach for Snorkeling. (Staff will pick up and returning time will be inform again on site)
 ↓
~ Check-in 15:00 ~
 ↓
Dinner.

-------------------------------------------------------------------
Day 2 :
Breakfast.
↓
Checkout 11:00.
 ↓
~ Free time ~
 ↓
15 : 30 Move to Tokashiki port by bus.
 ↓
16 : 00 Departs from Tokashiki port.
 ↓
17 : 10 Arriaval back in Tomarin port Naha.

*Schedule may got change following to ferry operation time

Price note

Meeting place・Time

09:30 AM Meet Up at Naha Tomari Port.

Parking lot

In case you bring the car, please use the Tomarin port parking lot. (First 1 hour take place¥100, after then plus 100 YEN per 1 hour ). 3,000 JPY for long parking 20-30 hours, and 3,500 JPY for parking 30-40 hours.

Assembly point

09 : 30 at Naha Tomari Port.
(At the bench near the ticket booth inside port terminal).

Dissolution place

Naha Tomari Port.

▼Schedule・Read the details▼
Precautions
Precautions

【To all the customer applying the tour with Okinawa Rediscover Campaign】
1. This campaign is offer to who current living in Okinawa. So, you will be asked for proof of residency (ID card, driving license or any document with your address and picture) after your reservation was confirmed.
2. Cancellation policy: There will be cancel fee for each tours. Cancel fee will be calculated from normal price (Before discounted price).
3. Due to the pandemic of COVID-19, we would like to ask you adding "RICCA" in LINE application, this account will tell you any updates about COVID-19.

【Check list before making the reservation】
・Advance reservation and payment is required.
・Please prepare the proof of residency (ID card, driving license or any document with your address and picture).
・To prepare your snorkeling set, please kindly tell us full name, gender, age, weight, height, shoes size of all the participants while making the reservation. Also, bringing your own snorkel is allowed.
・The schedule and diving point might get change depends on the weather and sea condition on that day, please kindly understand.
in the event, we will contact you on the day before your trip date.

Cancellation policy

If for any reason, the customer cancels his or her reservations, he or she will have to pay the following cancellation fees. Furthermore, please keep in mind that any bank transfer fees will be the customer's responsibility.
Cancellation 8-10 days before reservation date・・・20% of the original price
Cancellation 2-7 days before the reservation date・・・30% of the original price
Day before the reservation date・・・50% of the original price
On the reservation date・・・100% of the original price