UNESCO World heritage site「Sefa-utaki」& Island of the Goddess「Kudaka Island」~Power spot~ guide tour for ¥10,300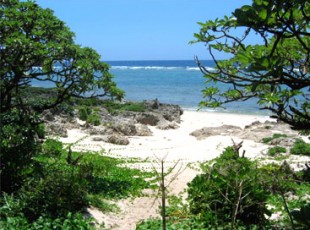 Main power spot tour


Sefa-utaki

meaning "purified place of Utaki" is an historical sacred space, overlooking Kudaka Island, that served as one of the key locations of worship in the native religion of the Ryukyuan people for millennia.

Kudaka Island

 is said to be created by 『AMAMIKIYO』, the Ryukyuan Goddess of the Genesis. According to local legends the five essential grains were originated in Kudaka Island. It is regarded as a holy land.


We are looking forward to enjoy the Okinawan history and culture with you.

プラン詳細
Operating days

〜 2019-09-30
Every Monday, Wednesday, Friday, Saturday, Sunday.
※From the 31st October to the 2nd November, 2016. Sefa-utaki will remain closed.

Venue

South of Okinawa.

Time required

Approximately 8 hours

Number of passengers required

At least 2 people

参加可能年齢

No limit

Reservation deadline

2 days 12 before
※Please contact us by phone after the deadline of booking application by e-mail. (TEL:098-941-6828)

Payment method
「Sefa-utaki」&「Kudaka Island」 Guide tour

Price

Adult (12 years old ~) &yen10,300
Child (4 ~ 11 years old) &yen9,300
(0 ~ 3 years old) &yen3,500

What is included

Round-trip fee, Guide, Insurance

Schedule

Pick you up from hotel.
※We will let you know the exact time 1 day before tour day.
↓
10:00 Arrive Sefa-utaki. Enjoy the peaceful time.
↓
11:30 Move to Kudaka Island by ship.
↓
11:45 Arrive Kudaka Island.
Please take your lunch in the restaurant near port.(1 hour)
↓
12:45 Meet with Guide. START!!!!
↓
15:00 Back to Naha.
↓
16:15 Arrive Naha. Drop you off to your hotel.

※The schedule may be little changed. Please kindly understand it.


Meeting place・Time

Hotel where you will stay. ( we will let you know the pickup time 1 day before tour day)

Assembly point

Hotel where you will stay. ( we will let you know the pickup time 1 day before tour day)

Dissolution place

Hotel where you will stay. ( we will let you know the pickup time 1 day before tour day)

Transportation Companies

▼Schedule・Read the details▼
Precautions
Precautions

・Please pay in advance.
・Sefa-utaki and Kudaka Island are purified places and regarded as sacred, they are very important for the Ryukyuan people. Please respect the following points:
1. Please do not get out of the designated areas of the tour.
2. Tour might be cancelled due to bad weather or sea conditions.
3. Please do not bring anything back with you from Sefa-utaki or Kudaka Island. (stones, shells, animals, etc.)
・Tour fee will be fully refunded in the event of cancellation due to bad weather.
・This tour is only available in Japanese.
・Umbrellas will be provided in the event of rain.
・This tour is not accessible with a stroller or a wheelchair.
・Meals not included. Restaurants are available at Kudaka Island.
・ Before making a reservation, please carefully read the terms and conditions.

Cancellation policy

If for any reason, the customer cancels his or her reservations, he or she will have to pay the following cancellation fees. Furthermore, please keep in mind that any bank transfer fees will be the customer's responsibility.
Cancellation 8-10 days before reservation date・・・20% of the original price
Cancellation 2-7 days before the reservation date・・・30% of the original price
Day before the reservation date・・・50% of the original price
On the reservation date・・・100% of the original price