[Departure from Ishigaki Island] illmination of nature! Sunset& Night Kayak ¥7,000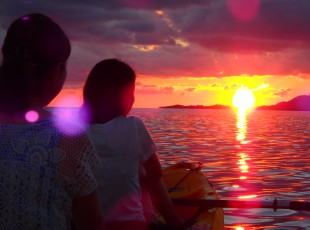 Enjoy a romantic sunset kayak
Experience the evening glow with a loved one or family.
It is a fascinating place where you can experience the island, the sky and the sea

When the night comes, there are shooting stars in the starry night.
You can hear the soft sound of waves on the calm beach.

Take some time to relax on the island.
*The sunset and the stars may not be seen depending on the weather.
Plan Details
Operating days


All season

Venue

Ishigaki Island

Time required

Approximately 2 hours

Number of passengers required

1 person

age limit

From age 6~

Pick-up guide

Free pick-up service is included from the hotel in the Ishigaki city. (Please contact us when your hotel at the north side or Gabira.)

Reservation deadline

2 days 12 before
Please contact us after the deadline of WEB reservation.
TEL: +81-98-941-6828 (8:00~21:00)

Payment method
[Departure from Ishigaki Island] Sunset& Night Kayak tour

Price

What is included

Tour fee, Insurance fee, Rental fee

Schedule

18:30 Meeting, Receipt
The meeting time may various depend on the season.

Enjoy the sunset and the stars of the nature.
You may see the plankton glow in the oceon.

20:30 Returning

*The pick-up service in the Ishigaki city hotel is free.(When your hotel at the north side or the Gabira, please contact us. And the service need a advanced reservation.)
*The pick-up time will be announced the day before the tour day.

What to bring

On the clothes that ok to be wet, bring your towel, beverages, beach sandals.

Meeting place・Map

Meeting place・Time

18:30

Assembly point

Ishigaki city hotel *The pick-up time will be announced the day before the tour day.
Ishigaki Yakimamura (Ishigaki Nago 967-1)

Dissolution place

Ishigaki Hotel
Ishigaki Yakimamur


Transportation Companies

▼Schedule・Read the details▼
Precautions
Precautions

*The sunset and the stars may not be seem depend on the weather.
*The tour can be changed or canceled depend on the condition of the day.
*On the clothes that ok to wet. (When the kayaking could be wet and the water is knee-deep)

Cancellation policy

If for any reason, the customer cancels his or her reservations, he or she will have to pay the following cancellation fees. Furthermore, please keep in mind that any bank transfer fees will be the customer's responsibility.
Cancellation 8-10 days before reservation date・・・20% of the original price
Cancellation 2-7 days before the reservation date・・・30% of the original price
Day before the reservation date・・・50% of the original price
On the reservation date・・・100% of the original price