【Naha Departure・Summer time only!】1Day☆2 Departures ・5 Hours Free Time☆ Travel By Charter Cruiser! Kerama Island's~ Tokashiki (The Home Of The Sea Turtles) Tokashiku Beach Tour! Lunch Inc.¥7,900~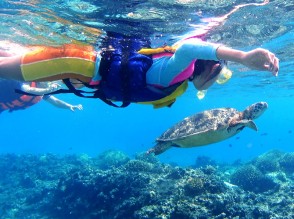 It was last 27 years ago  since the Kerama Islands was designated as a national park on March 5th, 2014 (Coral day). It is made up of around 20 islands and is worldwide famous for its clear "Kerama blue" waters popular for diving and snorkeling.
This is a new tour being introduced to Tokashiki, One of the biggest islands in the Kerama's!
This exciting tour takes you to【Tokashiku Beach】Which is known to be the place where Tokashiki's adorable sea turtles live.
Encounter them as you snorkel right off the beach!
If you spend your day at Tokashiku Beach, You have a 90% chance of meeting them.
Please understand that these amazing sea creatures are wild and we can not guarantee you may see them.
Recommendation points!
・You get to spend the day at Tokashiku Beach- The home of the sea turtles

・Travel at ease on Cerulean Blue's charter cruiser.
・Choose between 2 departures a day

・Travel on a private bus to Tokashiku Beach 

・Enjoy 5 amazing hours at the beach 

・Happy vibes♪ Lunch included(infants not included)♪
Treat yourself to this amazing return day trip to the beautiful Tokashiki Island 

プラン詳細
Operating days

2019-07-20 〜 2019-09-23
only on odd-numbered days of the month

Venue

Kerama - Tokashiki Island

Time required

Approximately 8 hours
Approximately 8 hours

Number of passengers required

2 Adults

参加可能年齢

Until 59 years old

Reservation deadline

1 days 12 before
Please contact us by email or phone to confirm availability.
(TEL:098-941-6828)

Payment method
July/ August【First Departure /7:45 Meeting time】「Tokashiku Beach」Tour ¥8300

Price

Adult (12- 59 years ) &yen8,300
Child (5-11 years) &yen7,200
Infant (4 years and under/lunch not included) &yen1,500

What is included

Return boarding fee, Private bus transfer from Tokashiki Port to Tokashiku Beach, Lunch (Not including infants), Showers and change room facilities and insurance.
On the day of reception we kindly ask that a ¥100 Tokashiki Environment Conservation tax be paid by adult passengers only.
Thank you for your understanding.

Schedule

7 : 45 Meeting at Naha Miegusuku port→
8 : 15 departure→
9 : 05 arrive at Tokashiki port, Travel to Tokashiku beach by bus(about 10min)→
~ Free time at Tokashiku beach ~
*lunch included*
*You can rent snorkeling or parasol sets and beach chairs. (extra charge)*
14 : 30 Departure for Tokashiki port by bus(about 15min)→
15 : 00 Departure from Tokashiki port→
15 : 50 Arrival at Naha Miegusuku port


【Options】
※Reserve&pay on the tour day at the beach
・Snorkeling set(Mask, fin, life jacket) ¥1,500/1set
・Parasol set (1 parasol) ¥1,000
・Beach mat ¥1,000
・Beach Bed - Small (¥1500)
・Beach Bed- Big (¥2000)
・Inflatable Tube- Small (¥500)
・inflatable Tube- Big (¥1000)
・Banana boat (10min) ¥1,500/1 person
・Jet Ski experience (10min) ¥2160/ 1 person



What to bring

Swimwear, Towel, Sunscreen and Change of clothes.

Meeting place・Map

Naha Miegusuku Port
3 Chome-20 Nishi, Naha-shi, Okinawa-ken [Map]



Meeting place・Time

Naha Miegusuku Port (7:45am Meeting time)

Parking lot

Parking is available at Miegusuku Port (¥500/1 day)

Assembly point

Miegusuku Port in Naha

Dissolution place

Miegusuku Port in Naha

Transportation Companies

▼Schedule・Read the details▼
July/ August 【Second Departure /10:15am Meeting time】 【Tokashiku Beach】Tour ¥8300

Price

Adult 12- 59 years &yen8,300
Child 5- 11 years &yen7,200
Infants 4 years and under (Lunch not included) &yen1,500

What is included

Return boarding fee, Private bus transfer from Tokashiki Port to Tokashiku Beach, Lunch (Not including infants), Showers and change room facilities and insurance.
On the day of reception we kindly ask that a ¥100 Tokashiki Environment Conservation tax be paid by adult passengers only.
Thank you for your understanding.

Schedule

10 : 15 Meeting at Naha Miegusuku port→
10 : 45 Departure from Naha→
11: 45 Arrive at Tokashiki port, Travel to Tokashiku beach by bus(about 10min)→
~ Free time at Tokashiku beach ~
*lunch included*
*You can rent snorkeling or parasol sets and beach chairs. (extra charge)*
17 : 15 Departure for Tokashiki port by bus(about 15min)→
17 : 45 Departure from Tokashiki port→
18 : 35 Arrival at Naha Miegusuku port


【Options】
※Reserve&pay on the tour day at the beach
・Snorkeling set(Mask, fin, life jacket) ¥1,500/1set
・Parasol set (1 parasol) ¥1,000
・Beach mat ¥1,000
・Beach Bed - Small (¥1500)
・Beach Bed- Big (¥2000)
・Inflatable Tube- Small (¥500)
・inflatable Tube- Big (¥1000)
・Banana boat (10min) ¥1,500/1 person
・Jet Ski experience (10min) ¥2160/ 1 person


What to bring

Swimwear, Towel, Sunscreen and change of clothes.

Meeting place・Map

Naha Miegusuku Port
3 Chome-20 Nishi, Naha-shi, Okinawa-ken [Map]



Meeting place・Time

Naha Miegusuku Port (10:15am meeting time)

Parking lot

Parking available at Miegusuku port. (¥500/ 1 day)

Assembly point

Miegusuku port in Naha

Dissolution place

Miegusuku Port in Naha

Transportation Companies

▼Schedule・Read the details▼
September 【First departure /7:45am Meeting time】【Tokashiku Beach】 Tour ¥8300

Price

Adult (12-59 years old) &yen7,900
Child (5-11 years old) &yen6,800
Infant (4 years and under) Lunch not included &yen1,500

What is included

Return boarding fee, Private bus transfer from Tokashiki Port to Tokashiku Beach, Lunch (Not including infants), Showers and change room facilities and insurance.
On the day of reception we kindly ask that a ¥100 Tokashiki Environment Conservation tax be paid by adult passengers only.
Thank you for your understanding.

Schedule

7 : 45 Meeting at Naha Miegusuku port→
8 : 00 departure→
8 : 50 arrive at Tokashiki port, Travel to Tokashiku beach by bus(about 10min)→
~ Free time at Tokashiku beach ~
*lunch included*
*You can rent snorkeling or parasol sets and beach chairs. (extra charge)*
14 : 30 Departure for Tokashiki port by bus(about 15min)→
15 : 00 Departure from Tokashiki port→
15 : 50 Arrival at Naha Miegusuku port


【Options】
※Reserve&pay on the tour day at the beach
・Snorkeling set(Mask, fin, life jacket) ¥1,500/1set
・Parasol set (1 parasol) ¥1,000
・Beach mat ¥1,000
・Beach Bed - Small (¥1500)
・Beach Bed- Big (¥2000)
・Inflatable Tube- Small (¥500)
・inflatable Tube- Big (¥1000)
・Banana boat (10min) ¥1,500/1 person
・Jet Ski experience (10min) ¥2160/ 1 person


What to bring

Swimwear, Towel, Sunscreen and Change of clothes.

Meeting place・Map

Naha Miegusuku Port
3 Chome-20 Nishi, Naha-shi, Okinawa-ken [Map]



Meeting place・Time

Naha Miegusuku Port ( 7:45am Meeting time)

Parking lot

Parking is available at Miegusuku Port (¥500/ 1 day)

Assembly point

Miegusuku Port in Naha

Dissolution place

Miegusuku Port in Naha

Transportation Companies

▼Schedule・Read the details▼
September 【Second departure /10:15am Meeting time】【Tokashiku Beach】Tour ¥7,900

Price

Adult (12 - 59 years) &yen7,900
Child (5- 11 years) &yen6,800
Infant (4 years and under) Lunch not included &yen1,500

What is included

Return boarding fee, Private bus transfer from Tokashiki Port to Tokashiku Beach, Lunch (Not including infants), Showers and change room facilities and insurance.
On the day of reception we kindly ask that a ¥100 Tokashiki Environment Conservation tax be paid by adult passengers only.
Thank you for your understanding.

Schedule

10 : 15 Meeting at Naha Miegusuku port→
10 : 45 Departure from Naha→
11: 45 Arrive at Tokashiki port, Travel to Tokashiku beach by bus(about 10min)→
~ Free time at Tokashiku beach ~
*lunch included*
*You can rent snorkeling or parasol sets and beach chairs. (extra charge)*
17 : 15 Departure for Tokashiki port by bus(about 15min)→
17 : 45 Departure from Tokashiki port→
18 : 35 Arrival at Naha Miegusuku port


What to bring

Swimwear, Towel, Sunscreen and Change of clothes.

Meeting place・Map

Naha Miegusuku Port
3 Chome-20 Nishi, Naha-shi, Okinawa-ken [Map]



Meeting place・Time

Naha Miegusuku Port (10:15am meeting time)

Parking lot

Parking is available at Miegusuku Port (¥500/1day)

Assembly point

Miegusuku Port in Naha

Dissolution place

Miegusuku Port in Naha

Transportation Companies

▼Schedule・Read the details▼
Precautions
Precautions

*Please pay 100 yen per person (as an environment cooperation fee) on the tour day (cash only).
*Please arrange your own swimsuit wear, bath towel, sunscreen and shoes.
*Persons which the following conditions will not be able to participate in this activity: Circulatory system or respiratory system diseases, high blood pressure, otitis media, pregnancy, epilepsy, diabetes, liver failure, hangover or under the influence of alcohol. In addition, accordingly to your health condition on the day of the activity, you might not be able to join us.
*Participating minors need a signature from their legal guardian to consent.
*There are available shower and changing rooms at the Tokashiku beach. There are also coin lockers, but they are scarce and might not be available at all times.
*Lunch is included. (Except infants)
*There is no pick up service to Miegusuku port available. Please make your own travel arrangements to the port.
*Tour schedule is subject to change due to weather and sea conditions.
*Tour might be cancelled on the same day due to weather conditions.
*This is a full day trip. One-way trip or changing of return trip is not allowed.
*If you participate in snorkeling or swim with fins you must wear a life jacket for safety reasons.
*The pickup bus is from Tokashiki port⇔ Tokashiku beach. The pick up bus has no baby or child seats available.

Cancellation policy

If for any reason, the customer cancels his or her reservations, he or she will have to pay the following cancellation fees. Furthermore, please keep in mind that any bank transfer fees will be the customer's responsibility.
Cancellation 8-10 days before reservation date・・・20% of the original price
Cancellation 2-7 days before the reservation date・・・30% of the original price
Day before the reservation date・・・50% of the original price
On the reservation date・・・100% of the original price