[Oct.-Jun.] One day tour, Swimming at Aharen beach/ Snorkeling at an uninhabited island, Tokashiki! Get there by High speed boat or Ferry!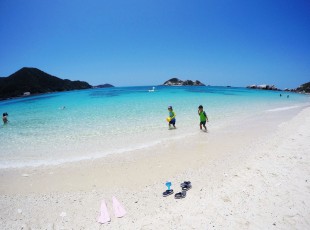 Enjoy swimming at Aharen beach or Snorkeling tour at an uninhabited island in Tokashiki!

Same day return  tour at the beautiful emerald coloured beach, where you will get to swim at the crystalline waters of Tokashiki, surrounded by tropical fishes and corals.

Departure from Tomarin port Naha, by ferry or high speed boat.


Lunch included.

Snorkeling tour is available from 6 years old.
Plan Details
Operating days

2019-09-24 〜 2020-07-30


Venue

Tokashiki Island, Kerama

Time required

Approximately 7.5~9.5 hours
By ferry 7.5 hrs
By high speed boat 9.5 hrs

Number of passengers required

From 1 person

Participation age

From age 3~ (Snorkeling tour is available from age 6 to 59)

Pick-up guide

Reservation deadline

2 days 12 before
Please contact us for any inquiries after the WEB reservation deadline:
TEL: +81-98-941-6828 (8:00~21:00)

Payment method
[By Ferry] Aharen beach seabathing tour of Tokashiki island (Lunch included)

Price

Adult (From 12years old) &yen6,900
Kid (age 6~11) &yen3,900
Infant(age 3~5/ no lunch) &yen600

What is included

Round ferry ticket (Tomari port-Tokashiki island)/Shuttle bus(Tokashiki port-Tokashiku beach)/Lunch/Facility fee (shower, changing room)

Schedule

9 : 30 Tomarin Port, Recept
 ↓
10 : 00 Departs
 ↓
11 : 10 Tokashiki port arrival, move to the Aharen beach by bus
 ↓
~ Free time at the beach ~
 ↓
Move to Tokashiki port by bus
 ↓
15:30 ~ 16 : 00 Departure from Tokashiki port
 ↓
16:40 ~ 17 : 10 Tomarin port Naha arrival

What to bring

Please bring your swim suit, clothes to change, towel, etc.

Price note

*For adult, there is environmental tax(¥100). Please pay it with cash at the place.

Meeting place・Time

9:30 Meerting

Parking lot

In case you bring the car, please use the Tomarin port parking lot. (First 1 hour take place¥100, after then plus ¥100 per 1 hour )

Additional options

Assembly point

At the bench near the ticket booth inside of Tomarin port Naha.

Dissolution place

Tomarin port

Transportation Companies

CeruleanBlue

▼Schedule・Read the details▼
[By Hight speed boat] Aharen beach seabathing tour of Tokashiki island (Lunch included)

Price

Adult (From age 12) &yen8,900
Kid (age 6~11) &yen5,200
Infant(age 3~5/ no lunch) &yen600

What is included

Round ferry ticket (Tomari port-Tokashiki island)/Shuttle bus(Tokashiki port-Tokashiku beach)/Lunch/Facility fee (shower, changing room)

Schedule

8 : 30 Tomarin port Naha
 ↓
9 : 00 Departs
 ↓
9 : 35 Tokashiki port arrival, move to the Aharen beach by bus
 ↓
~ Free time at the beach ~
 ↓
Move to Tokashiki port by bus
 ↓
17:00 ~ 17 : 30 Departure from Tokashiki port
 ↓
17:35 ~ 18 : 05 Tomarin port Naha arrival

What to bring

Please bring your swim suit, clothes to change, towel, etc.

Price note

*For adult, there is environmental tax(¥100). Please pay it with cash at the place.

Meeting place・Time

8:30 Meeting

Parking lot

In case you bring the car, please use the Tomarin port parking lot. (First 1 hour take place¥100, after then plus ¥100 per 1 hour )

Additional options

Assembly point

At the bench near the ticket booth inside of Tomarin port Naha.

Dissolution place

Transportation Companies

CeruleanBlue

▼Schedule・Read the details▼
Precautions
Precautions

・If you get to the meeting point by car, please park it at the Tomarin port parking lot. (First hour¥200, ¥100 per extra hour )
・Please provide us with the name, age, sex, height, weight and foot size of all participants. (If you need a correction mask, the graduation too.)
・Please arrange your own swimsuit wear, bath towel, sunscreen and shoes.
・Please pay 100 yen per person (as an environment cooperation fee) on the tour day (cash only).
・Participating minors need a signature from their legal guardian to consent.
・There are available shower and changing rooms at the Aharen beach. There are also coin lockers, but they are scarce and might not be available at all times.
・Persons which the following conditions will not be able to participate in this activity: Circulatory system or respiratory system diseases, high blood pressure, otitis media, pregnancy, epilepsy, diabetes, liver failure, hangover or under the influence of alcohol. In addition, accordingly to your health condition on the day of the activity, you might not be able to join us.
・We recomend using disposable one-day contact lenses since they might be easily lost during the tour.
・Tour schedule is subject to changed due to weather and sea conditions.
・Tour might be cancelled on the same day due to weather conditions.

Cancellation policy

If for any reason, the customer cancels his or her reservations, he or she will have to pay the following cancellation fees. Furthermore, please keep in mind that any bank transfer fees will be the customer's responsibility.
Cancellation 8-10 days before reservation date・・・20% of the original price
Cancellation 2-7 days before the reservation date・・・30% of the original price
Day before the reservation date・・・50% of the original price
On the reservation date・・・100% of the original price