[From Oct.~Jun.]By High speed boat or Ferry! Swimming with Sea Turtles at Tokashiki island tour! ♪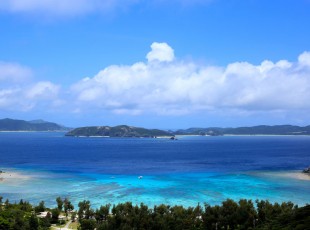 Tokashiki island, the biggest island of Kerama islands!
The Tokashiku beach is famous for the habitat of sea turtle.
You could meet whale the beach snorkeling

The chance to meet with the turtle is 90% in one day!

*The turtle is a wild animal, so there is a possibility to miss it. Please noted.

You can choose between high-speed boat and ferry according to your schedule!

Lunch included.
プラン詳細
Travel days

2018-10-01 〜 2019-06-30
Oct.-Nov / Mar.-Jun. available

Venue

Tokashiku beach Tokashiki island of Kerma islands

Time required

Approximately7.5~9.5hours
Ferry - about 7.5hs
High speed boat - about 9.5

Number of Travelers

From 1 person

参加可能年齢

From age 3~

Pick-up guide

Deadline of reservation

3 days 14 before
Please contact us for any inquiries after the WEB reservation deadline:
TEL: +81-98-941-6828 (8:00~21:00)

Payment method
[By Ferry] Tokashiku beach seabathing tour of Tokashiki island (Lunch included)

Price

Adult (From 12years old) &yen7,400
Kid (age 6~11) &yen4,300
Infant(age 3~5/ no lunch) &yen600

What is included

Round ferry ticket (Tomari port-Tokashiki island)/Shuttle bus(Tokashiki port-Tokashiku beach)/Lunch/Facility fee (shower, changing room)

Schedule

9 : 30 Tomarin Port, Recept
 ↓
10 : 00 Departs
 ↓
11 : 10 Tokashiki port arrival, move to the Tokashiku beach by bus
 ↓
~ Free time at the beach ~
 ↓
15 : 30 Move to Tokashiki port by bus
 ↓
16 : 00 Departs from Tokashiki port
 ↓
17 : 10 Tomarin port Naha arrival

What to bring

Please bring your swim suit, clothes to change, towel, etc.

Price note

*For adult, there is environmental tax(¥100). Please pay it with cash at the place.

Meeting place・Time

9:30 Meerting

Parking lot

In case you bring the car, please use the Tomarin port parking lot. (First 1 hour take place¥100, after then plus ¥100 per 1 hour )

Additional options

Assembly point

At the bench near the ticket booth inside of Tomarin port Naha.

Dissolution place

Transportation Companies

▼Schedule・Read the details▼
[By Hight speed boat] Tokashiku beach seabathing tour of Tokashiki island (Lunch included)

Price

Adult (From 12years old) &yen9,200
Kid (age 6~11) &yen5,300
Infant(age 3~5/ no lunch) &yen600

What is included

Round ferry ticket (Tomari port-Tokashiki island)/Shuttle bus(Tokashiki port-Tokashiku beach)/Lunch/Facility fee (shower, changing room)

Schedule

8 : 30 Naha tomari port
 ↓
9 : 00 Departs
 ↓
9 : 35 Tokashiki port arrival, move to the Tokashiku beach by bus
 ↓
~ Free time at the beach ~
 ↓
17 : 00 Move to Tokashiki port by bus
 ↓
17 : 30 Departs from Tokashiki port
 ↓
18 : 05 Tomarin port Naha arrival

What to bring

Please bring your swim suit, clothes to change, towel, etc.

Price note

*For adult, there is environmental tax(¥100). Please pay it with cash at the place.

Meeting place・Time

8:30 Meerting

Parking lot

In case you bring the car, please use the Tomarin port parking lot. (First 1 hour take place¥100, after then plus ¥100 per 1 hour )

Additional options

Assembly point

At the bench near the ticket booth inside of Tomarin port Naha.

Dissolution place

Transportation Companies

▼Schedule・Read the details▼
Precautions
Precautions

・ From 1st, Apr 2010 there is an environmental tax(¥100) for who visits Tokashiki island for maintaining. Please pay it at the place with cash.
・The turtle is a wild animal, so there is a possibility to miss it. Please noted.
・In case you bring the car, please use the Tomarin port parking lot. (First 1 hour take place¥100, after then plus ¥100 per 1 hour )
・On tour day, please bring the clothes to change, towel, etc.
・At the Tokashiku beach, you can use the shower/ changing room. Private locker is first come basis. (with payment)
・Minor under 18 age, needs a guardian or agreement of guardian.
・The tour can be canceled according to the bad weather. Please noted.

Cancellation Fees

If, for any reason, the customer cancels his or her reservations, he or she will have to pay the following cancellation fees. Furthermore, please keep in mind that any bank transfer fees will be the customer's responsibility.
Cancellation is 8-10 days before reservation date・・・20% of the original price
Cancellation is 2-7 days before the reservation date・・・30% of the original price
Day before the reservation date・・・40% of the original price
On the reservation date・・・50% of the original price
After scheduled activities have begun and/or not contacting us at all・・・100% of the original price