【Go To Travel Campaign 35%OFF】In 2020 Summer ! 【Depart from Chatan or Naha】Tokashiki Island "Swimming at Aharen Beach" tour ¥7,900→¥5,135!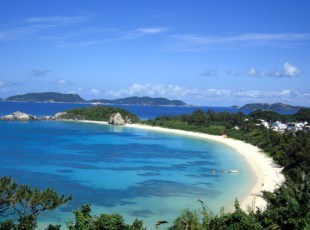 *********************
Go To travel Campaign with 35% off

Discount price for adults from ¥7900 to ¥5135

*********************
It is easy to get on the Tokashiki island day tour even the regular boat is fully booked

Providing 2 departure points, recommend for who lives around the southern part of  Okinawa, and for who lives around the middle and northern part of Okinawa, we recommend that Chatan departure is the best.

The Tokashiki island landing tour of Kerama islands which recognized as a national park in Japan.
Enjoy sea bathing and the tropical paradise at Aharen beach.

Snorkeling set is rental available. 

The local marine shop well equipped with shower rooms and provide lunch!!

<Hightlights>
・There are 2 departure points, Naha or Chatan

・Well-equipped with lunch and shower rooms.
・Exclusive shuttle car to Tokashiku beach after arriving Tokashiki island

・Fun for five hours at Aharen beach

・With Lunch!!(Not include infant)

※This special discount is only available for those living in Japan(Unfortunately, customers living in Tokyo are not eligible for this campaign at the moment.
Plan Details
Operating days

2020-08-01 〜 2020-08-31
Only for limited period

Venue

Tokashiki island of Kerama islands

Time required

Approximately 8hours

Number of passengers required

10 adults

age limit

Until 59 years old

Reservation deadline

1 days 12 before
Please contact us for any inquiries after the WEB reservation deadline:
TEL: +81-98-941-6828 (9:00~16:00)

Payment method
【Go To Travel Campaign 35%OFF】In 2020 Summer ! 【Depart from Chatan or Naha】Tokashiki Island "Swimming at Aharen Beach" tour ¥7,900→¥5,135!

Price

12 - 59 years old normal price ¥7,900 &yen5,135
5 - 11 years old normal price ¥6,900 &yen4,485
infant (No lunch) normal price¥1,500 &yen975

What is included

Round trip boarding fee, Pick up service(Tokashiki port⇔Aharen beach), Lunch(except infant), Facility usage fee, Insurance

Schedule

08 : 15 assemble Chatan Hamakawaw Port →
09 : 00 assemble Naha Miegusuku port→
09 : 30 departure to Tokashiki Island→
10 : 30 arrive at Tokashiki port, move to Aharen beach by bus(about 15min)→

~ Free time at Aharen beach ~
☆Lunch included.
☆You can rent snorkeling set or pasarol, beach chair... (extra charge)

Around 16 : 00, Move to Tokashiki port by bus (about 15min)→
16 : 30 departure from Tokashiki port→
17 : 30 arrive at Naha Miegusuku port
18:00 - 18:30 arrive at Chatan Hamakawa port

※Tour schedule is subject to change due to weather and sea conditions.

※On the traveling, You will ask for the environment cooperation fee for 100 Yen for high-School and adult in cash
※For the departure from Chatan Port the guest aged 12-14 years old will ask to pay 200 YEN for only the port facilities fee and the guest aged 15 -59 will ask to pay for 300 YEN ( port facilities fee ¥200+ the environment cooperation fee ¥100)

What to bring

swimming suit, beach towel, sunscreen

Meeting place・Map

Naha Miegusuku Port
3 Chome-20 Nishi, Naha-shi, Okinawa-ken [Map]

Chatan Hamagawa Fishing Pier
4 Minato, Chatan-chou, Nakagami-gun, Okinawa-ken [Map]



Meeting place・Time

8:15 Chatan Hamakawa port / 9:00 at Naha Miegusuku port

Parking lot

Parking available at Miegusuku port. (500yen/1day) and free parking at Chatan Hamakawa Port

Assembly point

08:15 Chatan Hamakawa port
09:00 Naha Miegusuku port

Dissolution place

17:30 Naha Miegusuku port
18:00 - 18:30 Chatan Hamakawa port

Transportation Companies

CeruleanBlue

▼Schedule・Read the details▼
Precautions
Precautions

<Cancellation regarding Go To Campaign>
※Once the contract is confirmed, any cancellation caused by customers. We will collect the cancellation fee based on the ordinary price.
※This special discount is only available for those living in Japan(Unfortunately, customers living in Tokyo are not eligible for this campaign at the moment.

※This tour requires a minimum of 10 (Adults) participants to be carried on※
※The route for the boat on departure, Chatan →Naha→Tokashiki island
The route for the boat on arrival, Tokashiki island →Naha→Chatan


*If you come to the meeting point by car:
-Naha-
Search for "Naha Beach Side Hotel" (Map Code: 33 155 818*88) on your car GPS or Google Maps and, once you get to the hotel just follow that same road until you reach the entrance of the harbor. There you can get your parking ticket (500 yen per day) and once inside the harbor turn right and go straight until you find a small building.
This building is our meeting point, you can park your car next to it.

-Chatan-
Car navigation: Please enter the address: hamakawa port (chatan cho minato 4)「浜川漁港(北谷町港「ちゃたんちょうみなと」4)」
Parking is free.
※Facility fee for adults (above 12) ¥200/pax


*Please pay 100 yen per person (as an environment cooperation fee) on the tour day (cash only).
*Please arrange your swimsuit wear, bath towel, sunscreen, and shoes.
*Persons in which the following conditions will not be able to participate in this activity: Circulatory system or respiratory system diseases, high blood pressure, otitis media, pregnancy, epilepsy, diabetes, liver failure, hangover, or under the influence of alcohol. Also, according to your health condition on the day of the activity, you might not be able to join us.
*Participating minors need a signature from their legal guardian to consent.
*There are available shower and changing rooms at the Tokashiki beach. There are also coin lockers, but they are scarce and might not be available at all times.
*Lunch is included. (Apart from infants)
*There is no pick up service to Miegusuku port available. Please make your travel arrangements to the port.
*Tour schedule is subject to change due to weather and sea conditions.
*Tour might be canceled on the same day due to weather conditions.
*This is a full day trip. A one-way trip or changing of the return trip is not allowed.
*If you participate in snorkeling or swim with fins you must wear a life jacket for safety reasons.
*The pick up bus is from Tokashiki port⇔Aharen beach. The pickup bus has no baby or child seats available.
*Please read the precautions before applying the tour.

*********************
[COVID-19 protection measures guidelines]

【 Staff 】
・We are checking the body temperature of our staff every day (37.5 degrees will not come for work)
・Frequently wash our hands with soap.
・Practice good respiratory etiquette, including covering coughs and sneezes.
・Always wearing a mask.
・Keep social distance.

【 customers 】
・the customers who have body temperature higher than 37.5 degrees could not join the tour.
・Please wash your hands with alcohol-based.
・Please wear a mask while you're in a boat or bus.
・Please keeps social distance from other customers.
・Please cooperate with our health checking.
・Please keep 1meter distance while queueing for registration and getting on the boat.

❈ Health Checking ❈
The customers who have the following conditions could not join the tour.
・Body temperature s higher than 37.5 degrees.
・Strong heavy of breath, legs or body, strong cough, or lost the sense of smell.
・Countries that have been announced by the government to require entry restrictions or an observation period after entry within the last 14 days.
・the customer who has a family member infected, or a related person been infected with the virus.

【 Boat 】
・Open the windows
・Providing alcohol-based on the boat.

*********************

Cancellation policy

If for any reason, the customer cancels his or her reservations, he or she will have to pay the following cancellation fees. Furthermore, please keep in mind that any bank transfer fees will be the customer's responsibility.
Cancellation 8-10 days before reservation date・・・20% of the original price
Cancellation 2-7 days before the reservation date・・・30% of the original price
Day before the reservation date・・・50% of the original price
On the reservation date・・・100% of the original price