【From Kadena (Middle Okinawa)】Hija river Mangrove Kayak tour ¥5,800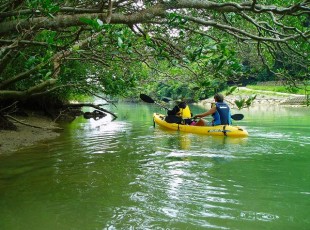 An easy trip by kayak for everyone, the Hija River is famous for its picturesque scenery since the times of the Ryukyu kingdom.
Experience Okinawan nature and history inside the mangroves, a green paradise full of wildlife.
The mangrove kayaking tour departs 5 times a day!! Pickup service also available (only available for Naha hotels).
【Mangrove Kayak (5 times a day)】
The Hija River is the biggest river on the Okinawan main island! Full of life and nature! Have a relaxing day kayaking along the Hija river.
【Sunset / Night kayak (once  a day)】
Have a great time at the frontier between the river and the orange colored sea!
Night Kayaking after the sunset. Enjoy the Hija river at night!! The Hija river returned to its original and beautiful environment with the effort of many people! You can watch the night fauna or the starry night sky.
Plan Details
Operating days


All season

Venue

Time required

Approximately 2 hours

Number of passengers required

This tour starts from 2 person

Participation age

Pick-up guide

Reservation deadline

3 days 12 before
※Please contact us by phone after the deadline of booking application by e-mail. (TEL:098-941-6828)

Payment method
Mangrove day kayak

Price

Adult (over age 12) &yen5,800
Kid (from age 10~11) &yen4,800
[Pick up service/from 2 people] Adult (over age 12) &yen9,800
[Pick up service/from 2 people] Kid (from age 10~11) &yen8,800

What is included

Guide fee, Gear rental, Insurance, pick up service(in case you choose the pick up service)

Schedule

【Mangrove day kayak】Meeting 8:00/9:30/11:00/13:30/15:00

<Schedule>

Meeting at each assemble time - receipt (about 30min)
↓

Guide introduce, gear check, kayak lesson (about 30min)

↓

Kayak tour (about 1h)


※Time requires about 2h

What to bring

Clothes to change, shoes ok to be wet, towel, sunblock cream, hat

Price note

*The pick up service is provided from the hotel, who stays in the hotel other than Naha, please let us check it.

Parking lot

Free parking lot

Assembly point

Blue field(Kadena-cho Mizugama 566-11)
Map code 33 674 683
*In case you choose the pick up service, the pick up time will be announced personally.

Dissolution place

Blue field

Transportation Companies

▼Schedule・Read the details▼
Mangrove Senset+Night Kayak

Price

Adult (over age 12) &yen5,800
Kid(from age 6~11) &yen4,800

What is included

Clothes to change, shoes ok to be wet, towel, sunblock cream, hat

Schedule

[Mangrove Sunset+Night Kayak] Please check the meeting time that changed by season.


*The meeting time will be changed by season.
・2019/5/1 ~ 5/31 17:30
・6/1 ~ 7/31 17:45
・8/1 ~ 8/15 17:30
・8/16 ~ 8/31 17:25
・9/1 ~ 9/15 17:15
・9/16 ~ 10/15 17:00
・10/16 ~ 10/31 16:40
・11/1 ~ 12/31 16:15


<Schedule>

Meeting at each assemble time - receipt (about 30min)
↓

Guide introduce, gear check, kayak lesson (about 30min)

↓

Kayak tour (about 1h)


※Time requires about 2h

What to bring

Clothes to change, shoes ok to be wet, towel, sunblock cream, hat

Price note

*The pick up service is provided from the hotel, who stays in the hotel other than Naha, please let us check it.

Meeting place・Time

1 hour before the sunset

Parking lot

Free parking lot

Assembly point

Blue field(Kadena-cho Mizugama 566-11)
Map code 33 674 683
*In case you choose the pick up service, the pick up time will be announced personally.

Dissolution place

Blue field

Transportation Companies

▼Schedule・Read the details▼
Precautions
Precautions

*It need to be reserved and paid in advance.
*Please let us know the name, phone number or mail address, number of participants, hotel name, foot size.
*The pick up service is from the hotel in Naha. Who stays in the hotel in other than Naha, please let us check.
*The swim suit is not necessary but the seat would get wet. So please come in comfy clothes can get wet. Bring your clothes to change, towel.
*In mid May to mid Nov, you can watch the fireflies in case you reserved in Night Kayak.

Cancellation policy

If for any reason, the customer cancels his or her reservations, he or she will have to pay the following cancellation fees. Furthermore, please keep in mind that any bank transfer fees will be the customer's responsibility.
Cancellation 8-10 days before reservation date・・・20% of the original price
Cancellation 2-7 days before the reservation date・・・30% of the original price
Day before the reservation date・・・50% of the original price
On the reservation date・・・100% of the original price