【Miyako Island】 Pick-up service included ★Scuba diving & Snorkeling (Travel to the diving point by a boat) ★¥17,000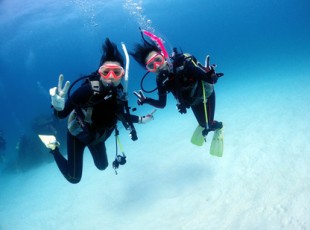 This is an exciting diving tour to Miyako Island! This tour will bring you to the deeper waters by boat

The tours diving points are the same that professionals with a diving license travel to.
This tour includes guidance so you can enjoy it at its fullest!!
Designed specially for those who feel that snorkeling around the beach its just not enough for them!!!
Pickup service from the hotel is also included!
Plan Details
Operating days


All season

Venue

Offshore around the Miyako Island

Time required

Approximately8hours

Number of passengers required

From 1 person
up to 2 person

age limit

Over age 12

Pick-up guide

The tour includes pick-up and drop-off service. The pick-up time will be announced the day before the tour by telephone, Skype or email.

Reservation deadline

2 days 12 before
For any inquiries after the WEB reservation deadline, please contact us at:
TEL: +81-98-941-6828 (8:00~21:00)

Payment method
Diving & Snorkeling tour going with boat

Price

Adult(over 12)*who over age 60, need a report of a doctor &yen17,000

What is included

Guide fee, Lesson fee, Boarding fee, Rental fee, Lunch, Facility fee(Shower room, Changing room)
*There is a extra charge for environment cooperation 500yen(pay at the shop)

Schedule

Around the 07:30~08:30 pick-up
*The pick-up time will be announced the day before the tour day by TEL, Skype or mail.

Move to the point
↓
Scuba Diving
↓
Lunch time on the boat
↓
Snorkeling around the boat *Extra diving is available with 6,500yen.
↓
Around the 16:00 return to the warf, drop-off to the hotel


What to bring

On the swimsuit wear, bath towel, sunscreen, shoes, please bring by yourself.

Assembly point

The hotel you stay *The pick-up time will be announced the day before the tour day by TEL, Skype or mail.

Dissolution place

The hotel you stay

Transportation Companies

▼Schedule・Read the details▼
Precautions
Precautions

* Please bear in mind that, due to health security reasons, any participant won't be able to flight on the same day after diving.
* The tour includes pick-up and drop-off service. The pick-up time will be announced the day before the tour by telephone, Skype or email.
* Activity might be cancelled on the same day due to weather conditions. In the event of a cancellation due to weather conditions, you can ask for a full refund or a date change.
* Persons over 60 years old or any relevant health problems are required to present a medical report.
* Persons which the following conditions will not be able to participate in this activity: Circulatory or respiratory systems diseases, high blood pressure, otitis media, pregnancy, epilepsy, diabetes, liver failure, hangover or under the influence of alcohol. In addition, accordingly to your health condition on the day of the activity, you might not be able to join us.
* Minors (under 20 years old) need a signature from their legal guardian to participate.
* Before making the reservation, please read carefully the terms and conditions. 

Cancellation policy

If for any reason, the customer cancels his or her reservations, he or she will have to pay the following cancellation fees. Furthermore, please keep in mind that any bank transfer fees will be the customer's responsibility.
Cancellation 8-10 days before reservation date・・・20% of the original price
Cancellation 2-7 days before the reservation date・・・30% of the original price
Day before the reservation date・・・50% of the original price
On the reservation date・・・100% of the original price