※March only!※ 【Naha/duration 1 hour aprox!】From Monday to Friday! ★RYUKYU AMAZING NIGHT★ at 「OKINAWA CLUB EPICA」! New show!♪¥3,000→¥1,500!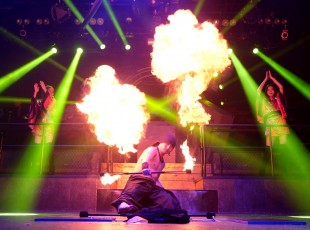 Half price only during March! ¥3,000→¥1,500!
★Where tradition and innovation meet.
★Traditional culture rarely available to tourist.
★Hosted at a club near Kokusai street.
1. In Matsuyama, near Kokusai steet.
「JAPAN」and「OKINAWA」themed
tradition and subculture

Nightshow

2. Traditional culture usually unavailable to tourists, thrilling traditional and martial arts related dances and with a wide arrange of assorted performances!
3. Starting at 8 pm so you can join us after dinner

4. After enjoying the show, you can explore Kokusai Street or enjoy Matsuyama to your heart's content!
※2/4 (Monday)~3/29 (Friday) available only from Monday to Friday※
Plan to detail
Travel days

2019-03-01 〜 2019-03-29
From Monday to Friday until the 29th of March

Venue

Naha city

Time required

Approximately 1 hours

Number of Travelers

1 person and above

Age limit

from 3 years and above

Deadline of reservation

1 days 18 before
Please contact us for any inquiries or reservations after the website deadline:
TEL: +81-98-941-6828 (8:00~21:00)

Payment method
RYUKYU AMAZING NIGHT  ¥3,000→¥1,500 only during March

Price

From 6 years old and above &yen1,500
3 to 5 years old. &yen0

What is included

Show entrance fee

Schedule

◆19:00~ Event doors opening
↓
◆19:45  Meeting
↓
◆20:00~ Show start

~RYUKYU AMANZING NIGHT~
 Okinawan traditional culture and Japanese subculture show
↓
◆21:00~ Finish

Meeting place・Time

Meeting at 19:45(19:00~20:00 reception)CLUB EPICA OKINAWA ※20:00 Show

Parking lot

No free parking lot available, sorry for the inconvenience.

Meeting place

Meeting at 19:45(19:00~20:00 reception) / 20:00 show start 
CLUB EPICA OKINAWA(Naha city Matsuyama1-5-1 Namura Plaza Building 3F)

解散場所

21:00 Aprox. CLUB EPICA OKINAWA

Transportation Companies

JTB(RyukyuAmazingNight)

▼Schedule・Read the details▼
Precautions
Precautions

・Previous reservation and payment required.
・Food and beverages from outside the establishment are not allowed.
・Drinks are available inside the club. Around 600¥each, soft drink or alcoholic beverages.
・Please be aware that the inside of the establishment is relatively loud.
・Chinesse and English speaking staff available.
・You can take pictures with the actors after the show. Please bring your own camera.
・We cannot accept any customers younger than 3 years old, sorry for the inconveniences.
・Free seating. Please be aware that you might have to stand.
・For a better performance please refrain from leaving the show halfway through.
・16 year and younger must be accompanied by their legal tutor

Cancellation Fees

If, for any reason, the customer cancels his or her reservations, he or she will have to pay the following cancellation fees. Furthermore, please keep in mind that any bank transfer fees will be the customer's responsibility. Cancellation is 8-10 days before reservation date・・・20% of the original price Cancellation is 2-7 days before the reservation date・・・30% of the original price Day before the reservation date・・・40% of the original price On the reservation date・・・100% of the original price After scheduled activities have begun and/or not contacting us at all・・・100% of the original price