Whale shark sightseeing tour 【Glass boat】! Feeding show¥2,500!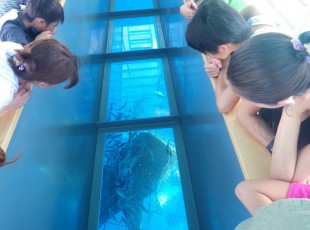 Observe one of the largest animals in the world – the whale shark !  

Through the bottom of the glass boat can watch the feeding show.

Customers of all ages  love the whale shark feeding show.  You can be close up  with a whale shark and  you are safe for sure.

You can not miss out on this fantastic trip. 


Plan Details
Operating days


Full year

Venue

Yomitan

Time required

Approximately1hours
About 75 minutes(from assemble until return to port)

Number of passengers required

At least 2 people

Participation age

0years old ~

Pick-up guide

Reservation deadline

2 days 12 before
※Please contact us by phone after the deadline of booking application by e-mail. (TEL:098-941-6828)

Payment method
【 9:30 assemble)】Whale shark sightseeing tour 【Glass boat】

Price

Adult(older 12 years old) &yen2,500
Children(6 ~11 years old) &yen1,500
Infant(0~5 years old) &yen600

What is included

Experience fee、Transportation、Insurance

Schedule

※Required time:about 75 minutes(from assemble until return to port)※

9:30 Assemble → Register →

Depart form the port (about 15 minutes and arrive point)→

Observe the whale shark (about 30 minutes)→

10:45 Return to the port→Dismiss

Meeting place・Map

Top Marine Zanpa/Toya Gyokou B1
Nakagami-gun Yomitan-son 33 Toya Gyokou [Map]



Meeting place・Time

9:30 assemble

Parking lot

Assembly point

9:30 Assemble Top Marine Zanpa/Toya Gyokou B1(Nakagami-gun Yomitan-son 33)

Dissolution place

10:45 Return Top Marine Zanpa

Transportation Companies

▼Schedule・Read the details▼
【11:30 Assemble】Whale shark sightseeing tour 【Glass boat】

Price

Adult(older 12 years old) &yen2,500
Children(6 ~11 years old) &yen1,500
Infant(0~5 years old) &yen600

What is included

Experience fee、Transportation、Insurance

Schedule

※Required time:about 75 minutes(from assemble until return to port)※

11:30 Assemble→Register→

Observe the whale shark (about 30 minutes) →

12:45 Return to the port.

Meeting place・Map

Top Marine Zanpa/Toya Gyokou B1
Nakagami-gun Yomitan-son 33 Toya Gyokou [Map]



Meeting place・Time

11:30 Assemble

Parking lot

Assembly point

11:30 Assemble Top Marine Zanpa/Toya Gyokou B1(Nakagami-gun Yomitan-son 33)

Dissolution place

12:45 Assemble Top Marine Zanpa

Transportation Companies

▼Schedule・Read the details▼
【 12:30 Assemble】Whale shark sightseeing tour 【Glass boat】

Price

Adult(older 12 years old) &yen2,500
Children(6 ~11 years old) &yen1,500
Infant(0~5 years old) &yen600

What is included

Experience fee、Transportation、Insurance

Schedule

※Required time:about 75 minutes(from assemble until return to port)※

12:30 Assemble→Register→

Depart from port about 15 minutes and arrive point)→

To observe the whale shark(about 30 minutes)→

13:45 Return to the port→Dismiss

Meeting place・Map

Top Marine Zanpa/Toya Gyokou B1
Nakagami-gun Yomitan-son 33 Toya Gyokou [Map]



Meeting place・Time

12:30 Assemble

Parking lot

Assembly point

12:30 Assemble Top Marine Zanpa/Toya Gyokou B1(Nakagami-gun Yomitan-son 33)

Dissolution place

13:45 Assembl Top Marine Zanpa

Transportation Companies

▼Schedule・Read the details▼
【14:30 Assemble】 Whale shark sightseeing tour 【Glass boat】

Price

Adult(older 12 years old) &yen2,500
Children(6 ~11 years old) &yen1,500
Infant(0~5 years old) &yen600

What is included

Experience fee、Transportation、Insurance

Schedule

※Required time:about 75 minutes(from assemble until return to port)※

14:30 Assemble→Fill in form→

Depart from port(about 15 minutes and arrive point)→

To observe the whale shark(about 30 minutes)→

15:45 Return to the port→Dismiss


Meeting place・Map

Top Marine Zanpa/Toya Gyokou B1
Nakagami-gun Yomitan-son 33 Toya Gyokou [Map]



Meeting place・Time

14:30 Assemble

Parking lot

Assembly point

14:30 Assemble Top Marine Zanpa/Toya Gyokou B1(Nakagami-gun Yomitan-son 33)

Dissolution place

15:45 Dismiss Top Marine Zanpa

Transportation Companies

▼Schedule・Read the details▼
Precautions
Precautions

・If you drive by yourself、please enter the phone number of assemble place「098-956-0070」Top Marine.
・Children who under elementary school need to join this tour with guardian.
・The children that the age is 12 years old ~ 20 years old need a signature of the guardian to consent
・Pick-up service:Okinawa Zanpamisaki Royal hotel、Hotel Nikko Alivial only.Please check the seat is available or not.
・Depends of the weather or sea condition, the tour may be canceled.
・Please bring motion sickness pills if you need.
・Befor you make a reservation, please read the travel conditions statement.

Cancellation policy

If for any reason, the customer cancels his or her reservations, he or she will have to pay the following cancellation fees. Furthermore, please keep in mind that any bank transfer fees will be the customer's responsibility.
Cancellation 8-10 days before reservation date・・・20% of the original price
Cancellation 2-7 days before the reservation date・・・30% of the original price
Day before the reservation date・・・50% of the original price
On the reservation date・・・100% of the original price