Photographing at 2 places+50 shots+ Limo included! Location beach photo <South side> ¥89,000~¥99,000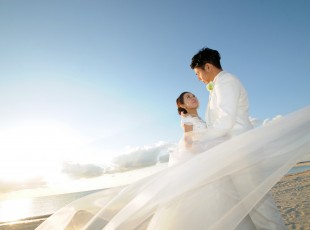 The most popular wedding photo(location photo) is the south course.
This is a great tour for those who are  planning a wedding, who want to take a picture like at a resort wedding, honey moon or for the memory of a wedding anniversary.
Guests will wear a wedding dress & tuxedo, driving in the luxurious limo makes you feel like you are a celebrity. You can take a photograph with the white limo and the blue sky & sea of Okinawa. You can make unforgettable memories with your partner. Cerulean blue take the photos in various places unlike other companies who take photos only at the beach. So, you will be satisfied with us. The south course is recommended for customers staying in Naha city.
Plan Details
Operating days


All season
*It takes extra cost 15,000yen on 12/28~1/4

Venue

South side Okinawa main Island

Time required

Approximately3hours


Number of passengers required

2person

Pick-up guide

The pick-up service from studio to the shooting place is included.
Please come to the studio on your own.

Reservation deadline

7 days 18 before
※Please contact us by phone after the deadline of booking application by e-mail or skype. (TEL:098-941-6828)

Payment method
AM course

Price

weekday fair &yen89,000
weekend, holiday fair &yen99,000

What is included

1. Rental dress
(XS~M/ about 30 dresses/basic props/shoe size 225~245)
2. Rental tuxedo
(white・black・grey/about 10 tuxedo/basic props/ shoe size245~28)

Schedule

【Before the shooting day】
1. After arriving at Naha city, please come to the studio until the day before the shooting. (The shop open time 10:00~20:00)
2. It will check about the schedule and outfits.(about 60 min)
3. After the checking, please return to your hotel on your own.

【The shooting day】
1. Please come to the studio until 9:00am. It will take about 60min doing hair, make up on, dress up.
2. Move to the shooting spot by limo.
3. Photo shooting (about 30min~40min)
4. After the shooting, move to the studio by limo.
5. After returning to studio, the photo CD will be .


What to bring

It's not necessary, if you prepare the 「white T shirt/ black or white socks- groom」,「bra can remove the strap」, it could be convenience.

Meeting place・Time

9: 00 Meeting

Parking lot

There is a free parking lot at the studio

Additional options

Chapel shooting(including 30 cuts) ¥40,000
balloons ¥10,000
balloons ¥15,000

Assembly point

〒900-0037 Okinawa-ken, Naha-shi, Tsuji, 2 Chome−23−8

Dissolution place

〒900-0037 Okinawa-ken, Naha-shi, Tsuji, 2 Chome−23−8

Transportation Companies

▼Schedule・Read the details▼
PM course

Price

weekday fair &yen89,000
weekend, holiday fair &yen99,000

What is included

1. Rental dress
(XS~M/ about 30 dresses/basic props/shoe size 225~245)
2. Rental tuxedo
(white・black・grey/about 10 tuxedo/basic props/ shoe size245~28)

Schedule

【Before the shooting day】
1. After arriving at Naha city, please come to the studio until the day before the shooting. (The shop open time 10:00~20:00)
2. It will check about the schedule and outfits.(about 60 min)
3. After the checking, please return to your hotel on your own.

【The shooting day】
1. Please come to the studio until 1:00pm. It will take about 60min doing hair, make up on, dress up.
2. Move to the shooting spot by limo.
3. Photo shooting (about 30min~40min)
4. After the shooting, move to the studio by limo.
5. After returning to studio, the photo CD will be .


What to bring

It's not necessary, if you prepare the 「white T shirt/ black or white socks- groom」,「bra can remove the strap」, it could be convenience.

Meeting place・Time

1:00 Meeting

Parking lot

There is a free parking lot at the studio

Additional options

Chapel shooting(including 30 cuts) ¥40,000
balloons ¥10,000
balloons ¥15,000

Assembly point

〒900-0037 Okinawa-ken, Naha-shi, Tsuji, 2 Chome−23−8

Dissolution place

〒900-0037 Okinawa-ken, Naha-shi, Tsuji, 2 Chome−23−8

Transportation Companies

▼Schedule・Read the details▼
Precautions
Precautions

*The inquiry and reservation are available until 7days ago. (am9:30~pm18:00)
*The shooting place will be decided depending on the weather. The customer cannot design where it will be.
*Please inform us the height/weight of the groom, and the size of the bride.(from XS to M)
*When the shooting is not available because of the rain or storm, after the inquiry with the customer the option will be..
①Take a re-shooting during you are in Okinawa. ②Take a photo at the chapel. ③Refund(booking commission 10,000yen + transfer commission will be subtracted)
If you don't choose any of them, we cannot provide the refund.
*When the weather is cloudy, the decision is up to the customer.
●In case you cancel it, consider that it is a rough weather, 30% will be subtracted as a cancel fee, and the rest amount will be refunded.
●In case you want to shoot, and when it rains before the shooting, 50% will be subtracted as a cancel fee, and the rest amount will be refunded.
*It's not necessary, if you prepare the 「white T shirt/ black or white socks- groom」,「bra can remove the strap」, it could be convenience.
*Please come to the studio on your own. With partner, kid, family or friends, you can take a photo with your companies. As the limo can be seated up to 7 person, if your companies are more than 7 person, please come to the shooing place on your own.
*About the fitting, the number of dress could be various depends on the size. Also, according to the condition of rental, the stock could be not so many.
*The outfit, bouquet, etc. could be changed without notice. Please note.



Cancellation policy

If for any reason, the customer cancels his or her reservations, he or she will have to pay the following cancellation fees. Furthermore, please keep in mind that any bank transfer fees will be the customer's responsibility.
Cancellation 8-10 days before reservation date・・・20% of the original price
Cancellation 2-7 days before the reservation date・・・30% of the original price
Day before the reservation date・・・50% of the original price
On the reservation date・・・100% of the original price