☆Departure from Naha Airport☆ Churaumi Quick liner! Okinawa Churaumi Aquarium nonstop bus plan! ¥ 3,500!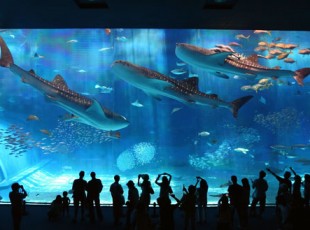 Tour specially designed for those who want to make the most out of their time during Okinawa.
A direct bus will take you from the airport to the Churaumi Aquarium. On the way back there are several stops at the main hotels for you to pick up the most suitable one.
Price includes Churaumi Aquarium entrance fee.
・【Churaumi aquarium】
Around 2h 30min stop! Admire the enormous whale sharks swimming together with the manta rays in the huge 8.2m high and 22.5m wide water tank. You won't be disappointed!
Plan Details
Operating days

〜 2019-10-31
All Season
※The tour will not be operated on 2018/12/2, 5, 6.

Venue

Time required

Approximately 6~7 hours
Free time (about 2.5 hours) at Churaumi Aquarium

Number of passengers required

1~

Participation age

0

Reservation deadline

2 days 16 before
※For any inquiries after the WEB reservation deadline, Please contact us at:
(TEL:098-941-6828)

Payment method
Churaumi Aquarium nonstop bus tour!

Price

Adult (16 years old~) &yen3,500
Child (7 year-old~15 year-old) &yen2,300
Infant (4~7 years old / no ticket) &yen1,800

What is included

Transportation, Churaumi Aquarium ticket (after 16:00 ticket)

Schedule

13:50 Exit 4, 1F Naha airport domestic line
14:00 departure →

16:00 Arrival at Okinawa Churaumi Aquarium (free time about 2.5h) →
18:35 Departure from Churaumi Aquarium →

19:20 Arrival Okinawa Mariott Resort&Spa →
19:35 Arrival ANA InterContinental Manza beach Resort →
19:45 Arrival Rizzan sea park hotel Tancha bay →
19:50 Arrival Sheraton Okinawa Sunmarina Resort →
19:55 Arrival Hotel Montrey Okinawa (near by Tiger beach bus stop) →
20:00 Arrival Hotel Moon beach →
20:05 Arrival Renaissance Resort Okinawa →
20:35 Arrival Hilton Okinawa Chatan resort →
20:40 Arrival The beach tower Okinawa →
21:05 Arrival Kariyushi Urban Resort Naha →
21:15 Arrival in front of Okinawa prefecture government office

※Schedule is can be changed due to traffic conditions.

Meeting place・Time

13:50 Exit 4, 1F Naha airport domestic line

Assembly point

13:50 Exit 4, 1F Naha airport domestic line

Dissolution place

19:20 Arrival Okinawa Mariott Resort&Spa →
19:35 Arrival ANA InterContinental Manza beach Resort →
19:45 Arrival Rizzan sea park hotel Tancha bay →
19:50 Arrival Sheraton Okinawa Sunmarina Resort →
19:55 Arrival Hotel Montrey Okinawa (near by Tiger beach bus stop) →
20:00 Arrival Hotel Moon beach →
20:05 Arrival Renaissance Resort Okinawa →
20:35 Arrival Hilton Okinawa Chatan resort →
20:40 Arrival The beach tower Okinawa →
21:05 Arrival Kariyushi Urban Resort Naha →
21:15 Arrival in front of Okinawa prefecture government office

Transportation Companies

▼Schedule・Read the details▼
Precautions
Precautions

・The order of the tour destinations could be changed due to traffic conditions.
・The price does not include lunch.
・Please bear in mind that you might be asked to sit next to other people during the bus tour when traveling alone.
・No smoking.

Cancellation policy

If for any reason, the customer cancels his or her reservations, he or she will have to pay the following cancellation fees. Furthermore, please keep in mind that any bank transfer fees will be the customer's responsibility.
Cancellation 8-10 days before reservation date・・・20% of the original price
Cancellation 2-7 days before the reservation date・・・30% of the original price
Day before the reservation date・・・50% of the original price
On the reservation date・・・100% of the original price