【Depart from Naha】<B course>《Tropical Dream Center》&《Kouri Island》&《Ryukyu Village》!Churashima One-day Sightseeing Bus Tour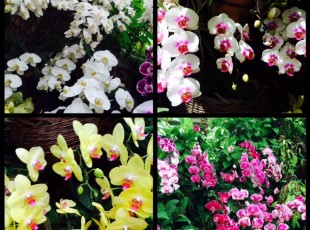 A one-day sightseeing bus tour, affiliated with Churashima.

After visiting Kouri Island, we will go to the Tropical Dream Center at Ocean Expo Park.
There are three greenhouses at the Tropical Dream Center, and together they host more than 2,000 orchids all year round.

 Apart from the orchids, there are also tropical flowers and fruits at the greenhouses. Don't miss this great opportunity!

After visiting the Tropical Dream Center, we will continue the tour at the Okinawan original sweets shop and【Yanbaru Forest Park】!!  There you can buy some souvenirs and taste all kinds of sweets, like the purple sweet potato tart.

The tour will finish at 【Ryukyu Village】, an historical folk village recreating the culture and lifestyle of an ancient Okinawa village.

プラン詳細
Operating days

〜 2019-09-30
※Tour will not be carried on the first Wednesday and Thursday of December since the Ocean Expo Park remains closed those days.
※Tour will not be carried on January to February either, since the Tropical Dream Center usually holds the Okinawa International Orchid Exhibition during those dates.

Venue

Time required

Approximately 10 hours

Number of passengers required

At least 2 people

参加可能年齢

No limit

Pick-up guide

Reservation deadline

1 days 19 before
※For any inquiries after the WEB reservation deadline, Please contact us at:
(TEL:098-941-6828)

Payment method
《Tropical Dream Center》Churashima One-day Sightseeing Bus Tour

Price

Adult (aged 15 and older) &yen4,100
Child (3 year-old~14 year-old) &yen2,980
Indant (2 year-old and under) &yen0

What is included

Transportation, Admission fees, Japanese tour guide, Insurance and Tax.

Schedule

8:30 Palette Kumoji (in front of Nippon Rent-A-Car)
↓
9:00 DFS Galleria
↓
10:20 Kouri Island (approximately 20min)
↓
11:30 Tropical Dream Center (approximately 150min)
↓
15:00 Okashigoten (approximately 30 minutes)
↓
15:40 Cape Manza (approximately 20 minutes)
↓
16:30 Ryukyu Village (approximately 60min)
↓
18:30 DFS Galleria
↓
18:50 Palette Kumoji

Meeting place・Map

front of prefectural office Pallette Kumoji/front of Nippon Rent-A-Car
1 Choume-1-1 Kumoji, Naha-shi, Okinawa-ken [Map]

Omoromachi DFS Galleria/洋服の青山向かい側
4 Choume-1 Omoromachi, Naha-shi, Okinawa-ken [Map]



Meeting place・Time

Palette Kumoji(In front of Nippon rental car)/8:20 assemble

DFS Galleria(Across the street of clothes of Aoyama)/8:50 assemble

Assembly point

8:20 assemble Palette Kumoji(In front of Nippon rental car)
8:50 assemble T Galleria(Across the street of clothes of Aoyama)

Dissolution place

Palette Kumoji
T Galleria

Transportation Companies

▼Schedule・Read the details▼
Precautions
Precautions

・Please bear in mind that you might be asked to sit next to other people during the bus tour when traveling alone.
・The order of the tour destinations could be changed due to traffic conditions.
・Reservation is open until 22:00 pm of the day before the tour day.
・The price does not include lunch. Please arrange your own meals during the 150 minutes of free time at Tropical Dream Center.
・The bus guide will give you all the needed information during the tour.
・Schedule is subject to changes due to traffic conditions.
・No smoking.
・We are not responsible if you are late for a scheduled event after this tour is completed due to traffic jams or other delays, which may occur. If you are flying after the tour, please plan accordingly and give yourself at least two hours time before the plane's departure.
・There is a planned stop at DFS Galleria. Feel free to end your tour there and go shopping.
・In the event of cancellation due to bad weather, we will refund the tour fee by bank transfer. The transfer fee will be paid by the customer.
・Before making the reservation, please read carefully the terms and conditions.

Cancellation policy

If for any reason, the customer cancels his or her reservations, he or she will have to pay the following cancellation fees. Furthermore, please keep in mind that any bank transfer fees will be the customer's responsibility.
Cancellation 8-10 days before reservation date・・・20% of the original price
Cancellation 2-7 days before the reservation date・・・30% of the original price
Day before the reservation date・・・50% of the original price
On the reservation date・・・100% of the original price