【A Course】Okinawa One-day Sightseeing Bus Tour ▶Kouri Island・Okinawa Churaumi Aquarium・Ryukyu Village・Manza Cape (No lunch included)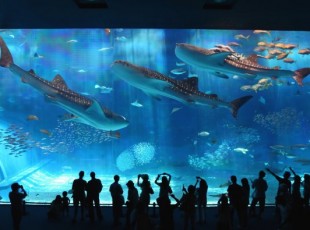 No need to drive by yourself, just relax and enjoy

 the most iconic spots in Okinawa

 The view of the pristine blue sea from Kouri Island Bridge (Japan's longest toll free bridge) is so amazing that you will never forget it

Come and see the two whale sharks 

(the world's largest fish) living in the  "Kuroshio Sea" tank, which is, once again, one of the largest salt water tanks in the world

Ryukyu Village

 This historical folk village recreates the culture and lifestyle of an ancient Okinawa village. Old private houses were moved from various parts of Okinawa and relocated here. Demonstrations, as well as classes featuring traditional Okinawa indigo dyeing (Bingata),  Shisa (pottery) painting, etc… are held at the houses

*************************************
Asking for your kind  assistance to
Prevention The Speading of Corona Virus
1. Please always wear a mask correctly while joing the tour.
2. Please cooperate with our health checking. Please refrain from participating if you have fever on the participating date.
(The customers who have body temperature higher than 37.5 degrees could not join the tour. There is cancel charge for the customer could not join the tour if your temperature is 37.5 degrees or higher at the check in point)
3. Please wash your hands with alcohol-based.
4. Please keeps social distance from other customers (At least 1meter while queueing).
*************************************
Plan Details
Operating days

2019-10-01 〜
All seasons
※ First Wednesday and the following day (Thursday) of December, Churaumi Aquarium will be closed.

Venue

Middle region of Okinawa main island

Time required

Approximately10hours


Number of passengers required

this tour is required 10 participants in total to operate.

age limit

No limit

Pick-up guide

-

Reservation deadline

1 days 18 before
※Please contact us by phone after the deadline of booking application by e-mail or TEL:098-941-6828
(Open hour is 9:00 - 17:00)

Payment method
Okinawa One-day Sightseeing Bus Tour <A course>

Price

Adult (aged 15 and older) &yen5,700
Child (3 year-old~14 year-old) &yen3,700
Infant (2 year-old and under) &yen0

What is included

Transportation, Admission fees, Japanese tour guide, Insurance and Tax.
※The price does not include lunch. Please arrange your own lunch during the 150 minutes of free time at Churaumi Aquarium.
※The entrance fee ¥100 for Manza Cape is not included. please prepare a cash to pay at site.

Schedule

[New schedule regard to COVID situation started from November 2020 - present]

08:30 Departure from Palette Kumoji (in front of Nippon Rent-A-Car)
↓
09:00 Departure from DFS Galleria Omoromachi
↓
Kouri Island (20 mins)
↓
Okinawa Chura-umi Aquarium (2 hrs 30 mins)
↓
Ryukyu Village (45 mins)
↓
Manza Cape (30 mins)
↓
Okashi-koten (Okinawa popular sweets shop) (30 mins)
↓
18:30 Arrival back at DFS Galleria Omoromachi
18:50 Arrival back at Palette Kumoji (in front of Nippon Rent-A-Car)

*************************************
[Usual Schedule]

08:30 Departure from Palette Kumoji (in front of Nippon Rent-A-Car)
↓
09:00 Departure from DFS Galleria
↓
10:20 Kouri Island (approximately 20min)
↓
11:30 Okinawa Churaumi Aquarium (approximately 150min)
↓
15:00 Okashigoten (approximately 30 minutes)
↓
15:40 Cape Manzamo (approximately 20 minutes)
↓
16:30 Ryukyu Village (approximately 60min)
↓
18:30 Arrival back at DFS Galleria
18:50 Arrival back Palette Kumoji


Meeting place・Map

front of prefectural office Pallette Kumoji/front of Nippon Rent-A-Car
1 Choume-1-1 Kumoji, Naha-shi, Okinawa-ken [Map]

Omoromachi DFS Galleria/洋服の青山向かい側
4 Choume-1 Omoromachi, Naha-shi, Okinawa-ken [Map]



Meeting place・Time

Palette Kumoji 8:20/ DFS Galleria 8:50

Assembly point

8:20  Pallette Kumoji / in front of Nippon Rent-A-Car
8:50 Omoromachi DFS Galleria

Dissolution place

- Pallette Kumoji / in front of Nippon Rent-A-Car
- Omoromachi DFS Galleria

Transportation Companies

CeruleanBlue

▼Schedule・Read the details▼
Precautions
Precautions

*********************
[COVID-19 protection measures guidelines]
【 customers 】
・the customers who have body temperature higher than 37.5 degrees could not join the tour.
・Please wash your hands with alcohol-based.
・Please wear a mask while you're in a boat or bus.
・Please keeps social distance from other customers.
・Please cooperate with our health checking.
・Please keep 1meter distance while queueing for registration and getting on the boat.

❈ Health Checking ❈
The customers who have the following conditions could not join the tour.
・Body temperature s higher than 37.5 degrees.
・Strong heavy of breath, legs or body, strong cough, or lost the sense of smell.
・Countries that have been announced by the government to require entry restrictions or an observation period after entry within the last 14 days.
・the customer who has a family member infected, or a related person been infected with the virus.

*********************

1. The order of the tour destinations could be changed due to traffic conditions on the day.
2. The price does not include lunch. Please arrange your own meals during the 150 minutes of free time at Churaumi Aquarium.
3. Schedule is subject to change due to traffic conditions.
4. We are not responsible if you are late for a scheduled event after this tour is completed due to traffic jams or other delays, which may occur. If you are flying after the tour, please plan accordingly and give yourself at least two hours time before the plane's departure.
5. This is a non smoking tour.
6. We will call you in the case of cancellation due to bad weather. Please provide us with either a mobile phone number by which we may contact you or the name of the hotel you will be staying at the day before your scheduled tour.
7. Planned stop at DFS Galleria is available, feel free to end your tour there and go shopping.
8. In the event of cancellation due to bad weather, we will refund the tour fee by bank transfer. The transfer fee will be paid by the customer.
9. Please carefully read the terms and conditions before making the reservation.

Cancellation policy

If for any reason, the customer cancels his or her reservations, he or she will have to pay the following cancellation fees. Furthermore, please keep in mind that any bank transfer fees will be the customer's responsibility.
Cancellation 8-10 days before reservation date・・・20% of the original price
Cancellation 2-7 days before the reservation date・・・30% of the original price
Day before the reservation date・・・50% of the original price
On the reservation date・・・100% of the original price