【C course】1 Day Sightseeing Bus Tour★Great price!★ Churaumi aquarium admission fee included!! ▶ American village ▶ Kouri island ▶ Manzamo cape.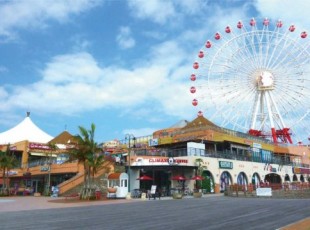 Churaumi aquarium admission fee included!!
(Lunch not included)


Tour information


・【Churaumi aquarium】
Around 2h 30min stop! Admire the enormous whale sharks swimming together with the manta rays in the huge 8.2m high and 22.5m wide water tank. You won't be disappointed!
・【Kouri island】
Kouri, the island of myth and love! The bus crosses the 2 kilometers long bridge where you can lay eyes on the emerald blue sea!
・【Okashigoten】
An Okinawan original sweets souvenir shop. You can get a taste of all kinds of sweets, like purple sweet potato tart.
・【Manzamo cape】
Great view from a 20m high cliff! The elephant shaped rock is one of the most emblematic Okinawan landmarks!
・【American village】
A popular shopping spot, not only for locals but for tourists too! You can also take a short walk to the famous Sunset Beach from here.
*************************************
Asking for your kind  assistance to
Prevention The Speading of Corona Virus.
1. Please always wear a mask correctly while joing the tour.
2. Please cooperate with our health checking. Please refrain from participating if you have fever on the participating date.
(The customers who have body temperature higher than 37.5 degrees could not join the tour. There is cancel charge for the customer could not join the tour if your temperature is 37.5 degrees or higher at the check in point)
3. Please wash your hands with alcohol-based.
4. Please keeps social distance from other customers (At least 1meter while queueing).
*************************************
Plan Details
Operating days

2019-12-23 〜
※Tour will not be carried on the first Wednesday and Thursday of December since Churaumi aquarium remains closed those days.

Venue

Middle region of Okinawa main island

Time required

Approximately11hours


Number of passengers required

10 people

age limit

No limit

Pick-up guide

Reservation deadline

1 days 18 before


Payment method
Chura-shima One-day Sightseeing bus tour ( C course )

Price

Adult (aged 15 and older) &yen5,200
(3 year-old ~ 14 year-old) &yen3,600
Infant(0~2) *no seat &yen0

What is included

Transportation, Admission fees (Aquarium Only), Japanese tour guide, Insurance and Tax.
※The price does not include lunch. Please arrange your own lunch during the 150 minutes of free time at Churaumi Aquarium.
※The entrance fee ¥100 for Manza Cape is not included. please prepare a cash to pay at site.

Schedule

Time Schedule

08:45 Departure fromPalette Kumoji(In front of Nippon rental car).
↓
09:15 Departure from moromachi DFS Galleria(Across the street of clothes of Aoyama).
↓
09:55 Departure from American Village (At front of Chatan Tourist Information Center).
↓
11:15 Arrival Churaumi aquarium (About 2h 30min) 
14:25 Arrival Kouri beach (About 20min) 
15:45 Arrival Okashigoten (About 20min) 
16:25 Arrival Manza cape (About 20min) 
17:35 Arrival American village(About 50min)
19:05 Arrival Omoromachi DFS Galleria
19:25 Arrival Palette Kumoji

※The time may vary by the traffic condition.

Price note

Meeting place・Map

front of prefectural office Pallette Kumoji/front of Nippon Rent-A-Car
1 Choume-1-1 Kumoji, Naha-shi, Okinawa-ken [Map]

Omoromachi DFS Galleria/洋服の青山向かい側
4 Choume-1 Omoromachi, Naha-shi, Okinawa-ken [Map]



Meeting place・Time

8:30 at Pallet Kumoji /9:05 at Omoromachi T galleria/9:35 at Chatan information center

Assembly point

- 08:35 Departure Palette Kumoji(In front of Nippon rental car)
- 09:05 Departure moromachi DFS Galleria(Across the street of clothes of Aoyama)
- 09:45 Departure American Village (at front of Chatan Tourist Information Center)

Dissolution place

17:35 Arrival American village(About 50min)
19:05 Arrival moromachi DFS Galleria
19:25 Arrival Palette Kumoji

Transportation Companies

CeruleanBlue

▼Schedule・Read the details▼
Precautions
Precautions

*********************
[COVID-19 protection measures guidelines]
【 customers 】
・the customers who have body temperature higher than 37.5 degrees could not join the tour.
・Please wash your hands with alcohol-based.
・Please wear a mask while you're in a boat or bus.
・Please keeps social distance from other customers.
・Please cooperate with our health checking.
・Please keep 1meter distance while queueing for registration and getting on the boat.

❈ Health Checking ❈
The customers who have the following conditions could not join the tour.
・Body temperature s higher than 37.5 degrees.
・Strong heavy of breath, legs or body, strong cough, or lost the sense of smell.
・Countries that have been announced by the government to require entry restrictions or an observation period after entry within the last 14 days.
・the customer who has a family member infected, or a related person been infected with the virus.

*********************

【Information of the tour day】
・On the day of the tour, If there are no signs at the meeting point, Please locate the bus. It's white and has Cerulean Blue written in blue letters.
・Please bear in mind that you might be asked to sit next to other people during the bus tour when traveling alone.

【Caution】
・The order of the tour destinations could be changed due to traffic conditions.
・The price does not include lunch. Please arrange yourself your own meals during the 150 minutes of free time at Churaumi Aquarium.
・The bus guide will announce the time to return to the bus.
・Schedule is subject to changes due to traffic conditions.
・No smoking.
・We are not responsible if you are late for a scheduled event after this tour is completed due to traffic jams or other delays, which may occur. If you are flying after the tour, please plan accordingly and give yourself at least two hours time before the plane's departure.
・Planned stop at DFS Galleria is available, feel free to end your tour there and go shopping.
・In the event of cancellation due to bad weather, we will refund the tour fee by bank transfer. The transfer fee will be paid by the customer.
・Please carefully read the terms and conditions before making the reservation.

Cancellation policy

If for any reason, the customer cancels his or her reservations, he or she will have to pay the following cancellation fees. Furthermore, please keep in mind that any bank transfer fees will be the customer's responsibility.
Cancellation 8-10 days before reservation date・・・20% of the original price
Cancellation 2-7 days before the reservation date・・・30% of the original price
Day before the reservation date・・・50% of the original price
On the reservation date・・・100% of the original price