【Go To Travel Campaign 35% discount】(C course) Popular Spot ・Okinawa One-day Sightseeing Bus Tour ¥5,100→¥3,315!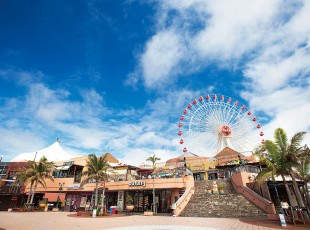 Tickets included/Without lunch.
*********************
'Go To Travel' Campaign 35% discount

Adult Price ¥5,100→¥3,315 35% discounted

*********************


Tour information


・【Churaumi aquarium】
Around 2h 30min stop! Admire the enormous whale sharks swimming together with the manta rays in the huge 8.2m high and 22.5m wide water tank. You won't be disappointed!
・【Kouri island】
Kouri, the island of myth and love! The bus crosses the 2 kilometers long bridge where you can lay eyes on the emerald blue sea!
・【Okashigoten】
An Okinawan original sweets souvenir shop. You can get a taste of all kinds of sweets, like purple sweet potato tart.
・【Manzamo cape】
Great view from a 20m high cliff! The elephant shaped rock is one of the most emblematic Okinawan landmarks!
・【American village】
A popular shopping spot, not only for locals but for tourists too! You can also take a short walk to the famous Sunset Beach from here.
※For a while, the plan is available only in the odd number days.
※We could cancel the plan if we would not assemble customers more than 10 persons. We decide it before 2 to 3 days. If it is cancelled, we notice it to everyone.
<The announce for COVID-19 guidelines>
For participants at the day, we made and uploaded the announcement about the seats, and so on. Please check it before participating.(in Japanese)
https://www.cerulean-blue.co.jp/kanri/wp-content/uploads/2020/07/7e9bb2078b864d80ba65a1a7fc553a74.pdf
This is the translated contents to English:
[Bus attendants]
- We check our body temperature, sanitation, and condition every day.
- We always wear a mask.
- We always sterilize our hands.
[About the bus]
- We always ventilate inside of our bus.
- We keep doing a social distance in our bus. Despite the real capacity(49 seats), we sell only 22 seats less than half of it.
- We always sterilize our bus after driving and while standing by.
[Customers]
- Please keep a social distance from other customers while riding on and taking off the bus.
- Please wash your hands with alcohol-based.
- Please wear a mask while you are on the bus. while outside, please take off it to prevent heatstroke by keeping social distance.
- Please do not keep trash on seats. Please give it to us outside while you take off the bus.
- Please cooperate with our health checking. We deny the participants who have fever, cough, or headache in principle. If you feel health conditions get bad, please tell us.
[About the seats]
The real capacity of the bus: 49 persons
The limit for the tour: 22 persons
※It is not available for customers from Tokyo to reserve this plan.
Plan Details
Operating days

2020-07-27 〜
※ First Wednesday and the following day (Thursday) of December, Churaumi Aquarium will be closed.

Venue

Central/Northern Okinawa

Time required

Approximately 11 hours

Number of passengers required

At least 10 people.

age limit

No limit

Reservation deadline

1 days 18 before
※Please contact us by phone after the deadline of booking application by e-mail. (TEL:098-941-6828)

Payment method
【Go To Travel Campaign 35% discount】(C course) Okinawa One-day Sightseeing Bus Tour ¥5100→¥3315!

Price

Adult (aged 15 and older)¥5100→ &yen3,315
Child (3 year-old~14 year-old)¥3100→ &yen2,340
Infant (2 year-old and under) ※Seats not included &yen0

What is included

Transportation, Admission fees, Japanese tour guide, Insurance and Tax.
※The price does not include lunch. Please arrange your own lunch during the 150 minutes of free time at Churaumi Aquarium.

Schedule

Time Schedule

08:45 Departure Palette Kumoji(In front of Nippon rental car)
09:15 Departure moromachi DFS Galleria(Across the street of clothes of Aoyama)
09:55 Departure American Village
11:15 Arrival Churaumi aquarium (About 2h 30min) 
14:25 Arrival Kouri beach (About 20min) 
15:45 Arrival Okashigoten (About 20min) 
16:25 Arrival Manza cape (About 20min) 
17:35 Arrival American village(About 50min)
19:05 Arrival Omoromachi DFS Galleria
19:25 Arrival Palette Kumoji

※The time may vary by the traffic condition.

※We could cancel the plan if we would not assemble customers more than 10 persons. We decide it before 2 to 3 days. If it is cancelled, we notice it to everyone.

Meeting place・Map

front of prefectural office Pallette Kumoji/front of Nippon Rent-A-Car
1 Choume-1-1 Kumoji, Naha-shi, Okinawa-ken [Map]

Omoromachi DFS Galleria/洋服の青山向かい側
4 Choume-1 Omoromachi, Naha-shi, Okinawa-ken [Map]

Chatan Information Center
16 Mihama, Chatan-cho, Nakagami-gun, Okinawa, Japan [Map]



Meeting place・Time

8:35 at Pallet Kumoji /9:05 at Omoromachi T galleria/9:45 at Chatan information center

Assembly point

08:35 Departure Palette Kumoji(In front of Nippon rental car)
09:05 Departure moromachi DFS Galleria(Across the street of clothes of Aoyama)
09:45 Departure American Village

Dissolution place

17:35 Arrival American village(About 50min)
19:05 Arrival moromachi DFS Galleria
19:25 Arrival Palette Kumoji

Transportation Companies

CeruleanBlue

▼Schedule・Read the details▼
Precautions
Precautions

<Cancellation policy of 'Go To Travel' campaign>
※If the customers cancel reservation for any reason,we takes cancellation fees based on original fare without the subsidy.
※It is not available for customers from Tokyo to reserve this plan. Please take residence card or document by which we can confirm your address before riding on our bus.



For participants at the day, we made and uploaded the announcement about the seats, and so on. Please check it before participating.(in Japanese)

https://www.cerulean-blue.co.jp/kanri/wp-content/uploads/2020/07/7e9bb2078b864d80ba65a1a7fc553a74.pdf

This is the translated contents to English:

[Bus attendants]
- We check our body temperature, sanitation, and condition every day.
- We always wear a mask.
- We always sterilize our hands.

[About the bus]
- We always ventilate inside of our bus.
- We keep doing a social distance in our bus. Despite the real capacity(49 seats), we sell only 22 seats less than half of it.
- We always sterilize our bus after driving and while standing by.

[Customers]
- Please keep a social distance from other customers while riding on and taking off the bus.
- Please wash your hands with alcohol-based.
- Please wear a mask while you are on the bus. while outside, please take off it to prevent heatstroke by keeping social distance.
- Please do not keep trash on seats. Please give it to us outside while you take off the bus.
- Please cooperate with our health checking. We deny the participants who have fever, cough, or headache in principle. If you feel health conditions get bad, please tell us.

[About the seats]
The real capacity of the bus: 49 persons
The limit for the tour: 22 persons

※We could cancel the plan if we would not assemble customers more than 10 persons. We decide it before 2 to 3 days. If it is cancelled, we notice it to everyone.
※For a while, the plan is available only in the odd number days.


・We don't have any signboard. Please find our bus with 3 blue lines on white background, 'CERULEAN BLUE' is written.

※This is the map of Chatan Information Center.
https://www.cerulean-blue.co.jp/kanri/wp-content/uploads/2018/07/chatan-map.pdf



1. The order of the tour destinations could be changed due to traffic conditions on the day.
2. The price does not include lunch. Please arrange your own meals during the 150 minutes of free time at Churaumi Aquarium.
3. Bus guide rides on bus and guides the tour.
4. Schedule is subject to change due to traffic conditions.
5. This is a non smoking tour.
6. We are not responsible if you are late for a scheduled event after this tour is completed due to traffic jams or other delays, which may occur. If you are flying after the tour, please plan accordingly and give yourself at least two hours time before the plane's departure.
7. Planned stop at DFS Galleria is available, feel free to end your tour there and go shopping.
8. In the event of cancellation due to bad weather, we will refund the tour fee by bank transfer. The transfer fee will be paid by the customer.
9. Please carefully read the terms and conditions before making the reservation.

Cancellation policy

If for any reason, the customer cancels his or her reservations, he or she will have to pay the following cancellation fees. Furthermore, please keep in mind that any bank transfer fees will be the customer's responsibility.
Cancellation 8-10 days before reservation date・・・20% of the original price
Cancellation 2-7 days before the reservation date・・・30% of the original price
Day before the reservation date・・・50% of the original price
On the reservation date・・・100% of the original price