[From Ginowan] Whale shark + Blue cave Snorkeling set plan!! ¥10,000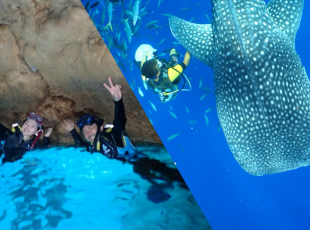 Swim with a Whale shark + Blue cave Snorkeling set

Swim together with the biggest fish in the world

800 meters offshore from Chatan there is a semi captive wild whale shark held inside a big net. With this activity, you will get to swim together with it!
The whale shark is the biggest fish on earth, with over 4 meters, but is a very gentle creature and it will never attack any humans.
And after that, you will get to experience the wonders of blue cave snorkeling!!
You will get to experience two of our most popular activities in just one plan!

Plan Details
Operating days

2020-06-01 〜 2020-10-31
April to October

Venue

Time required

Approximately 3~4 hours

Number of passengers required

The tour starts from 1 person

Participation age

From age 6~

Reservation deadline

1 days 12 before
Please contact us for any inquiries after the WEB reservation deadline:
TEL: +81-98-941-6828 (8:00~21:00)

Payment method
Precautions
Precautions

*Please provide us with the name, age, sex, height, weight and foot size of all participants. (If you need a correction mask, the graduation too.)
*Participating kids need to be accompanied by an adult.
*Participating minors (under 20 years old) need a signature from their legal guardian to participate.
*Tour might be cancelled on the same day due to weather conditions. In the event of a cancellation due to weather conditions, you can ask for a full refund or a date change.
*Please arrange your own swimsuit wear, bath towel, sunscreen and shoes.
*Persons which the following conditions will not be able to participate in this activity: Circulatory system or respiratory system diseases, high blood pressure, otitis media, pregnancy, epilepsy, diabetes, liver failure, hangover or under the influence of alcohol. In addition, accordingly to your health condition on the day of the activity, you might not be able to join us.
*Pick up service available from 2 persons and above.
*Pick up service will be provided from hotels in Naha, if you are staying somewhere else, please let us know.

Cancellation policy

If for any reason, the customer cancels his or her reservations, he or she will have to pay the following cancellation fees. Furthermore, please keep in mind that any bank transfer fees will be the customer's responsibility.
Cancellation 8-10 days before reservation date・・・20% of the original price
Cancellation 2-7 days before the reservation date・・・30% of the original price
Day before the reservation date・・・50% of the original price
On the reservation date・・・100% of the original price