【Diving and underwater photography course】Two days, one night diving and underwater photography course in Kerama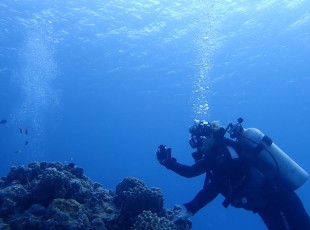 1 night 2 days stay on the boat 

 Close to Zamami in the Kerama Islands, popular around the world 


food and

accommodation included, all aboard


Our veteran staff will kindly arrange your stay.
Two days tour around Zamami island

latest Olympus waterproof camera rental available for free + underwater photography course

Our Cerulean Blue staff will we aboard with you, assuring your safety so you can concentrate on the course and enjoy the tour. 
Schedule is arranged so you can enjoy the experience at ease and take the most out of it. You can also use your free time to do some snorkeling ! 
Latest Olympus waterproof camera rental available for free  + 8 GIGA SD card + underwater photography course given by a professional.
Food and accommodation aboard for 2 days and one night. Our staff will arrange the accommodation for you! 
You can fully admire the greatness of the wide sea and enjoy a beer under the starry sky!

Soothe your soul and have fun under a warm and bright sun

【Kerama islands national park】
The Kerama islands are 40㎞ west from Naha, and comprise around 20 islands, some of them uninhabited. A famous diving spot around the world, it's transparent waters take the name of "Kerama Blue". There you can admire the beautiful coral reefs and the colorful tropical fishes that inhabit them. On the fifth of March 2014, the Kerama archipelago was designated as Japan's 31st national park.
Plan Details
Operating days


All year round

Venue

Kerama Islands

Time required

Approximately 30 hours


Number of passengers required

6 persons

Participation age

From 12 to 60 years

Pick-up guide

Free pick-up service available in Naha city (Airport and Shuri Castle not available.)

Reservation deadline

7 days 0 before
Please contact us for any inquiries or reservations after the website deadline:
TEL 098-941-6828(8:00~21:00)

Payment method
【Diving and underwater photography course】Two days, one night diving and underwater photography course in Kerama

Price

Adult (12 and higher) &yen70,000

What is included

(TG5) / SD card 8G / underwater photography course (diving instructor / bedding / Fun diving 8 times or Experience diving 4 times / diving & snorkeling equipment/ one breakfast once , two lunchs / Insurance
※ One free beer at evening!

Schedule

First day:

7:30 Aprox. Pick up at hotel
8:00 Naha Miegusuku Port
Check equipment
Tour Schedule and camera Explanations
9:00 Aprox. Departure
11:00 Arriving at Kerama Point
Four Fun dives or two Experience dives
Free snorkeling
Lunch
17:30 Travel to anchor point (no waves) for accommodation
First Day Dive Schedule End / Shower
19:00 Dinner (Beverages and snacks are available)
Advice on photographs taken


Second day:

7:00 Breakfast
8:00 Travel to the diving point and start the diving schedule (four Fun dives or two Experience dives)
Free snorkeling during free time
Lunch
14:00 Departure from kerama
16:00 Aprox. Arrival at Naha

What to bring

Please wear your swimsuit before you come and prepare beach towels and suitable shoes.
Snacks and beverages are available aboard.
※ Alcoholic beverages are prohibited aboard!

Meeting place・Map

Naha Miegusuku Port
3 Chome-20 Nishi, Naha-shi, Okinawa-ken [Map]



Meeting place・Time

8:00 AM

Parking lot

Parking lot at Miegusuku is available. (¥ 500 per day)

Assembly point

Naha Miegusuku Port
* Map code 33 154 652

Dissolution place

Naha Miegusuku Port

Transportation Companies

▼Schedule・Read the details▼
Precautions
Precautions

【Information】
*Please wear your swimsuit in advance and bring extra clothes and towels. Paid showers are available in the harbor after the tour ends.
【Precautions】
・Please pay in advance.
・Please wear your swimsuit before you come and prepare beach towels and suitable shoes.
・The map code of the meeting point is 33 154 652.
・At the time of reservation, please let us know your name, age, height, weight, foot size and mobile phone number.
・Persons which the following conditions will not be able to participate in this activity: Circulatory system or respiratory system diseases, high blood pressure, otitis media, pregnant, epilepsy, diabetes, liver failure, hangover or under the influence of alcohol.
・Please be advised that you can't take a flight on the same day you are diving.
・Contact lens are not advised, since you can easily loose them underwater.
・Please bring as little luggage as possible. There isn't much room for it and we will not be responsible for any damage or loss of your luggage.
・Minors need a signature from their legal guardian to participate. 
・The boat will stop overnight at a place with relatively low waves but please be advised that you might still get seasick.
・Shower facilities are available, but please do not bring your own shampoo or soap for environmental conservation reasons.
・You must wear a life jacket while snorkeling.
・Disembark on the island is not available due to environmental conservation reasons.
・Activity might be cancelled on the same day due to weather conditions. In the event of a cancellation due to weather conditions, full refund will be given.

Cancellation policy

If for any reason, the customer cancels his or her reservations, he or she will have to pay the following cancellation fees. Furthermore, please keep in mind that any bank transfer fees will be the customer's responsibility.
Cancellation 8-10 days before reservation date・・・20% of the original price
Cancellation 2-7 days before the reservation date・・・30% of the original price
Day before the reservation date・・・50% of the original price
On the reservation date・・・100% of the original price