[Pickup from Naha city included] Blue cave snorkeling and parasailing set plan !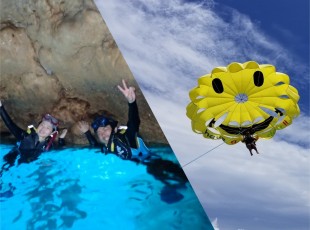 A whole day of fun activities on the west coast of Okinawa!
After snorkeling at the famous blue cave the tour continues with a parasailing activity along the Okinawan west coast!
No need to rent a car, both activities are close to each other and the tour includes pickup service from Naha hotels!
Plan Details
Operating days

2020-05-08 〜
All year round

Venue

Time required

Approximately8.5hours


Number of passengers required

minimum of 2 persons for the tour to operate

age limit

From 6 to 59 years old

Pick-up guide

Pickup from Naha hotels available

Reservation deadline

1 days 12 before
For any inquiries after the WEB reservation deadline, Please contact us at
TEL: +81-98-941-6828 (8:00~21:00)

Payment method
[Pickup from Naha city included] Blue cave snorkeling and parasailing set plan !

Price

From 6 to 59 years old. &yen14,000

What is included

Course fees, instructor, rental equipment for the snorkeling and the parasailing activities, pickup service and insurance.

Schedule

9:00 Pickup at Naha hotel
↓
10:00 Arrival at the blue cave activity meeting point, explaining and departure to the blue cave.
↓
11:00 Blue cave snorkeling tour (Entry by boat) 40 min aprox.
↓
12:00 2 hours free time (shower, lunch, etc.)
↓
14:00 After finishing the snorkeling tour, we will move to the parasailing tour meeting point.
↓
15:00 Parasailing (10 min aprox.)
↓
16:00 Departure to Naha hotel.
↓
17:30 Arrival at Naha hotel.

What to bring

Please arrange your own swimsuit wear, bath towel, sunscreen and shoes. Shower available at the end of the tour.

Meeting place・Time

9:00

Assembly point

9:00 Naha hotel pickup

Dissolution place

17:50 Naha hotel drop off

Transportation Companies

Salty Rays

▼Schedule・Read the details▼
Precautions
Precautions

*At the time of your reservation, please provide us with a mobile phone number (Japanese number), age, height, weight, foot size, eyesight and the hotel's name of all participating persons.
*Please arrange your own swimsuit, bath towel, sunscreen and shoes. Shower available at the end of the tour.
*Free camera rental available (one per group) depending on availability. Availability is not guaranteed, sorry for the inconvenience. (SD card is ¥1000).
*The instructor can give you a data CD with the pictures taken during the tour for ¥2160. If you wish to use this service please pay the same day of the tour.
*Tour needs a minimum of 2 persons to operate, sorry for the inconvenience.
*Medical certification is required for those over 60 years old wishing to participate in this tour.
*People with the following conditions will not be able to participate in this activity: Circulatory system or respiratory system diseases, high blood pressure, otitis media, pregnancy, epilepsy, diabetes, liver failure, hangover or under the influence of alcohol. In addition, accordingly to your health condition on the day of the activity, you might not be able to join us.
*Unaccompanied minors (under 18 years old) must bring a letter of consent signed by their legal tutors. Kids under 12 years old must be accompanied by their legal tutor.
*If the waves are calm, it is still possible to do snorkeling even in the event of rain.
*Please bring adequate clothes to the parasailing activity. No need to bring a swimming suit but bear in mind that your clothes will get wet. Try to bring a change of clothes and avoid using heels or uncomfortable shoes.

Cancellation policy

If for any reason, the customer cancels his or her reservations, he or she will have to pay the following cancellation fees. Furthermore, please keep in mind that any bank transfer fees will be the customer's responsibility.
Cancellation 8-10 days before reservation date・・・20% of the original price
Cancellation 2-7 days before the reservation date・・・30% of the original price
Day before the reservation date・・・50% of the original price
On the reservation date・・・100% of the original price