<SEP&OCT>★ Experience the beautiful coral in Kerama! Half day experience tour (Naha City Hotel Pick up included) ¥5,000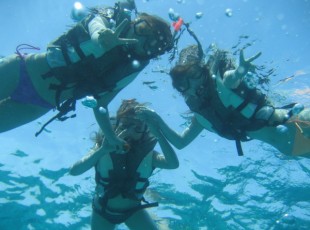 ※This tour does not land on any islands.
July&August only plan!
【Recommendations】
・Relax on this perfect half day tour!
 Enjoy snorkeling in the Kerama♪
・There is plenty to do on this tour! It can be enjoyed by all♪
・Fish food is provided on the half day tour ♪
・Travel just 30 mins by boat to the point in the Kerama's
The veteran captain will take you to the best point available.
・Travel by catamaran cruiser♪
・Enjoy 360 degree views in the beautiful ocean♪
・Experience beautiful corals and incredibly friendly sea life♪
The Kerama Islands are made up of around 20 islands located just 20 minutes from Naha.
The Kerama Blue ocean is incredible and is listed as one of the beautiful in the world!
Experience this incredible ocean for yourself!
Plan Details
Operating days

2019-09-01 〜 2019-10-31
Sep&Oct Only Plan

Venue

Time required

Approximately3hours


Number of passengers required

More than 10 passengers

Participation age

6-64 years

Pick-up guide

Pick up service available from Naha City Hotels.

Reservation deadline

1 days 12 before
If you are unable to make a reservation online, Please contact us on
(TEL:098-941-6828)

Payment method
Sep&Oct- 8:30am departure A Course- Snorkeling

Price

Adult (12-64 years) &yen5,000
Child (6-11 years) &yen4,500

What is included

Boat fee、Insurance、Guide、Snorkeling set rental、Naha pick up service

Schedule

8:30 Miegusuku port NEWS flag near port entrance→
9:00 Departure→
9:30 Arrival at the point
Free time- Enjoy snorkeling
11:30 Departure from point
12:00 Return to Miegusuku port.

※For customers meeting directly at Miegusuku port it will cost ¥500 for 1 day.
※Please let us know the hotel you would like to be picked up from when making your reservation.
We will let you know the pickup time the day before your tour.
There are some hotels where pick up is not available.

What to bring

Swimwear, Towel, Change of clothes

Meeting place・Map

Naha Miegusuku Port
3 Chome-20 Nishi, Naha-shi, Okinawa-ken [Map]



Meeting place・Time

8:30am Meeting time NEWS flag in Miegusuku port

Parking lot

Assembly point

Dissolution place

Transportation Companies

▼Schedule・Read the details▼
Sep&Oct- 13:00 departure A Course- Snorkeling

Price

Adult (12-64 years) &yen5,000
Child (6-11 years) &yen4,500

What is included

Boat fee、Insurance、Guide、Snorkeling set rental、Naha pick up service

Schedule

13:00 Miegusuku port NEWS flag near port entrance→
13:30 Departure→
14:00 Arrival at the point
Free time- Enjoy snorkeling
16:00 Departure from point
16:30 Return to Miegusuku port.

※For customers meeting directly at Miegusuku port it will cost ¥500 for 1 day.
※Please let us know the hotel you would like to be picked up from when making your reservation.
We will let you know the pickup time the day before your tour.
There are some hotels where pick up is not available.

What to bring

Swimwear, Towel, Change of clothes

Meeting place・Map

Naha Miegusuku Port
3 Chome-20 Nishi, Naha-shi, Okinawa-ken [Map]



Meeting place・Time

13:00 Meeting time NEWS flag in Miegusuku port

Parking lot

Assembly point

Dissolution place

Transportation Companies

▼Schedule・Read the details▼
Precautions
Precautions

【On the day】
・Please wear your swimwear before joining and bring a towel and shoes that can get wet. You can use the coin shower in the waiting area after the tour.
・If you are traveling by rental car, Please search for ''Naha Beachside Hotel'' next to the port.
 The hotel will be on your right. If you continue on the road you will hit the gate to the port. Once you go inside there will be a flag with ''NEWS'' to the left. This is the meeting point.
・The carpark costs ¥500 for 1 day.


【Caution】
・This tour does not land on any islands,
・Let us know if you require a special lense mask for customers who have poor eye sight.
・Extra options can be reserved on the day. However if the tour is full your request may be refused.
 Thank you for your understanding.
・There are limited underwater camera's available.
・The point may change due to weather conditions.
In this case a refund will be given but the transfer bank fees will have to be paid for by the customer.
・Customers with Cardio Vascular or Respiratory problems、Those who have High blood pressure、Ear infections、Pregnant、Epilepsy、
Diabetes、Liver disease、Intoxicated can not participate on the day of the tour.
Customers feeling unwell may be refused on the tour on the day of.
・Pregnant customers are not able to participate.
・If you have any of the conditions listed above, Please let us know once making a reservation.

<Snorkeling tour>
・For safety reasons、Customers under 6 and over 64 years can not join.

<Experience diving>
・Particpants under 9 and over 59 years can not join in the diving tour.
・Customers can not dive and fly on the same day due for health reasons.

<Marine Sports>
・Customers can not operate the jet ski. The crew will operate it.

<Turtle watching tour>
・The tour guide will search for turtles but as they are wild animals it is not guaranteed they can be seen.
No refund will be given.
・Due to sea conditions the day off. The point may not be able to be visited.

Cancellation policy

If for any reason, the customer cancels his or her reservations, he or she will have to pay the following cancellation fees. Furthermore, please keep in mind that any bank transfer fees will be the customer's responsibility.
Cancellation 8-10 days before reservation date・・・20% of the original price
Cancellation 2-7 days before the reservation date・・・30% of the original price
Day before the reservation date・・・50% of the original price
On the reservation date・・・100% of the original price