【Departure from Onna village】Pickup service from your hotel included. A coral and clown fish paradise, snorkeling OR scuba diving tour ¥5,000~!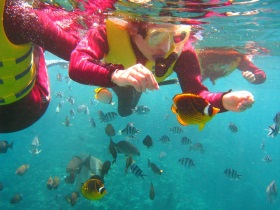 「Nakayukui」is a very well known diving point diving among divers. 

Here you can swim with lots of clown fishes

 It's a coral paradise


「Nakayukui」means resting space in Okinawan language. As the name implies, it's the best place to relax. 

【Highlights】

Lots of clown fish and coral



Approximately 3 ~ 5 minutes by boat.
NO need to worry about seasickness


Plan Details
Operating days


All season

Venue

Onna village

Time required

Approximately 2 ~ 2.5 hours.

Number of passengers required

At least 2 people

Participation age

6 to 64 years old

Pick-up guide

Reservation deadline

2 days 18 before
※Please contact us after the deadline of WEB reservation.
TEL: +81-98-941-6828 (8:00~21:00)

Payment method
The paradise of coral and anemone fish snorkeling.

Price

6~ 64 years old &yen5,000

What is included

Boarding fare、Snorkel set、Equipment、Insurance、Tax

Schedule

①8:15 ②10:15 ③13:15 ④15:15 
summer resort okinawa
 ↓
Fill up the program application form
 ↓
Wear wet suit
 ↓
Explain the rules
 ↓
Departure (about 3 ~ 5 minutes arrive the point)
 ↓
Enjoy your snorkeling time. (approximately 40 minutes )
 ↓
Back to fishing port、take a shower.

What to bring

On the swimsuit wear, bath towel, sunscreen, shoes, please bring by yourself.
※After the snorkeling, there are shower room in the shop.


Meeting place・Time

①8:15 ②10:15 ③13:15 ④15:15

Note

※The passenger who over 60 years old the medical certificate is required.

Parking lot

There are free parking area.

Assembly point

summer resort okinawa (2679-1,yamada,onnason)

Dissolution place

summer resort okinawa

Transportation Companies

▼Schedule・Read the details▼
The paradise of coral and anemone fish scuba diving.

Price

10 ~ 64 years old &yen10,000

What is included

Boarding fare、Equipment、Insurance、Tax

Schedule

①8:15 ②10:15 ③13:15 ④15:15
Summer Resort Okinawa
 ↓
Fill up the program application form
 ↓
Wear wet suit
 ↓
Explain the rules
 ↓
Departure (about 3 ~ 5 minutes arrive the point)
 ↓
Enjoy your snorkeling time. (approximately 40 minutes )
 ↓
Back to fishing port、take a shower.

What to bring

On the swimsuit wear, bath towel, sunscreen, shoes, please bring by yourself.
※After the snorkeling, there are shower room in the shop.

Meeting place・Time

①8:15 ②10:15 ③13:15 ④15:15

Note

※The passenger who over 60 years old the medical certificate is required.

Parking lot

There are free parking area.

Assembly point

Summer Resort Okinawa (2479-1 yamada onnason)

Dissolution place

Summer Resort Okinawa

Transportation Companies

▼Schedule・Read the details▼
Precautions
Precautions

【On tour day】
・Please arrange your own swimsuit wear, bath towel, sunscreen and shoes.
・Free parking lot, clothing room and toilet available.
・At the time of your application, please inform the mobile number(contact possible way from Japan), age, height, weight, foot size, eyesight, hotel's name of all of you.
・For customers over 60 years old, please bring a health certificate issued by your doctor..
・If you get to the meeting point by car, please enter the map code:「206 033 383」.

【Snorkeling】
・Participants suffering from epilepsy, heart disease or pregnant women are not able to participate in this activity.
・For customers suffering from circulatory or respiratory system diseases or diabetes, please bring a health certificate issued by your doctor.
・A life jacket will be provided. For safety reasons, wear it at all times while snorkeling.


【Scuba diving】
・Persons which the following conditions will not be able to participate in this activity: Circulatory or respiratory system diseases, high blood pressure, otitis media, pregnancy, epilepsy, diabetes, liver failure, hangover or under the influence of alcohol. In addition, accordingly to your health condition on the day of the activity, you might not be able to join us.
・Please bear in mind that, due to health security reasons, any participant won't be able to flight on the same day after diving.
・Minors (under 20 years old) need a signature from their legal guardian to participate. 
・Activity might be cancelled on the same day due to weather conditions. In the event of a cancellation due to weather conditions, you can ask for a full refund or a date change.


Cancellation policy

If for any reason, the customer cancels his or her reservations, he or she will have to pay the following cancellation fees. Furthermore, please keep in mind that any bank transfer fees will be the customer's responsibility.
Cancellation 8-10 days before reservation date・・・20% of the original price
Cancellation 2-7 days before the reservation date・・・30% of the original price
Day before the reservation date・・・50% of the original price
On the reservation date・・・100% of the original price