【Onna Departure】Carmera Included~Kids Marine Sport, Start from 3 Years old can join!Clownfish castle tourー1 Adult&1 Kid only¥7,500~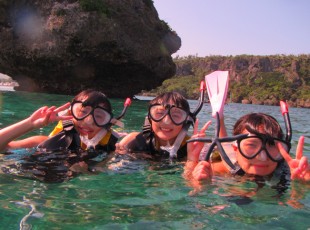 Have fun with your kids on beach.

Even 3 years old can join the banana boat, snorkeling & feeding tropical fish, water pistol & beach toy set.

No worries even you don't swim!

Enjoy beautiful Okinawa blue ocean

※You can print out the photo in shop
※You can bring own micro SD card or buy in 8GB¥1000(Tax included)
プラン詳細
Travel days

2018-04-01 〜 2019-03-31

Venue

Onna

Time required

Approximately2hours

Number of Travelers

2 peoples above.

参加可能年齢

Aged 3 above.

Deadline of reservation

2 days 12 before
※Please kindly email or Tel to reserve. (TEL:098-941-6828)

Payment method
【8:30 Departure】Kid's Marine Pack!Clownfish castle visit tour.

Price

1 Group (Adult 1, Child 1) &yen7,500
Add 1 more person , Adult (Aged 13 and above) &yen4,000
Add 1 more person , Child (Aged 3~12) &yen3,500

What is included

Banana Boat, Snorkeling equipment, Life jacket, Rental fee, Wetsuit (Winter Only), Insurance fee.

Schedule

8:15 Meeting at Onna Seaside Civil Park, NABEE BEACH okinawa.

 ↓
Check In・Payment

 ↓

Clothes change・Burifing

 ↓

Banana Boat

 ↓

Visit Manza Cape area

 ↓

Snorkeling with tropical fish

 ↓

Back to beach→Water pistol & play on the beach.
 ↓

Take shower, Change cloth ,Finish the tour.

What to bring

Swimsuit, Cothes, Sandal, Towel.

Meeting place・Time

8:15 Meeting at Onna Seaside Civil Park, NABEE BEACH okinawa.

Parking lot

Free of charge.

Assembly point

8:15 Meeting at Onna Seaside Civil Park, NABEE BEACH okinawa.

Dissolution place

10:30 Finish at Onna Seaside Civil Park, NABEE BEACH okinawa.

Transportation Companies

▼Schedule・Read the details▼
【9:30 Departure】Kid's Marine Pack!Clownfish castle visit tour.新規コース

Price

1 Group (Adult 1, Child 1) &yen7,500
Add 1 more person , Adult (Aged 13 and above) &yen4,000
Add 1 more person , Child (Aged 3~12) &yen3,500

What is included

Banana Boat, Snorkeling equipment, Life jacket, Rental fee, Wetsuit (Winter Only), Insurance fee.

Schedule

9:15 Meeting at Onna Seaside Civil Park, NABEE BEACH okinawa.

 ↓
Check In・Payment

 ↓

Clothes change・Burifing

 ↓

Banana Boat

 ↓

Visit Manza Cape area

 ↓

Snorkeling with tropical fish

 ↓

Back to beach→Water pistol & play on the beach.
 ↓

Take shower, Change cloth ,Finish the tour.

What to bring

Swimsuit, Cothes, Sandal, Towel.

Meeting place・Time

9:15Meeting at Onna Seaside Civil Park, NABEE BEACH okinawa.

Parking lot

Free of charge.

Assembly point

9:15 Meeting at Onna Seaside Civil Park, NABEE BEACH okinawa.

Dissolution place

11:30 Finish at Onna Seaside Civil Park, NABEE BEACH okinawa.

Transportation Companies

▼Schedule・Read the details▼
【11:00 Departure】Kid's Marine Pack!Clownfish castle visit tour.

Price

1 Group (Adult 1, Child 1) &yen7,500
Add 1 more person , Adult (Aged 13 and above) &yen4,000
Add 1 more person , Child (Aged 3~12) &yen3,500

What is included

Banana Boat, Snorkeling equipment, Life jacket, Rental fee, Wetsuit (Winter Only), Insurance fee.

Schedule

10:45 Meeting at Onna Seaside Civil Park, NABEE BEACH okinawa.

 ↓
Check In・Payment

 ↓

Clothes change・Burifing

 ↓

Banana Boat

 ↓

Visit Manza Cape area

 ↓

Snorkeling with tropical fish

 ↓

Back to beach→Water pistol & play on the beach.
 ↓

Take shower, Change cloth ,Finish the tour.

What to bring

Swimsuit, Cothes, Sandal, Towel.

Meeting place・Time

10:45 Meeting at Onna Seaside Civil Park, NABEE BEACH okinawa.

Parking lot

Free of change.

Assembly point

10:45 Meeting at Onna Seaside Civil Park, NABEE BEACH okinawa.

Dissolution place

13:00 Meeting at Onna Seaside Civil Park, NABEE BEACH okinawa.

Transportation Companies

▼Schedule・Read the details▼
【14:00 Departure】Kid's Marine Pack!Clownfish castle visit tour.

Price

1 Group (Adult 1, Child 1) &yen7,500
Add 1 more person , Adult (Aged 13 and above) &yen4,000
Add 1 more person , Child (Aged 3~12) &yen3,500

What is included

Banana Boat, Snorkeling equipment, Life jacket, Rental fee, Wetsuit (Winter Only), Insurance fee.

Schedule

13:45 Meeting at Onna Seaside Civil Park, NABEE BEACH okinawa.

 ↓
Check In・Payment

 ↓

Clothes change・Burifing

 ↓

Banana Boat

 ↓

Visit Manza Cape area

 ↓

Snorkeling with tropical fish

 ↓

Back to beach→Water pistol & play on the beach.
 ↓

Take shower, Change cloth ,Finish the tour.

What to bring

Swimsuit, Cothes, Sandal, Towel.

Meeting place・Time

13:45 Meeting at Onna Seaside Civil Park, NABEE BEACH okinawa.

Parking lot

Free of charge

Assembly point

13:45 Meeting at Onna Seaside Civil Park, NABEE BEACH okinawa.

Dissolution place

16:00 Finish at Onna Seaside Civil Park, NABEE BEACH okinawa.

Transportation Companies

▼Schedule・Read the details▼
【15:30 Departure】Kid's Marine Pack!Clownfish castle visit tour.

Price

1 Group (Adult 1, Child 1) &yen7,500
Add 1 more person , Adult (Aged 13 and above) &yen4,000
Add 1 more person , Child (Aged 3~12) &yen3,500

What is included

Banana Boat, Snorkeling equipment, Life jacket, Rental fee, Wetsuit (Winter Only), Insurance fee.

Schedule

15:15 Meeting at Onna Seaside Civil Park, NABEE BEACH okinawa.

 ↓
Check In・Payment

 ↓

Clothes change・Burifing

 ↓

Banana Boat

 ↓

Visit Manza Cape area

 ↓

Snorkeling with tropical fish

 ↓

Back to beach→Water pistol & play on the beach.
 ↓

Take shower, Change cloth ,Finish the tour.

What to bring

Swimsuit, Cothes, Sandal, Towel.

Meeting place・Time

15:15 Meeting at Onna Seaside Civil Park, NABEE BEACH okinawa.

Parking lot

Assembly point

15:15 Meeting at Onna Seaside Civil Park, NABEE BEACH okinawa.

Dissolution place

17:30 Finish at Onna Seaside Civil Park, NABEE BEACH okinawa.

Transportation Companies

▼Schedule・Read the details▼
Precautions
Precautions

※When weather and ocean bad situation, the tour may stop, please kindly contact us before reservation.
※Shower usage will be borne by the customer.Please use facilities on the beach premises.

Cancellation Fees

If, for any reason, the customer cancels his or her reservations, he or she will have to pay the following cancellation fees. Furthermore, please keep in mind that any bank transfer fees will be the customer's responsibility.
Cancellation is 8-10 days before reservation date・・・20% of the original price
Cancellation is 2-7 days before the reservation date・・・30% of the original price
Day before the reservation date・・・40% of the original price
On the reservation date・・・50% of the original price
After scheduled activities have begun and/or not contacting us at all・・・100% of the original price