【Departure from Naha】 Kerama Three Point Snorkeling / Diving Tour with Sea Turtles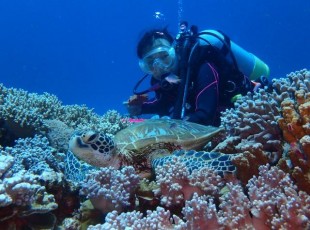 Kerama is a group of islands (around 20, some of them uninhabited) situated around 40 km west of Naha.  It's a worldwide known diving location, famous for its clear waters.
Enjoy this fantastic diving experience! With a visibility of more than 20m at the coral reefs, full of clownfishes and other tropical sea creatures!
If you are lucky enough, you might get to swim with sea turtles!
This tour covers three diving points in Kerama Islands. After enjoying the diving experience during the morning

  we will move to the second and third diving points in the afternoon.

You can use more than one scuba diving tank if needed.
If you want to start practicing diving, Kerama Island is your best choice

 Enjoy while you start diving in Okinawa Kerama Islands.

※Encountering sea turtles is, although very likely, not guaranteed.
※This tour does not disembark at the uninhabited island.
Plan Details
Operating days


All season.

Venue

Kerama islands

Time required

Number of passengers required

2 persons minimum.

Participation age

5 to 59 years old.

Pick-up guide

Pick up service is included in the Experience and Fun diving activities. It has an extra cost of 1000¥ for the snorkeling activity. Available only at Naha hotels.
Please check availability.

Reservation deadline

3 days 12 before
Please contact us for any inquiries or reservations after the website deadline:
TEL: +81-98-941-6828 (8:00~21:00)

Payment method
【Departure from Naha】Snorkeling tour around Kerama Island

Price

Adult (Aged 5-59) &yen11,900

What is included

Boarding fee / Snorkeling instruction fee / Wet suit / Life vest / Snorkeling equipment / Lunch box / Insurance
※ Free underwater camera rental available! (SD card ¥1,000 on site.)

Schedule

8:00: Departure
↓
Arrival at the first point. Snorkelling
↓
Change Points
↓
Arrival at the second point. Snorkelling.
Lunch time (lunch included.)
↓
Arrival at the third point. Snorkelling.
↓
Departure to Naha port.
↓
14:00 to 15:00: Arrival at Naha Miegusuku port.

・Snorkeling will be exclusively around the boat.
・Schedule is subject to change.

What to bring

Please arrange your own swimsuit wear, bath towel, sunscreen and shoes. Available shower room at the harbor.

Price note

Meeting place・Map

Naha Miegusuku Port
3 Chome-20 Nishi, Naha-shi, Okinawa-ken [Map]



Meeting place・Time

7:15 am

Parking lot

※Available parking at Naha Miegusuku Port. ¥500 per day.

Assembly point

Miegusuku Port, Naha city, Okinawa
Map Code : 33 154 652

Dissolution place

Miegusuku Port, Naha city, Okinawa

Transportation Companies

▼Schedule・Read the details▼
【Departure from Naha】Experience Diving tour around Kerama Islands.

Price

Adult (Aged 10-59) &yen14,900

What is included

Boarding fee / diving instructor / one experience diving / diving & snorkeling equipment / lunch / insurance
※ Free underwater camera rental available! (SD card ¥1,000 on site.)

Schedule

8:00: Departure
↓
Arrival at the first point. Experience diving.
↓
Departure to the second point.
↓
Arrival at the second point. Experience diving (optional) or snorkeling.
Lunch time (lunch included.)
↓
Arrival at the third point. Experience diving (optional) or snorkeling.
↓
Departure towards Naha Miegusuku Port.
↓
14:00~15:00 Arrival at Naha Miegusuku Port. (If you don't reserve the pick-up service, please get back to the hotel by your own means.)

・Snorkeling will be exclusively around the boat.
・Schedule is subject to change.

What to bring

Please arrange your own swimsuit wear, bath towel, sunscreen and shoes. Available shower room at the harbor.

Price note

Meeting place・Map

Naha Miegusuku Port
3 Chome-20 Nishi, Naha-shi, Okinawa-ken [Map]



Meeting place・Time

7:15 am

Parking lot

※Available parking at Naha Miegusuku Port. ¥500 per day.

Additional options

Additional Dive Costs ¥5,500

Tour will stop at three points, but participants will only do experience diving in one point, and snorkelling in the other two. Only one experience diving is included in the price, but if you wish to do an additional experience diving during the tour please select the "aditional dive costs" option when doing the reservation.

Assembly point

Miegusuku Port, Naha city, Okinawa
Map Code : 33 154 652

Dissolution place

Miegusuku Port, Naha city, Okinawa

Transportation Companies

▼Schedule・Read the details▼
FUN Diving tour around Kerama Islands (Only with a C card)

Price

Adult (C Card Holder) &yen18,500

What is included

Transportation/Guidance fees/ 2 tanks/Weight belt/Lunch box/Insurance/Pick-up service (only Naha city)
※ Free underwater camera rental available! (SD card ¥1,000 on site.)

Schedule

7:15 Assemble at the Naha Miegusuku Port
 ↓
8:00 Departure towards Kerama Islands.
 ↓
Arrival at the first point. Fun diving. Departure to the second point.
 ↓
Arrival at the second point. Fun diving (If you wish to, we can provide you with a snorkel set and take a break from diving.)
↓
Lunch time and break. Departure to the final point.
 ↓
Arrival at the final point. Fun diving or snorkelling.
 ↓
Departure towards Naha Miegusuku Port.
 ↓
14:00~15:00 Arrival at Naha Miegusuku Port. (If you don't reserve the pick-up service, please get back to the hotel by your own means.)

・Snorkeling will be exclusively around the boat.
・Schedule is subject to change.

What to bring

Please arrange your own swimsuit wear, bath towel, sunscreen and shoes. Available shower room at the harbor.

Price note

Meeting place・Map

Naha Miegusuku Port
3 Chome-20 Nishi, Naha-shi, Okinawa-ken [Map]



Meeting place・Time

7:15 am

Parking lot

※Available parking at Naha Miegusuku Port. ¥500 per day.

Additional options

Extra tank ¥5,500
Full Equipment Rental ¥3,300

Assembly point

Naha Miegusuku Port waiting area

Dissolution place

Naha Miegusuku Port waiting area

Transportation Companies

▼Schedule・Read the details▼
Precautions
Precautions

*Please pay in advance.
*Please arrange your own swimsuit wear, bath towel, sunscreen and shoes. Available shower room at the harbor.
*Persons which the following conditions will not be able to participate in this activity: Circulatory system or respiratory system diseases, high blood pressure, otitis media, pregnancy, epilepsy, diabetes, liver failure, hangover or under the influence of alcohol. In addition, accordingly to your health condition on the day of the activity, you might not be able to join us.
*At the time of your application, please provide us with the mobile number, age, height, weight, foot size, eyesight and hotel's name of all participants.
*Please bear in mind that, due to health security reasons, any participant won't be able to flight on the same day after diving.
*If you use contact lens you may lose them in the water. Please use disposable ones whenever possible.
*We can provide you with prescription water goggles (¥540 ).
* Participating minors need a signature from their legal guardian to participate. Children under 12 years old need to be accompanied in order to join the tour.
* Shower room is available at the meeting place (not free).
* If the waves are calm, it is still possible to do snorkeling even under raining conditions.
* Diving points are subject to change according to weather conditions. Tour might be cancelled on the same day due to weather conditions. In the event of a cancellation due to weather conditions, you can ask for a full refund or a date change.

Cancellation policy

If for any reason, the customer cancels his or her reservations, he or she will have to pay the following cancellation fees. Furthermore, please keep in mind that any bank transfer fees will be the customer's responsibility.
Cancellation 8-10 days before reservation date・・・20% of the original price
Cancellation 2-7 days before the reservation date・・・30% of the original price
Day before the reservation date・・・50% of the original price
On the reservation date・・・100% of the original price