【Half day snorkeling tour] Departure from Naha! Half day Kerama Chibishi island snorkeling tour!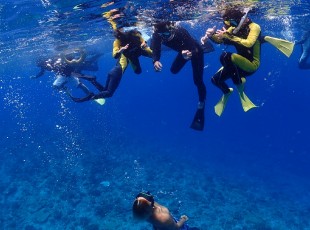 About 20 minutes by boat from Naha

 The closest island of the Kerama Islands!
Boat departs twice a day!
Uninhabited Chibishi Islands snorkel tour

Required time: about 3 hours. Departure from Naha, you can use the rest of the day to go shopping at Kokusai Street. 

Snorkel tour: You will first receive a lesson from an instructor. Even as a beginner, you can still have a great time snorkeling.

 You will also get a free picture from the instructor!
If you are lucky enough, you might get to swim with sea turtles!
And what about meeting some clownfishes around the coral reef?
The snorkeling point is only accessible by boat.

 Life jackets will be provided 

Enjoy the sea, Snorkeling and some Marine Sports 


※Snorkeling activity explanation will be given by Japanese speaking staff in a very simple English.
※Encountering sea turtles is, although very likely, not guaranteed.
※This tour does not disembark at the uninhabited island.
プラン詳細
Operating days

2019-04-01 〜 2019-11-30


Venue

Chibishi islands, Kerama

Time required

Approximately hours


Number of passengers required

snorkeling - 1 adult

参加可能年齢

6~60 years old

Pick-up guide

Reservation deadline

For any inquiries after the WEB reservation deadline, please contact us at:
TEL: +81-98-941-6828 (8:00~21:00)

Payment method
[AM] Half day Kerama Chibishi island snorkeling tour

Price

Snorkeling (6 years old~) &yen5,000
Snorkeling + Parasailing (6 years old~) &yen12,000

What is included

Boarding fare, All equipment, Guide fee, Insurance, wetsuit
※Wetsuit is not included from June to September. If you want to borrow, please let us know. Rental fee is 1,000 Yen per person.

Schedule

8:30 Assembly at Naha Miegusuku port
 ↓
9:00 Departure from port
 ↓
9:20 Arrive the Chibishi snorkeling point
Enjoy snorkeling (about 2 hours)
 ↓
11:30 Back to Naha
 ↓
12:00 Arrive the Naha Miegusuku port

What to bring

On the swimsuit wear, bath towel, sunscreen, shoes, please bring by yourself.

Meeting place・Map

Naha Miegusuku Port
3 Chome-20 Nishi, Naha-shi, Okinawa-ken 英[Map]



Meeting place・Time

8:30 Naha Miegusuku port

Parking lot

There is parking lot at Miegusuku port.
(1 day 500Yen)

Additional options

pick up service(Naha city only) ¥1,000

We will contact to you again to let you know the pick up time.

Assembly point

Naha Miegusuku port (那覇三重城港)
(Map code : 33 154 652)

Dissolution place

Naha Miegusuku port (那覇三重城港)

Transportation Companies

▼Schedule・Read the details▼
[PM] Half day Kerama Chibishi island snorkeling tour

Price

Snorkeling (6 years old~) &yen5,000
Snorkeling + Parasailing (6 years old~) &yen12,000

What is included

Boarding fare, All equipment, Guide fee, Insurance, wetsuit
※Wetsuit is not included from June to September. If you want to borrow, please let us know. Rental fee is 1,000 Yen per person.

Schedule

12:30 Assembly at Naha Miegusuku port
 ↓
13:00 Departure from port
 ↓
13:20 Arrive the Chibishi snorkeling point
Enjoy snorkeling (about 2 hours)
 ↓
15:30 Back to Naha
 ↓
16:00 Arrive the Naha Miegusuku port

What to bring

On the swimsuit wear, bath towel, sunscreen, shoes

Meeting place・Map

Naha Miegusuku Port
3 Chome-20 Nishi, Naha-shi, Okinawa-ken 英[Map]



Meeting place・Time

12:30 Naha Miegusuku port

Parking lot

There is parking lot at Miegusuku port.
(1 day 500Yen)

Additional options

pick up service(Naha city only) ¥1,000

We will contact to you again to let you know the pick up time.

Assembly point

Naha Miegusuku port(那覇三重城港)
(Map code : 33 154 652)

Dissolution place

Naha Miegusuku port(那覇三重城港)

Transportation Companies

▼Schedule・Read the details▼
Precautions
Precautions

*Please pay in advance.
*Due to safety reasons, customers older than 60 years old will not be able to join this tour.
*Please provide us with your phone number, age, height, weight, foot size and your hotel's name.
*Please arrange your own swimsuit wear, bath towel, sunscreen and shoes. Available shower room at the harbor.
*Persons which the following conditions will not be able to participate in this activity: Circulatory system or respiratory system diseases, high blood pressure, otitis media, pregnancy, epilepsy, diabetes, liver failure, hangover or under the influence of alcohol. In addition, accordingly to your health condition on the day of the activity, you might not be able to join us.
*Participating minors (under 20 years old) need a signature from their legal guardian to participate.
*Tour might be cancelled on the same day due to weather conditions. In the event of a cancellation due to weather conditions, you can ask for a full refund or a date change.
*If the waves are calm, it is still possible to do snorkeling even under raining conditions.
*Sea turtles are wild animals. Encountering them is, although very likely, not guaranteed.
*Snorkeling is only available around the ship due to safety reasons.

Cancellation policy

If for any reason, the customer cancels his or her reservations, he or she will have to pay the following cancellation fees. Furthermore, please keep in mind that any bank transfer fees will be the customer's responsibility.
Cancellation 8-10 days before reservation date・・・20% of the original price
Cancellation 2-7 days before the reservation date・・・30% of the original price
Day before the reservation date・・・50% of the original price
On the reservation date・・・100% of the original price