Travel in Okinawa with a private driver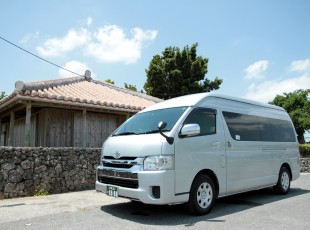 For those who have trouble driving in Japan, We are at your service!
We can provide the service that you want♫
From  popular sight-seeing spots to unknown attractions!
The vehicle can be seat a maximum  of 5 people/ 8 people or 10 people.
プラン詳細
Operating days


All season

Time required

Please let us know the places that you wish to visit.

Reservation deadline

3 days 12 before
※Please contact us by phone after the deadline of booking application by e-mail. (TEL:098-941-6828)

Payment method
Lexus

Price

5 hours &yen22,000
6 hours &yen26,000
7 hours &yen30,000
8 hours &yen34,000

What is included

Rental fee(including the driver fee), Insurance, Tax

Schedule

Please inform us the time that takes and the routes.

Meeting place・Time

The time that you want

Additional options

Assembly point

The place that you want.

Dissolution place

The place that you want.

Transportation Companies

▼Schedule・Read the details▼
Alphard (Maximum: 8 person)

Price

5 hours &yen30,000
6 hours &yen33,000
7 hours &yen37,000
8 hours &yen41,000

What is included

Rental fee( including the driver fee), Insurance, Tax

Schedule

Please inform us the time that takes and the routes.

Meeting place・Time

The time that you want

Additional options

Assembly point

The place that you want

Dissolution place

The place that you want

Transportation Companies

▼Schedule・Read the details▼
Hiace(Maximum 10 person)

Price

5 hours &yen31,000
6 hours &yen35,000
7 hours &yen40,000
8 hours &yen46,000

What is included

Rental fee(including the driver fee), Insurance, Tax

Schedule

Please inform us the time that takes and the routes.

Meeting place・Time

The time that you want

Additional options

Assembly point

The place that you want

Dissolution place

The place that you want

Transportation Companies

▼Schedule・Read the details▼
Precautions
Precautions

Cancellation policy

If for any reason, the customer cancels his or her reservations, he or she will have to pay the following cancellation fees. Furthermore, please keep in mind that any bank transfer fees will be the customer's responsibility.
Cancellation 8-10 days before reservation date・・・20% of the original price
Cancellation 2-7 days before the reservation date・・・30% of the original price
Day before the reservation date・・・50% of the original price
On the reservation date・・・100% of the original price