【Departing from Naha/Half day tour】Whale watching tour 『Okinawa's only high speed glass-bottom boat』★With a bit of luck you will get to see the whales underwater♪★¥5,500★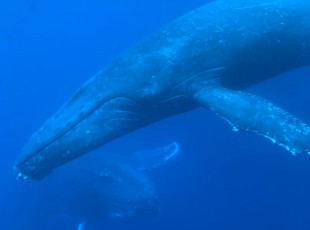 ★Actual footage from 2019/2/24 AM!★
★Let's go whale watching on Okinawa's only high speed glass-bottom boat tour!
★With a bit of luck you will get to see the whales underwater!
★In the event of not being able to spot any whales, full refund or reschedule!
※Full refund (Except from 21st of December to 13th of January)
※Reschedule until 2020/4/5.
~And not just whale watching~
Okinawa's only high speed glass-bottom boat,
【whale watching tour】
With a stop at Okinawa's wonderful coral reefs, where you can admire the tropical fishes through the glass-bottom

This is the only tour where you can have a chance to see whales underwater!
※※In the event of less than 10 customers booking the trip the tour will be rescheduled to another day, sorry for the inconveniences.※※
Plan Details
Operating days

2020-12-26 〜 2021-04-04


Venue

Time required

Approximately 2.5 hours


Number of passengers required

Minimum of 10 customers required.

age limit

No limit.

Pick-up guide

Reservation deadline

1 days 18 before
Please contact us for any inquiries after the WEB reservation deadline:
TEL 098-941-6828(8:00~21:00)

Payment method
Precautions
Precautions

【Information】
※Meeting point map※→https://www.cerulean-blue.co.jp/kanri/wp-content/uploads/2019/02/suichuwhale-map.pdf
Parking:Free parking space available, up to 20 cars. Please park in front of the Harmony (Marine Star's information desk). In the event of no spaces available our staff will guide you to another parking lot, sorry for the inconveniences.

※Tour needs a minimum of 10 customers. If such number cannot be reached the tour will be rescheduled to another day sorry for the inconveniences.
※Glass-bottom space might not be available at all times.
※If the whales are spotted early the tour will finish within one hour.
※During winter season, sea conditions might be extreme. Pregnant women or infants might not be able to join the tour under extreme sea conditions.
※Since whales are wild animals and their behavior is not under our control, spotting them is not guaranteed. In that event, you will get a full refund or a reschedule.

※Full refund (Except from 21st of December to 13th of January)
※Reschedule until 2020/4/5.

●Underwater whale watching is not guaranteed and not covered by the full refund or reschedule.

Additionally, if one of the following conditions is met, the tour might be deemed as concluded:
●If a whale's blow is spotted from a long distance.
●If only part of the customers observe the whale.


※ Tour schedule is subject to changes due to weather conditions.
※ We will contact you in the event of the tour being cancelled due to weather conditions. No refund will be given in this case, sorry for the inconveniences.
※ Please have your belongings readily protected against cold and waterproofed beforehand, no means to do so will be provided at the boat.
※ Any passenger prone to seasickness should take the adequate medicine before starting the tour.

Cancellation policy

If for any reason, the customer cancels his or her reservations, he or she will have to pay the following cancellation fees. Furthermore, please keep in mind that any bank transfer fees will be the customer's responsibility.
Cancellation 8-10 days before reservation date・・・20% of the original price
Cancellation 2-7 days before the reservation date・・・30% of the original price
Day before the reservation date・・・50% of the original price
On the reservation date・・・100% of the original price