2019 Whale watching ・ Naha Departure · Half day tour set price! Okinawa Whale Watching + Parasailing Package Plan ¥11,500→¥10,800!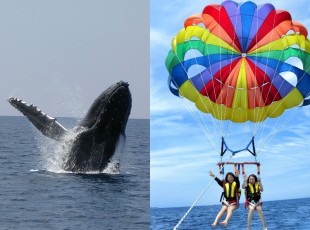 !!2019 Whale watching booking start now!!
End of Dec to April only !!! Meet with the most of  the world's largest mammal→THE HUMPBACK WHALE !!
Whale watching + Parasailing Package !!
☆Bargain Sale Package!
Experience 2  Aquatics style in Okinawa!!
★Naha Departure Only★
【Payment method】
Payment in advance by Credit card Only.
プラン詳細
Operating days

2019-01-04 〜 2019-04-07
Whale watching tour (3 hours) & Parasailing 40~80 Minute

Venue

Time required

Approximately5hours
Whale watching tour (3 hours) & 13:00 Parasailing 40~80 Minute

Number of passengers required

2 Peoples or above

参加可能年齢

Aged 4 & 120 cm or above

Pick-up guide

Pick up service not allowed.

Reservation deadline

1 days 12 before
Please kindly contact us by Email or TEL
TEL 098-941-6828(8:00~21:00)

Payment method
【Naha Departure】Okinawa Whale Watching + Parasailing 13:00 tour

Price

Adult (Aged 12 or above) &yen10,800
Child (Aged 4 120 cm or above) ※Aged 3 or below not allowed to join &yen9,800

What is included

Boat fee, Parasailing fee, Life jacket, insurance.

Schedule

<Whale Watching Tour>
8:30 Meeting point at Miegusuku pier triangle building
9:00 Depart for Whale Watching
12:00 We will return to Miegusuku pier in Naha

<Parasailing>
12:45 Meeting at Miegusuku pier triangle building
13:00 Departure from Miegusuku pier
Parasailing time around 40~80 mins (Flying time around 7~8mins)
return to Miegusuku pier

What to bring

Customers are asked to prepare warm clothing and waterproof protection by oneself.
Customers who easily become sea sick are asked to take medicine prior to joining the tour. We will be selling some medicine at reception on the day.

Meeting place・Map

Naha Miegusuku Port
3 Chome-20 Nishi, Naha-shi, Okinawa-ken [Map]



Meeting place・Time

8:30 Meeting point at Miegusuku pier triangle building

Note

※If you go without pick up service, please follow as blow.
Please search『Naha Beachside Hotel』When arrived hotel you can see one way road, please keep going straight then you can see Miegusuku pier entrance (Please take the ticket if you driving.), keep going inside the pier than you can see a white triangle building, that is our meeting place.

Parking lot

※Full day parking at Miegusuku Port will cost 500 yen.

Assembly point

Naha Miegusuku pier triangle building

Dissolution place

Naha Miegusuku pier

Transportation Companies

▼Schedule・Read the details▼
Whale watching tour (3 hours) & 11:00 Parasailing 40~80 Minute

Price

Adult (Aged 12 or above) &yen10,800
Child (Aged 4 120 cm or above) ※Aged 3 or below not allowed to join &yen9,800

What is included

Boat fee, Parasailing fee, Life jacket, insurance.

Schedule

<Parasailing>
10:45 Meeting at Miegusuku pier triangle building
11:00 Departure from Miegusuku pier
Parasailing time around 40~80 mins (Flying time around 7~8mins)
return to Miegusuku pier

<ホエールウォッチングツアー>
13:00 Meeting point at Miegusuku pier triangle building
13:30 Depart for Whale Watching
16:00 We will return to Miegusuku pier in Naha

※港内駐車場は1回500円/1台にてご利用いただけます。

What to bring

Customers are asked to prepare warm clothing and waterproof protection by oneself.
Customers who easily become sea sick are asked to take medicine prior to joining the tour. We will be selling some medicine at reception on the day.

Meeting place・Map

Naha Miegusuku Port
3 Chome-20 Nishi, Naha-shi, Okinawa-ken [Map]



Meeting place・Time

10:45 Meeting point at Miegusuku pier triangle building

Note

※If you go without pick up service, please follow as blow.
Please search『Naha Beachside Hotel』When arrived hotel you can see one way road, please keep going straight then you can see Miegusuku pier entrance (Please take the ticket if you driving.), keep going inside the pier than you can see a white triangle building, that is our meeting place.

Parking lot

※Full day parking at Miegusuku Port will cost 500 yen.

Assembly point

Naha Miegusuku pier triangle building.

Dissolution place

Naha Miegusuku pier.

Transportation Companies

▼Schedule・Read the details▼
Precautions
Precautions

・The meeting place is located in Miegusuku pier parking lot ¥500 for one day.
・There is no transfer service for this tour, please go to the meeting place by yourself.
・When you participate in the morning whale watching tour, the time for the Parasailing is 12:45 / 13:00 departure, when
you take the afternoon whale watching tour, Parasailing time is 10:45 / 11:00 departure. (Meeting place is a white triangle buildings in the Miegusuku Pier of Naha City)
・Depending on the condition of the whale, please understand the time may change before and after.
・Waves In the ocean are often higher in Winter compared to Summer, customers with small children or who are
pregnant may be refused due to rough sea conditions. We please ask for your understanding.
・Duo to whales are wild animals, if you do not see whales that day, you will be compensated in the following ways:
★Full refund (※2018/12/22~2019/1/6 is the exception date for refund)
★Re-boarding on next day (Before April 7, 2019)
However, please understand if the following situation is not allowed to refund.
● From the distant place, you can see the whales blowing or spraying water.
● There are more than 2 guests who saw whales on the day.
・There may be stop the tour or change the time due to factors of weather.
・If the tour cancelled due to factors of weather, you can re-boarding before your trip.
・Customers are asked to prepare warm clothing and waterproof protection by oneself
・Customers who easily become sea sick are asked to take medicine prior to joining the tour.
We will be selling some medicine at reception on the day.
・For safety reasons, we require customers to wear a life jacket during the tour. We ask for your understanding.
・This tour not included lunch.


Cancellation policy

If for any reason, the customer cancels his or her reservations, he or she will have to pay the following cancellation fees. Furthermore, please keep in mind that any bank transfer fees will be the customer's responsibility.
Cancellation 8-10 days before reservation date・・・20% of the original price
Cancellation 2-7 days before the reservation date・・・30% of the original price
Day before the reservation date・・・50% of the original price
On the reservation date・・・100% of the original price