[Hyatt Only] High-speed Boat or Ferry to snorkel at Tokashiki Island!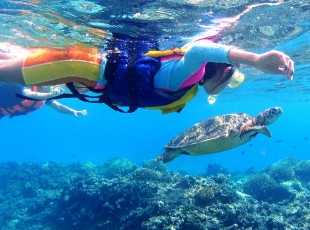 Tokashiki is the largest island in the Kerama Islands which is famous for beautiful white sand beaches with great nature around, incredible wildlife, and corals.
Tokashiki Island is reached via two ferries, which depart daily from Tomari Port in Naha. The high-speed Marine Liner Tokashiki reaches the island in around 40 minutes while ferry takes around 80 minutes. It runs daily. Even one person can join our tour.
<Highlight>

・Aharen Beach is deep enough for swimming
・Kubandaki Observatory on top of Aharen Beach is a great place to watch the sunset
・Beach entry snorkeling in Tokashiku Beach has a chance of meeting sea turtles
・Simple lunch included
・Snorkel set is free to use between two beaches
・Other marine sports are available at the beaches
*Depending on the sea conditions, it may be changed to an uninhabited island snorkeling tour.
**** Sea turtles are wild animals and their behaviour are not under our contral, you may not be able to see them and that refunds will not be given in that event.
Plan Details
Operating days

〜 2023-11-29


Venue

Tokashiki Island

Time required

Approximately 7.5~9.5 hours
By ferry 7.5 hours
By high speed boat 9.5 hours

・ Reservations could only be accepted from 2 months in advance.

Number of passengers required

Please contact us for any inquiries after the WEB reservation deadline:
TEL: +81-98-941-6828


age limit

From 6 to 59 years old

Reservation deadline

2 days 12 before
Please contact us for any inquiries after the WEB reservation deadline:
TEL: +81-98-941-6828

Payment method
<Hyatt Only>with pick-up service: [By Ferry] Snorkelling Tour onTokashiki Island

Price

Adult (From 12~59 years old) &yen15,500
Child (Aged 6~11) &yen12,400

What is included

Pick-up service between hotel and the Tomari Port/ Round ferry tickets (Tomari port⇔Tokashiki Island) +Shuttle bus (Tokashiki Port⇔Aharen Beach⇔Tokashiku Beach)/ Lunch/Facility fee (shower, changing room)/Simple Lunch

*¥500 lockers are avaliable for use.

Schedule

09:15 Depart from the hotel
 ↓
09:30 Check-in at Tomari Port
 ↓
10:00 Ferry departs
 ↓
11:10 Tokashiki port arrival, move to the Aharen Beach by bus
 ↓
~Snorkelling with our instructor at Tokashiku Beach (around 1 hour)
~ Free time at the beach~
☆Wetsuit will only be provided in winter
 ↓
15:15 ~ 16 :00 Ferry departs from Tokashiki port
 ↓
16:40 ~ 17:10 Arrive at Tomari port Naha and return to the hotel
※The time varies in summer and winter

* The time may change depending on the ocean conditions and weather on the day.
* Even if the arrival time is delayed and your stay on Tokashiki Island is shortened, we cannot provide any refund.
*Parasol, beach chair, snorkelling sets etc are avaliable for rental. Please rent and pay at the store there.

What to bring

Arrange your swimsuit, bath towel, sunscreen, sandals and drinks, etc

Price note

・Please pay the "Tokashiki Village Environmental Cooperation Tax" ¥100 in cash per person (high school students and above) at our booth for registration on the day.

Meeting place・Map

Tomari Port
3 Chome-25-1 Maejima, Naha, Okinawa 900-0016 [Map]



Meeting place・Time

09:15 Depart from the hotel/ 09:30 check-in at Tomari Port

Parking lot

There is a parking lot at Tomari Port. (First 1 hour is¥100. Every increase of 1 hour, ¥100)

Assembly point

09:15 Depart from the hotel/
09:30 meet-up at Tomari Port (We set up a booth insdie the building for registration)

Dissolution place

16:40~17:10 Arrive at Tomari Port and return to the hotel

Transportation Companies

▼Schedule・Read the details▼
<Hyatt Only>with pick-up service: [By High-speed Boat] Snorkelling Tour onTokashiki Island

Price

Adult (From 12~59 years old) &yen16,800
Child (Aged 6~11) &yen12,800

What is included

Pick-up service between hotel and the Tomari Port/ Round high-speed boat tickets (Tomari port⇔Tokashiki Island) +Shuttle bus (Tokashiki Port⇔Aharen Beach⇔Tokashiku Beach)/ Lunch/Facility fee (shower, changing room)/Simple Lunch

*¥500 lockers are avaliable for use.

Schedule

08:15 Depart from the hotel
↓
08 : 30 Check-in at Tomari Port
 ↓
09 : 00 High-speed boat departs
 ↓
09 : 40 Arrive at Tokashiki port, move to the Tokashiku Beach by bus
 ↓
~Free time at the beach~
 ↓
16:45 ~ 17:30 High-speed boat departs from Tokashiki port
 ↓
17:40 ~ 18:10 Arrive at Tomari port Naha and return to the hotel

What to bring

Arrange your swimsuit, bath towel, sunscreen, sandals and drinks, etc

Price note

・Please pay the "Tokashiki Village Environmental Cooperation Tax" ¥100 in cash per person (high school students and above) at our booth for registration on the day.

Meeting place・Map

Tomari Port
3 Chome-25-1 Maejima, Naha, Okinawa 900-0016 [Map]



Meeting place・Time

08:15 Depart from the hotel/ 08:30 Check-in at Tomari Port

Parking lot

There is a parking lot at Tomari Port. (First 1 hour is¥100. Every increase of 1 hour, ¥100)

Assembly point

08:15 Depart from the hotel/
08:30 meet-up at Tomari Port (We set up a booth insdie the building for registration)

Dissolution place

16:40~17:10 Arrive at Tomari Port and return to the hotel

Transportation Companies

▼Schedule・Read the details▼
Precautions
Precautions

**** Sea turtles are wild animals. Depending on the sea conditions, you may not be able to see them and that refunds will not be given in that event.

・Those under the age of 18 unaccompanied must have a guardian's signature on the consent form.
・Please bring your changing clothes and a bath towel on the day.
・You are required to wear a life jacket all the time when you are doing snorkelling.
・Please pay the "Tokashiki Village Environmental Cooperation Tax" ¥100 in cash per person (high school students and above) at the reception on the day.
・Those aged under 6 and 60 or above are not allowed to participate due to safety reasons.
・Parasol, beach chair, snorkelling sets etc are avaliable for rental. Please rent and pay at the store there.
・Persons with cardiovascular/respiratory diseases, high blood pressure, otitis media, pregnant women, epilepsy, diabetes, liver problems, hangovers, or those with alcoholic beverages on the day of the tour are not permitted to participate. Also, depending on your health condition on the day, you may not be able to participate.
・The deadline for registration on the date is 15 minutes before the boat departure. Please come on time.
・Showers and changing rooms are available at Aharen Beach. Limited number of lockers (paid) are also available.
・Depending on the ocean conditions and weather on the day, the arrival time may be delayed and the stay on Tokashiki Island may be shortened. Refunds will not be given in that event.
・The tour may be canceled due to bad sea conditions or bad weather. In that case, we will contact you and offer you a full refund or a reschedule.
・There are no seats for infants on the shuttle bus between Tokashiki Port and Beach.
・Participation may be refused on the day of the tour if it is deemed dangerous for those who cannot follow the instructions.
・This is a day tour. Please refrain from using it for overnight stays.
・Please be sure to read the travel conditions when applying.

Cancellation policy

If for any reason, the customer cancels his or her reservations, he or she will have to pay the following cancellation fees. Furthermore, please keep in mind that any bank transfer fees will be the customer's responsibility.
Cancellation 8-10 days before reservation date・・・20% of the original price
Cancellation 2-7 days before the reservation date・・・30% of the original price
Day before the reservation date・・・50% of the original price
On the reservation date・・・100% of the original price