[Hyatt Only] Kerama Three Point Snorkelling Tour with Sea Turtles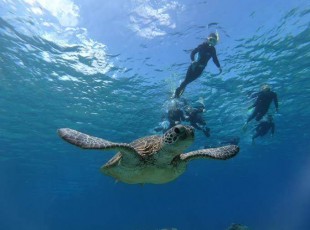 The Kerama Islands offer crystal-clear waters which are popular destination for people who would like to do snorkelling. With a visibility of more than 20m at the coral reefs, full of clownfishes, corals, sea turtles and other tropical sea creatures!
The small boat we are using for this day trip is double decker boats with a dry room, hot showers and toilets on board, providing you with a comfortable sea experience.
※Encountering sea turtles are, although very likely, not guaranteed. There is no refund if they are not spotted.
※This tour does not disembark at the uninhabited island.
※Diving and snorkeling will be exclusively around the boat  (without landing on the islands)      
Plan Details
Operating days


All season

Venue

Time required

Approximately6~7hours

Number of passengers required

10 people

age limit

6 to 59 years old

Reservation deadline

2 days 12 before
Please contact us for any inquiries or reservations after the website deadline:
TEL: +81-98-941-6828 (8:00~19:00)

Payment method
[Hyatt Japanese Only] Kerama Three Point Snorkelling Tour with Sea Turtles

Price

What is included

Boarding fee / snorkeling instructor/ wetsuit / life-jacket / snorkeling equipment / a simple lunch box / insurance and tax / Japanese-English translation staff/ Pick-up service

※Child under primary school level is not allowed to participate.

Schedule

【Schedule】

07:30 Arrival at Naha Port
↓
08:00-08:15 Departure
↓
08:45-09:00 Arrival at the first snorkelling point.
↓
Change Points
↓
Arrival at the second point
Lunch time (lunch included)
↓
Arrival at the third point
↓
Return to Naha Port
↓
14:00 to 16:00: Arrival at Naha Miegusuku port

・Snorkeling will be exclusively around the boat.
・Schedule is subject to change due to the sea conditions.

What to bring

※Please come with wearing swimsuits under your clothes so that we can get ready easily.
※Arrange your bath towel, sunscreen, sandals and drinks.

Price note

Meeting place・Map

Naha Miegusuku Port
3 Chome-20 Nishi, Naha-shi, Okinawa-ken [Map]



Meeting place・Time

07:30

Parking lot

※Available parking at Naha Miegusuku Port. ¥500 per day.

Assembly point

Naha Miegusuku Port
3 Chome-20 Nishi, Naha-shi, Okinawa-ken

Dissolution place

Naha Miegusuku Port
3 Chome-20 Nishi, Naha-shi, Okinawa-ken

Transportation Companies

▼Schedule・Read the details▼
[Hyatt Foreigner Only] Kerama Three Point Snorkelling Tour with Sea Turtles

Price

What is included

Boarding fee / snorkeling instructor/ wetsuit / life-jacket / snorkeling equipment / a simple lunch box / insurance and tax / Japanese-English translation staff/ Pick-up service

※Child under primary school level is not allowed to participate.

Schedule

【Schedule】

07:30 Arrival at Naha Port
↓
08:00-08:15 Departure
↓
08:45-09:00 Arrival at the first snorkelling point.
↓
Change Points
↓
Arrival at the second point
Lunch time (lunch included)
↓
Arrival at the third point
↓
Return to Naha Port
↓
14:00 to 16:00: Arrival at Naha Miegusuku port

・Snorkeling will be exclusively around the boat.
・Schedule is subject to change due to the sea conditions.


What to bring

※Please come with wearing swimsuits under your clothes so that we can get ready easily.
※Arrange your bath towel, sunscreen, sandals and drinks


Price note

Meeting place・Map

Naha Miegusuku Port
3 Chome-20 Nishi, Naha-shi, Okinawa-ken [Map]



Meeting place・Time

07:15

Parking lot

※Available parking at Naha Miegusuku Port. ¥500 per day.

Assembly point

Naha Miegusuku Port
3 Chome-20 Nishi, Naha-shi, Okinawa-ken


Dissolution place

Naha Miegusuku Port
3 Chome-20 Nishi, Naha-shi, Okinawa-ken

Transportation Companies

▼Schedule・Read the details▼
Precautions
Precautions

Please come with wearing swimsuits under your clothes so that we can get ready easily.

[How to gather at the place]
・Meeting place: meeting room inside the Naha Miegusuku Port. (3 Chome-20 Nishi, Naha-shi, Okinawa-ken)
・Here is the google map for assembly point,
https://goo.gl/maps/f1hnpNUE83gwHLsU6

-How to go: Please input the map code to your GPS
-Map Code: 33 154 652
-Google map: https://goo.gl/maps/u3R8cosEpwhNiHxn7

※Please enter the hotel`s phone number near the port(098-862-2300) to the GPS (which is the name of hotel, Naha Beach Side Hotel. When you arrive the hotel, hotel is on your right side and go straight the road. Then, you will see the parking machine (¥500).
*(Photos attached)
The meeting room is inside the parking.

If you go by taxi, please show this to the taxi driver,
那覇三重城港「なはみえぐすくこう」内待合所までお願いします。
もし場所が分からなければ、港の近くにございます那覇ビーチサイドホテルまでお願いします。
那覇ビーチサイドホテルに到着(ホテルを右手にした状態)致しましたら、そのまま、道なりまっすぐ進んで頂きますと、港の入口に到着致します。駐車場ゲートを入り、右手奥の白い三角屋根の待合所までお願いします。


[Information on the day]
*Please arrange your own bath towel, sandals, sunscreen and drinks.
*Snorkeling will be exclusively around the boat (without landing on the islands) .
*In consideration of safety, those under the age of 5 (below primary school) and those over the age of 59 cannot participate. During the tour, wearing a life-jacket is compulsory.
*If you have one of the following conditions below right now or had previously, you might not be able to join the snorkelling and there is no refund,
×Circulatory system or respiratory system diseases, low or high blood pressure or any blood pressure diseases, otitis media , epilepsy or any other brain nervous system problems, diabetes mellitus, liver failure, mental illness, or having any medication
×In addition, accordingly to your health condition on the day of the activity, you might not be able to join us.
×People who are hangover, or take some alcohol (liquor) on the participation day
**Please do not drink alcohol too much on the day before
×Pregnant or potential pregnancy, and within 2 months after delivery
× Person who had surgery or serious disease within 1 month

*At the time of your application, please provide us with the mobile number, age, height, weight, foot size.
*If you use contact lens you may lose them in the water. Please use disposable ones whenever possible.
*We can provide you with prescription water goggles (¥550 ).
* Participating minors need a signature from their legal guardian to participate. Children under 12 years old need to be accompanied in order to join the tour.
* If the waves are calm, it is still possible to do snorkeling even under raining conditions.
*During the day, if the weather permits, we will visit 3 different snorkelling sites around the islands. However, there is no refund if the tours does not allow for 3 snorkelling points.
*The tour has a simple okinawan lunch between the second and third snorkelling. There is no refund for vegan.
*You are not allowed to snorkelling freely. Our instructor will be with you when you enter the water.
*Snorkelling points are subject to change according to weather conditions. Tour might be cancelled on the same day due to weather conditions. In the event of a cancellation due to weather conditions, you can ask for a full refund or a date change.
*Please manage your own luggage and belongings at the boat in order to avoid damage or loss.
・Please note that we cannot respond to requests that disregard safety.
・Instructors may take photos during the tour. However, it is an extra service by the shop. It is not guaranteed that everyone will have photos being captured.

・Please be sure to read the terms and condition before applying.

Cancellation policy

If for any reason, the customer cancels his or her reservations, he or she will have to pay the following cancellation fees. Furthermore, please keep in mind that any bank transfer fees will be the customer's responsibility.
Cancellation 8-10 days before reservation date・・・20% of the original price
Cancellation 2-7 days before the reservation date・・・30% of the original price
Day before the reservation date・・・50% of the original price
On the reservation date・・・100% of the original price