[Hyatt Only]【Naha / Chatan departure】Pick up and drop off plan for Blue Cave boat snorkeling or diving tour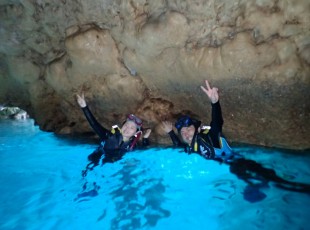 The Blue Cave is a masterpiece of nature that is formed by corals, a kind of natural marine organism. The reflection of azure blue seawater may be in various forms of blue light throughout the day which creates a dreamy fantasy world.
From joining our pick-up service tour, you do not need to waste time on waiting buses or walk down the stairs to the Blue Cave.
Instructor will take photos and movies.
(For Snorkeling tour: 2,500Yen / For Diving tour: Free of charge)
Plan Details
Operating days


1 time a day

Venue

Blue Cave in Onna village

Time required

Approximately5hours

Number of passengers required

2 people

age limit

6 to 59 years old (Diving 10 to 59 years old )

Reservation deadline

2 days 12 before
Please contact us for any inquiries after the WEB reservation deadline:
TEL: +81-98-941-6828 (8:00~18:00)

Payment method
【Naha Departure】Blue cave snorkeling

Price

5 to 59 years old &yen7,980

What is included

Pick up and drop of from Naha to the Blue Cave, boarding fare, snorkelling set, wetsuit, life jacket, guide fee, insurance, simple shower facility

Schedule

12:15 Palette Kumoji, in front of Nippon rental car (opposite side of Okinawa Prefectural Office)
  ↓
12:25 Departure to Onna village
  ↓ (Via Chatan)
13:45 Arrival at the port
  ↓
14:00 Explanation and preparation
  ↓
10 minutes boat ride
40 to 50 minutes:Snorkelling
  ↓
Back to the port
  ↓
16:00 Arrival at the port, shower and change of clothes. Depart to Naha
  ↓ (Via Chatan)
17:20 Arrival at Naha

What to bring

Please arrange your own swimsuit, changing clothes, bath towel, sunscreen and sandals.

Meeting place・Map

Palette Kumoji
1 Choume-1-1 Kumoji, Naha-shi, Okinawa-ken [Map]



Meeting place・Time

12:15 Palette Kumoji, in front of Nippon Rental Car

Assembly point

12:15 Palette Kumoji, in front of Nippon rental car

Dissolution place

17:20 Okinawa Prefectural Office

Transportation Companies

Salty Rays

▼Schedule・Read the details▼
【Naha Departure】Blue cave diving

Price

10 to 59 years old &yen13,800

What is included

Pick up and drop of from Naha to the Blue Cave, boarding fare, snorkelling set, wetsuit, life jacket, guide fee, Insurance, simple Shower facility

Schedule

12:15 Palette Kumoji, in front of Nippon rental car (opposite side of Okinawa Prefectural Office)
  ↓
12:25 Departure to Onna village
  ↓ (Via Chatan)
13:45 Arrival at the port
  ↓
14:00 Explanation and preparation
  ↓
10 minutes boat ride
40 to 50 minutes:Diving tour with instructor
  ↓
Back to the port
  ↓
16:00 Arrival at the port, shower and change of clothes. Depart to Naha
  ↓ (Via Chatan)
17:20 Arrival at Naha

What to bring

Please arrange your own swimsuit, changing clothes, bath towel, sunscreen and sandals.

Meeting place・Map

Palette Kumoji, In front of Nippon rental
1 Choume-1-1 Kumoji, Naha-shi, Okinawa-ken [Map]



Meeting place・Time

12:15 Palette Kumoji, in front of Nippon Rental

Assembly point

12:15 Palette Kumoji, in front of Nippon rental car (opposite side of Okinawa Prefectural Office)

Dissolution place

17:20 Okinawa Prefectural Office

Transportation Companies

Salty Rays

▼Schedule・Read the details▼
Precautions
Precautions

Please provide us with the following details of all participants:
Full name, age, height, weight and shoe size. (Adam Blue, age 32, 180cm, 75kg, shoe 28cm)
※This activity is only available for those between 5 and 59 years old.

1 Minimum number of guests for this tour is 2. If the numbers do not reach, the tour will be cancelled on the day. We will contact you on the day before before 12:00.
2. Snorkeling tour is only available for 5-59 years old whereas cuba diving tour is only available for 10-59 years old.
3.If you are pregnant or may be pregnant, please refrain from attending. There is no refund for this case.
4. Please do not take flight after diving.
5. Please pay in advance by credit card.
6. Please do not bring suitcase with you. Also, there are not any lockers at the port or on the boat, please keep your valuables properly yourself.
7. Participant which the following conditions will not be able to participate in this activity: circulatory system or respiratory system diseases, high blood pressure, otitis media, pregnancy, epilepsy, diabetes, liver failure, hangover or under the influence of alcohol. In addition, accordingly to your health condition on the day of the activity, you might not be able to join us and there is no refund.
8. At the time of your application, please provide us a mobile phone number with country code, age, height, weight, foot size, eyesight if necessary.
9. Please arrange your own swimsuit, bath towel, changing clothes, sunscreen and sandals.
10. Participating minors need a signature from their legal guardian to participate. Children under 12 years old need to be accompanied in order to join the tour.
11. If the waves are calm, it is still possible to do snorkeling even under raining conditions.
12. Depending on the sea conditions, it may have chance that you may not get into the cave. Then the snorkeling or diving tour will change to another point near the Cave.
13. The tour may be cancelled due to bad weather. In that event, you may choose to reschedule or receive a full refund.

Cancellation policy

If for any reason, the customer cancels his or her reservations, he or she will have to pay the following cancellation fees. Furthermore, please keep in mind that any bank transfer fees will be the customer's responsibility.
Cancellation 8-10 days before reservation date・・・20% of the original price
Cancellation 2-7 days before the reservation date・・・30% of the original price
Day before the reservation date・・・50% of the original price
On the reservation date・・・100% of the original price