[For Hyatt Regency Naha]【From October 2023】Okinawa One-day Sightseeing Bus Tour【A course】Churaumi Aquarium・Okashigoten・Manzamo Cape・Ryukyu Village・Hoshino Resort Banta Cafe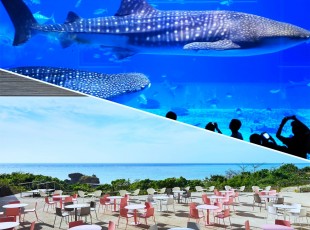 No need to drive by yourself, just relax and enjoy the most iconic spots in Okinawa.

Churaumi Aquarium
-With four floors full of tanks containing deep sea creatures, sharks, coral, and tropical fishes

Okashigoten
-Famous for it's Beniimo Tart

Manza Cape
-Scenic and emblematic cape famous for it's elephant shaped rock

 Ryukyu Village
-An Okinawan traditional culture theme park shaped like an ancient village from the times of the Ryukyu Kingdom

Hoshino Resorts Banta Cafe
-An extraordinary space created using the natural surroundings. One drink included at one of the largest sea cafes in Japan
※The minimum numbers of participants is 10 people. If the tour does not reach the numbers, it may be cancelled and you will be informed 2 to 3 days before.
※Between 30 December 2023 and 18 January 2024, the tour will stop by American Village for 50 minutes instead of Hoshino Resorts Banta Cafe. (The drink from Banta Cafe will be replaced by a 500yen coupon provided by Happy Lemon or Re:MELO)
Plan Details
Operating days

2023-10-01 〜 2024-03-31
All year round

※From 2023/12/30 to 2024/1/18, this tour will visit American Village instead of Banta Cafe.

Venue

Middle Region and Northern Okinawa

Time required

Approximately10hours

Number of passengers required

At least 10 participants.

age limit

0~

Pick-up guide

Reservation deadline

1 days 23 before
For any inquiries after the Web reservation deadline, please contact us at:
TEL: +81-98-941-6828 (8:00~18:00)

Payment method
▼A Course▼【From October 2023】Okinawa One-day Sightseeing Bus Tour

Price

Adult (aged 15 and above) &yen6,800
Child (from 3 years old to14 years old) &yen5,600
Infant (2 years old and under) &yen0

What is included

Transportation, Churaumi Aquarium and Ryukyu Village Admission fees, 1 drink at Banta Cafe (a Happy Lemon or Re:MELO 500yen coupon when the tour visits American Village), Insurance and Tax, Bus attendant from Cerulean Blue

※The price does not include lunch. Please arrange your own lunch during the free time at Churaumi Aquarium.
※The tour fee does not include Manza Cape admission ticket. Please prepare¥100 cash to pay at the site if you want to have a visit.

Schedule

【Schedule】
08:30 Departure from Palette Kumoji (in front of Nippon Rent-A-Car)
↓
09:00 Departure from DFS Galleria Omoromachi
↓
10:40 Okinawa Churaumi Aquarium (150 min)
↓
14:10 Okashi-goten (Okinawa popular sweet potatoe products shop) (20 min)
↓
14:40 Manza Cape (20 min)
(Admission ticket do not include in the tour fee)
↓
15:30 Ryukyu Village (60 min
(There is a Eisa show at 16:00)
↓
16:50 Hoshino Resort Banta Cafe (50 min)
※Between 30 December 2023 and 18 January 2024, the tour will stop by American Village for 50 minutes instead of Hoshino Resorts Banta Cafe. (The drink from Banta Cafe will be replaced by a 500yen coupon provided by Happy Lemon or Re:MELO)
※The arrival time to American Village may vary due to the traffic conditions
↓
18:20 A brief drop-off at American Village
(no time for customers to visit American Village if you would like to return to Naha City)
↓
19:00 Drop Off at DFS Galleria Omoromachi
↓
19:20 Drop Off at Palette Kumoji

※Schedule is subject to change according to weather condition or traffic conditions.
※The schedule or time of event program in different tourist spots may be changed or canceled depending on the weather condition.
※The duration of staying at every spot may be shortened or the time for arrival may vary due to the traffic conditions.

Meeting place・Map

front of prefectural office Pallette Kumoji/front of Nippon Rent-A-Car
1 Choume-1-1 Kumoji, Naha-shi, Okinawa-ken [Map]

Omoromachi DFS Galleria/洋服の青山向かい側
4 Choume-1 Omoromachi, Naha-shi, Okinawa-ken [Map]



Meeting place・Time

Palette Kumoji 08:20/ DFS Galleria 08:50

Assembly point

- 08:20 Pallette Kumoji/In front of Nippon Rent-A-Car
- 08:50 Omoromachi DFS Galleria

Dissolution place

- 19:20 Pallette Kumoji
- 19:00 Omoromachi DFS Galleria
- 18:20 American Village

Transportation Companies

CeruleanBlue

▼Schedule・Read the details▼
Precautions
Precautions

Please carefully read the terms and conditions before making the reservation.

*********************

※The minimum numbers of participants are 10 people. If the tour does not reach the numbers, it may be cancelled and you will be informed 2 to 3 days before.

【Notice of the tour】
・On the day of the tour, there are no signs at the meeting point. Please note that our bus is white and "www.Cerulean-Blue.co.jp" are written in blue letters.
・From 2023/12/30 to 2024/1/18 this trip will visit American Village instead of Banta Cafe. You will receive a Happy Lemon or Re:MELO)500yen coupon instead of a free drink room Banta Cafe.
・Please bear in mind that you might be asked to sit next to other people during the bus tour when you travel alone.
・The seats have been arranged in advance.

【Matters to be attended】
・There are no bus guides in this tour. Audio guidance device runs according to the GPS on the bus to introduce the cultures and History of Okinawa instead.
・The schedule of the tour may vary due to traffic conditions.
・The price does not include lunch. Please have lunch during free time at Churaumi Aquarium (150 minutes).
・The price does not include the Manza Cape entrance fee, please pay it yourself there (¥100).
・No smoking and eating on the bus.
・We are not responsible if you are late for a scheduled event after this tour as the finished time may vary due to traffic conditions. If you are flying after the tour, please plan accordingly and give yourself at least two hours time before the departure of the flight.
・In the event of cancellation due to bad weather, we will make a full refund to your credit card. In this case, the bank may take weeks to return the money back to your credit card. However, there may be a difference in exchange rate in return.

Cancellation policy

If for any reason, the customer cancels his or her reservations, he or she will have to pay the following cancellation fees. Furthermore, please keep in mind that any bank transfer fees will be the customer's responsibility.
Cancellation 8-10 days before reservation date・・・20% of the original price
Cancellation 2-7 days before the reservation date・・・30% of the original price
Day before the reservation date・・・50% of the original price
On the reservation date・・・100% of the original price