[Hyatt Only]【Naha/Chatan】Okinawa Whale Watching ¥5,500~6,000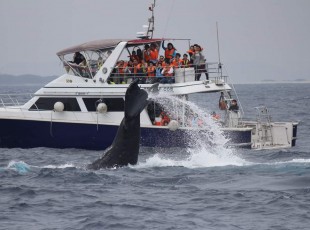 ※You may make the reservation online by 23:00. If you make the reservation after 15:00 one day before the tour day, there are no pick-up services provided. Please gather at Naha Miegusuku Port yourself even you choose for pick-up when making the reservation.
※ For the pick-up serivce, there are some conditions that we may not pick you up directly from your hotel. You may be asked to have a few minutes walk and get on our pick-up car.
Humpback whales migrate from cold polar waters to Okinawa every year during the winter to give birth and raise their young. The coming of winter signals the start of whale watching season in Okinawa! 

You can join our tour and board from the main island and Kerama Island every day for whale watching.  They may breach and splash right before your eyes. The dynamic and emotional encounters with whales will surely be an unforgettable experience!
★Last year, 20 000 customers made use of our service. Free pick-up service in Naha! 
★A whale postcard will be given as a present!
★Whale Pamphlet will be distributed to let you learn more about the whales!
It is now open for registration.


**Assess your body condition before making reservation.
※If you are pregnant or may be pregnant, please refrain from attending. If it is in case and you want to cancel on the tour day, there is NO REFUND.
Plan Details
Operating days

2023-12-23 〜 2024-04-04

Venue

from Okinawa Mainland to Kerama Island

Time required

Approximately3hours
※Tour might finish before scheduled time if the whales are spotted earlier.

Number of passengers required

10 people

age limit

0~

Pick-up guide

Pick-up service is available from Naha hotels (some hotels are excluded)

※There are some cases that you may have to walk a few minutes to get on the pick-up car.

Reservation deadline

1 days 23 before

Payment method
【Hyatt Only 】Naha Whale Watching AM

Price

Adult (the age above 12) &yen5,500
Child (3~11) &yen4,500
Infant (the age of 2 or below) &yen0

What is included

Boat fare, insurance, whale watching tour fee and a life-jacket

Schedule

<Whale watching>
07:30-08:30 Hotel Pick-up
/08:30 Gather at the Miegusuku Port waiting room
09:00 Departure
~ Tour start (maximum 3 hours) ~
Around 12:00 whale watching tour finish and back to the Port

※The minimum numbers of participants are 6. If there are not enough participants, the tour will be cancelled. You will be informed if it is cancelled a day before.

What to bring

※ A wind breaker or other waterproof clothes
※ Take sea sickness medicine in advance (30 minutes before)

Meeting place・Map

Naha Miegusuku Port
3 Chome-20 Nishi, Naha-shi, Okinawa-ken [Map]

Naha Miegusuku Port
Chome-20 Nishi, Naha-shi, Okinawa-ken [Map]



Meeting place・Time

08:30 at Naha Miegusuku Port/ Hotel Pick-up

Note

Parking lot

※A day parking fee is ¥500

Assembly point

・Pick up at the hotel (we will contact you the pick-up time the day before)
・08:30 at Waiting Room at Naha Miegusuku Port
(3 Chome-20 Nishi, Naha-shi, Okinawa-ken)

Dissolution place

・Drop off at your hotel
・Miegusuku port.

The finish time is around 12:00, but we might get back before the scheduled time if we spot the whales earlier.

Transportation Companies

CeruleanBlue

▼Schedule・Read the details▼
【Hyatt Only 】Naha Whale Watching PM

Price

Adult (the age above 12) &yen5,500
Child (3~11) &yen4,500
Infant (the age of 2 or below) &yen0

What is included

Boat fare, insurance, whale watching tour fee and a life-jacket

Schedule

<Whale watching>
12:00-13:00 Hotel Pick-up
/13:00 Gather at the Miegusuku Port waiting room
13:30 Departure
~Tour start (maximum 3 hours) ~
Around 16:30 whale watching tour finish and back to the Port

※The minimum numbers of participants are 6. If there are not enough participants, the tour will be cancelled. You will be informed if it is cancelled a day before.

What to bring

※ A wind breaker or other waterproof clothes
※ Take sea sickness medicine in advance (30 minutes before)

Meeting place・Map

Naha Miegusuku Port
3 Chome-20 Nishi, Naha-shi, Okinawa-ken [Map]

Naha Miegusuku Port
Chome-20 Nishi, Naha-shi, Okinawa-ken [Map]



Meeting place・Time

08:30 at Naha Miegusuku Port/ Hotel Pick-up

Note

Parking lot

※A day parking fee is ¥500

Assembly point

・Pick up at the hotel (we will contact you the pick-up time the day before)
・13:00 at Waiting Room at Naha Miegusuku Port
(3 Chome-20 Nishi, Naha-shi, Okinawa-ken)


Dissolution place

・Drop off at your hotel
・Miegusuku port.

The finish time is around 16:30, but we might get back before the scheduled time if we spot the whales earlier.

Transportation Companies

CeruleanBlue

▼Schedule・Read the details▼
Precautions
Precautions

※You may make the reservation online by 23:00 a day before. If you make the reservation after 15:00 one day before the day of the tour, there are no pick-up services provided. Please gather at Naha Miegusuku Port yourself even you choose for pick-up service when making the reservation.
※If there are not enough participants (10 people) or bad weather conditions, the tour will be cancelled. You will be informed if it is cancelled a day before.
※Without prior notice, the type of boat may subject to change.


・No extra charge for pick-up service BUT it is on First Booked, First served. Please type the name and the address of the hotel you stay when making reservation.
・For the pick-up serivce, there are some conditions that we may not pick you up directly from your hotel. You may be asked to have a few minutes walk and get on our pick-up car.
・For morning departure, we will contact you the day before at around 4-5 o'clock. For afternoon departure, we will contact you in the morning around 11 o'clock.


*If you come to the meeting point by car:
-Naha-
Search for "Naha Beach Side Hotel" (Map Code: 33 155 818*88) on your car GPS or Google Maps. Once you get to the hotel, just follow that same road until you reach the entrance of the parking. After that, you can get your parking ticket (500 yen per day). After entering the harbour, turn right and go straight until you find a small building.
This building is our meeting point and you can park your car next to it. Our staff with blue T-shirt will wait for you inside the bulding.


【About the whale tour】
The time of return to the Port may change if the whales are being spotted earlier.


Fully Refund Period:
①You will only get a refund during the following period:
From 1 February 2024 to 19 March 2024(Not aplicable period: 23 December 2023 to 31 January 2024 ・ 20 March 2024 to 4 April 2024)
※There may be a price difference for refund due to the exchange rate. Please note that the bank may take weeks to return the money back to your credit card account.

②Reboat again: until 4 April 2024

Additionally, if one of the following conditions is met, the tour might be deemed as concluded:
●If a whale's blow is spotted from a long distance
●If numbers of the customers see the whale on the same boat

・Due to weather or sea conditions, the schedule is subject to change, or the tour might be cancelled. In this case, a full refund or change of date will be offered.
・According to the Japnese regulation, a life jacket will be provided during the boat is moving. Please wear it all times when riding onthe boat.
・Please manage your own luggage and belongings at the boat in order to avoid damage or loss.
・Please note that we cannot respond to requests that disregard safety.
・Sea conditions might be extreme in Okinawa's winter. Infants might not be able to join the tour under extreme sea conditions.
・Before making the reservation, please read carefully the terms and conditions.
・Before boarding, please read carefully our safety instructions.

【Helpful tips on the day】
●The sun can be strong in Okinawa even in winter. Bring some sunscreen, a hat, and sunglasses.
● If you get motion sick or sea sick, take some medicines 30 minutes before you board.
● The sea wind in Okinawa is cold in winter. Bring clothes that are warm, and water resistant.
※※During winter season, sea conditions in Okinawa might be extreme. Please assess your health conditions before applying for the tour.

Cancellation policy

If for any reason, the customer cancels his or her reservations, he or she will have to pay the following cancellation fees. Furthermore, please keep in mind that any bank transfer fees will be the customer's responsibility.
Cancellation 8-10 days before reservation date・・・20% of the original price
Cancellation 2-7 days before the reservation date・・・30% of the original price
Day before the reservation date・・・50% of the original price
On the reservation date・・・100% of the original price