[Hyatt Only]【From 2023.12.23 to 2024.3.17】 ★20% Discount Campaign★Tokashiki Island ♪ Whale Watching Tour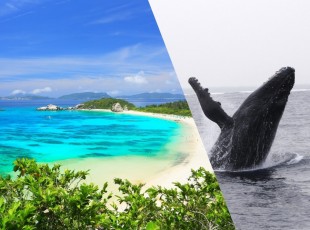 ※Since whlaes are wild animals, you may not be able to see them depending on the sea conditions. If it is in case, refund will not be given and there is no re-board option.
Cerulean Blue exlusive tour:
Available from 2023/12/23 to 2024/3/17

Whale watching around Kerama Island and enjoy some free time at Aharen Beach, Tokashiki Island!
*Please answer a questionnaire after the tour so that you could enjoy the discount.
*
♪ 20% Discount 
<Adults ¥6,500→¥5,200>

<Child ¥5,500→¥4,400

>
<Infant¥2,000→¥1,600

>
Okinawa is one of the rare, ideal places in the world for Humpback whale watching in winter.
You will surely be impressed by the dynamic actions the whales perform with their enormous bodies!
Let experience this amazing moment with us during this season!
*Around 1 hour of free time at Aharen beach.
*Transportation at Tokashiki Island is provided.
*Please pay ¥100 yen in cash per person (Tokashiki Island environmental cooperation fee) on the tour day.
*There are no tours on Wednesdays.
※If you are pregnant or may be pregnant, please refrain from attending. If it is in case and you want to cancel on the tour day, there is NO REFUND.
Plan Details
Operating days

2023-12-23 〜 2024-03-17
There are no tours on Wednesdays.

Venue

Tokashiki Island, Kerama Islands

Time required

Approximately5hours

Number of passengers required

5 adults ~

age limit

0 ~

Reservation deadline

1 days 23 before
Please contact us for any inquiries or reservations after the website deadline.
E-mail: info@cerulean-blue.co.jp
TEL: +81-98-941-6828 (08:00~18:00)

Payment method
Discount Campaign【From 2023/12/23 to 2024/3/17 】Tokashiki Island + Whale Watching

Price

Adult (over 12 years old) &yen5,200
Child (3~11 years old) &yen4,400
Infant (0~2 years old) &yen1,600

What is included

Boarding fee/ Insurance/ Life jacket/ Transport fee (Tokashiki port to Aharen Beach)/ Cerulean Blue staff

※Please pay an environmental tax ¥100 (over 15 years old) at the meeting point in cash Island for conservation purposes for Tokashkiki Island.

Schedule

※There are no tours on Wednesdays.

【Schedule】
08:00~meeting at Naha Miegusuku Port
 ↓
08:15~departure to Tokashiki Island♪
 ↓
9:15~arrive at Tokashiki Island、move to Aharen Beach
~1 hour free time~
 ↓
10:45~ whale watching around Kerama Island
~The maximum time for searching the whales will be 2 hours
~There will be 1 hour for spotting the whale.
※The time of return may become earlier if the whales are being spotted early.
 ↓
12:30~start to return to Naha Miegusuku Port♪
 ↓
13:00~arrive at Miegusuku Port



【Schedule for spotting the whales while sailing to Tokashiki Island】

08:00~meeting at Naha Miegusuku Port
 ↓
08:15~departure to Tokashiki Island♪
~Time for whale watching~
 ↓
10:20~arrive at Tokashiki Island、move to Aharen Beach
~1 hour free time~
 ↓
11:50~start to return to Naha Miegusuku Port♪
 ↓
13:00~arrive at Miegusuku port

※Schedule is subject to change according to weather conditions and the location of the whales※

What to bring

We recommend to wear a wind breaker or other waterproof clothes.
We also recommend those prone to suffer sea sick or motion sick to take sea sickness medicine in advance (30 minutes before the tour) .

Meeting place・Map

Naha Miegusuku Port
3 Chome-20 Nishi, Naha-shi, Okinawa-ken [Map]



Meeting place・Time

08:00 meeting at Naha Miegusuku Port

Parking lot

Parking lot is available at the port (500 yen per car/day)

Assembly point

08:00 meeting at Naha Miegusuku Port
(3 Chome-20 Nishi, Naha-shi, Okinawa-ken)

Dissolution place

Naha Miegusuku Port
(3 Chome-20 Nishi, Naha-shi, Okinawa-ken)

Transportation Companies

CeruleanBlue

▼Schedule・Read the details▼
Precautions
Precautions

※Assess your body condition before making reservation.
※If you are pregnant or may be pregnant, please refrain from attending. If it is in case and you want to cancel on the tour day, there is NO REFUND.

【About the whales】

・Since whales are wild animals and their behaviors are not under our control, spotting them are not guaranteed. This package does not offer a refund or a reboard option in the event of not spotting the whales.

・The time of return may become earlier if the whales are being spotted early.

[Precautions on the day]

・Since 1 Apr 2010, an environmental tax ¥100 (15-years-old or above) will be collected from whom visit Tokashiki Island for conservation purposes. Please pay it at the meeting point in cash.
・After finishing the tour, please answer a questionnaire or you cannot enjoy our discounted price (pay full price of the tour).
・As there is limited space on the boat, please do not bring along your suitcase(s) and keep an eye on your belongings.
・The tour requests at least 5 adults. If the minimum numbers of participants do not reach, the tour will be cancelled. We will contact you in advance and arrange a full refund.
・People with the following conditions are not allowed to participate the tour: Circulatory or respiratory system diseases, high blood pressure, otitis media, epilepsy, diabetes, liver failure, hangover or under the influence of alcohol. ※※In addition, pregnant or potential pregnancy is not allowed to join the tour. If it is in case on the tour day, there is no refund.
・Accordingly to your health condition on the day of the activity, you might be rejected to join the tour.
・The tour may get cancelled because of the high wave or weather conditions.
・Life jacket will be provided. During the tour, wearing a life-jacket at all times is compulsory.
・The duration for spotting the whales may vary depends on the weather conditions or the behaviour of the whales.
・Participating minors need a signature from their legal guardian to participate. Children under 12 years old need to be accompanied in order to join the tour.
・Please manage your own luggage and belongings at the boat in order to avoid damage or loss.
・During winter season, sea conditions might be extreme. Infants might not be able to join the tour under extreme sea conditions.
・Due to sea conditions, it may have chance that you may not be able to land on Tokashiki Island according to the schedule. In this case, there is no refund.
・Due to weather or sea conditions, the tour might be cancelled. In that event, you may have a full refund or reschedule.
※※※※Please note that we cannot respond to requests that disregard safety.
※※※Before making the reservation, please read carefully the terms and conditions.
※※Before boarding, please read carefully our safety instructions.

*If you come to the meeting point by car:
-Naha-
Search for "Naha Beach Side Hotel" (Map Code: 33 155 818*88) on your car GPS or Google Map. Once you reach the hotel, just follow that same road until you reach the entrance of the parking. Then, you can get your parking ticket (500 yen per day). After entering the parking, turn right and go straight until you see a small building.
This building is our meeting point, you may park your car next to it.

[Helpful tips on the day]
●The sun can be strong in Okinawa even in winter. Bring some sunscreen, a hat, and sunglasses.
● If you get motion sick or sea sick, take some medicine before you board.
● The sea wind in Okinawa is cold in winter. Bring clothes that are warm, and water resistant.
※※During winter season, sea conditions in Okinawa might be extreme. Please assess your health conditions before applying for the tour.


Cancellation policy

If for any reason, the customer cancels his or her reservations, he or she will have to pay the following cancellation fees. Furthermore, please keep in mind that any bank transfer fees will be the customer's responsibility.
Cancellation 8-10 days before reservation date・・・20% of the original price
Cancellation 2-7 days before the reservation date・・・30% of the original price
Day before the reservation date・・・50% of the original price
On the reservation date・・・100% of the original price