【Depart from Naha】Includes PICK-UP service from Naha City's hotel!! Half day!! Tropical sea fishing tour ¥9,500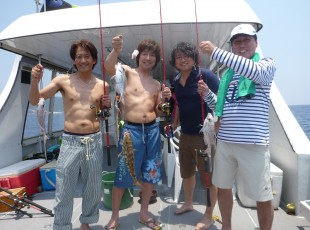 Departure from Naha.
Beginners and children can easy experience this fishing tour!

Let`s enjoy sea fishing by boat!!

The fishermen will guide you to the fishing point, so even the beginners also can catch many Gurukun(Okinawa fish) and tropical fish.


Plan Details
Operating days


All season

Venue

Time required

Approximately 5 hours


Number of passengers required

Adult 4 people.

age limit

Pick-up guide

※We will let you know the pick-up time in the afternoon the day before tour day.

Reservation deadline

1 days 12 before
※Please contact us by phone after the deadline of booking application by e-mail. (TEL:098-941-6828)

Payment method
<Morning>Half day!! Tropical sea fishing tour

Price

Adult(aged 12 and order) &yen9,500
Children(under 11 years old) &yen8,500

What is included

Boarding fare, Equipment, Bait, Insurance, Pick-up service from your hotel(only Naha city hotel.)

Schedule

※We will let you know the pick-up time in the afternoon the day before tour day.

7:30 arrive the port.
 ↓
8:00 departure
 ↓
8:30 arrive the point
 ↓
11:30 departure
 ↓
12:00 back to the port then back to the hotel.

What to bring

Please wear the clothing that even get wet is ok.

Meeting place・Time

We will let you know the pick-up time in the afternoon the day before tour day.

Assembly point

Naha city's hotel.

Dissolution place

Naha city's hotel.

Transportation Companies

CeruleanBlue

▼Schedule・Read the details▼
<Afternoon>Half day!! Tropical sea fishing tour

Price

Adult(aged 12 and order) &yen9,500
Children(under 11 years old) &yen8,500

What is included

Boarding fare, Equipment, Bait, Insurance, Pick-up service from your hotel(only Naha city hotel.)

Schedule

※We will let you know the pick-up time in the afternoon the day before tour day.

12:30 arrive the port.
 ↓
13:00 departure
 ↓
13:30 arrive the point
 ↓
16:30 departure
 ↓
17:00 back to the port then back to the hotel.

What to bring

Please wear the clothing that even get wet is ok.

Meeting place・Time

We will let you know the pick-up time in the afternoon the day before tour day.

Assembly point

Naha city hotel.

Dissolution place

Naha city hotel.

Transportation Companies

CeruleanBlue

▼Schedule・Read the details▼
Precautions
Precautions

・We will let you know the pick-up time in the afternoon the day before tour day.
・At the time of your application, please inform the customer mobile number, age and hotel.
・The minority need a signature of the guardian to consent.
・Please wear the clothing that even get wet is ok.
・Depend on the sea condition, the tour may be cancel, or change to the other point. Please understand it.
・We can accept the foreign who can understand japanese.

Cancellation policy

If for any reason, the customer cancels his or her reservations, he or she will have to pay the following cancellation fees. Furthermore, please keep in mind that any bank transfer fees will be the customer's responsibility.
Cancellation 8-10 days before reservation date・・・20% of the original price
Cancellation 2-7 days before the reservation date・・・30% of the original price
Day before the reservation date・・・50% of the original price
On the reservation date・・・100% of the original price