【Departure from Okinawan Middle region 】Sunset SUP near the Blue cave!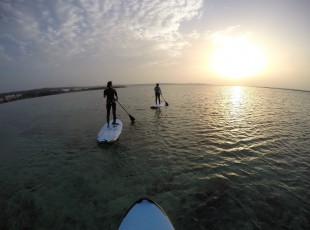 Sunset SUP near the Blue cave.
Enjoy the great view of the Okinawan sea during the sunset while practicing SUP (Stand up Paddle Surfing)!!
The instructor will be teaching every participant personally. It's really easy, you will be doing it on your own in no time !
This activity is very safe, it takes place on shallow and calm waters with very few waves, and you will be wearing a life jacket!
Paddling while admiring an astonishing sunset will make an unforgettable memory!
Plan Details
Operating days


All season.

Venue

Onna-son

Time required

Approximately 2.5 hours

Number of passengers required

2 adults

age limit

6 to 59 years old

Pick-up guide

No pick up service available.

Reservation deadline

2 days 12 before
Please contact us for any inquiries after the WEB reservation deadline:
TEL: +81-98-941-6828 (8:00~21:00)

Payment method
Sun set SUP tour

Price

What is included

Round-trip boarding fee (Kayak)、Life jacket、 Insurance、 Tax

Schedule

Meeting time: 1 hour before the sunset
↓
Receipt, wear the wet suit(30min)
↓
Move to the point (10min)
↓
After arriving the point, practice and lesson(15min)
↓
Tour with instructor(50min)
↓
After the tour back to shop(10min)
↓
Dismiss after the shower

What to bring

On the swimsuit wear, bath towel, shoes, please bring by yourself.

Meeting place・Time

1 hour before the sunset(the time will be informed when you make a reservation)

Parking lot

There is parking place with fee, but when the parking lot of the port is full, please park the car at the free parking lot out side of the port

Assembly point

Onna-son marine station Okinawa (map code 206 096 321)

Dissolution place

Onna-son marine station Okinawa

Transportation Companies

Salty Rays

▼Schedule・Read the details▼
Precautions
Precautions

・Please pay in advance.
・The meeting time will be announced after making the reservation.
・Please arrange your own swimsuit wear, bath towel, sunscreen and shoes.
・Tour might be cancelled on the same day due to weather conditions. In the event of a cancellation due to weather conditions, you can ask for a full refund or a date change.
・Before making the reservation, please read carefully the terms and conditions.
・For safety reasons, you should wear the wet suit, aqua shoes and life jacket provided.
・Shower room, changing room and rest room available.
・Please provide us with your phone number, age, height, weight, foot size and your hotel's name.

Cancellation policy

If for any reason, the customer cancels his or her reservations, he or she will have to pay the following cancellation fees. Furthermore, please keep in mind that any bank transfer fees will be the customer's responsibility.
Cancellation 8-10 days before reservation date・・・20% of the original price
Cancellation 2-7 days before the reservation date・・・30% of the original price
Day before the reservation date・・・50% of the original price
On the reservation date・・・100% of the original price