【Departure from Onna Village】 2 years old +! ♫ Beach picnic & Snorkeling tour for¥5,000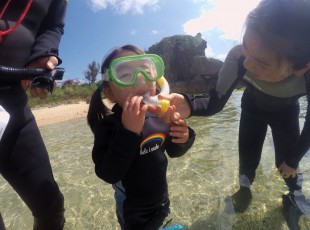 ★★Video available!!★★ Natural beach situated in Onna village!! Snorkeling and swimming plan!!

This beach has very swallow waters and since it's surrounded by coral reefs, the waters are very calm and they have almost no waves, making it perfect for small children. 


Furthermore, the waters are crystal clear and full of colorful tropical fishes that want to explore the magical waters with you



プラン詳細
Venue

Beach in Onna village

Time required

Approximately 2 hours

Number of passengers required

At least 2 people.

参加可能年齢

2 ~ 75 years old

Pick-up guide

※Pickup service available between Chatan and Naga City area. If you wish to use it, please let us know at the time of your reservation.


Reservation deadline

2 days 12 before
Please contact us for any inquiries after the WEB reservation deadline:
TEL: +81-98-941-6828 (8:00~21:00)

Payment method
①8:15 assemble Beach picnic & Snorkeling

Price

Adult (12 ~ 75 years old) &yen5,000
Child (5 ~ 11 years old) &yen5,000
Infant (2 ~ 4 years old) &yen5,000

What is included

All equipment, Bait, Insurance, Tax

Schedule

8:15 assemble Summer Resort Okinawa
↓
Quick paper work! Wear wetsuit. Explain the rules.
↓
First, snorkeling on the ford. ( approximately 30 minutes)
↓
Second, let`s go to the sea and sea tropical fish and coral. ( approximately 30 minutes)
↓
Move back to shop.

What to bring

On the swimsuit wear, bath towel, sunscreen, shoes, please bring by yourself.

Price note

Meeting place・Time

8:15 assemble Summer Resort Okinawa

Parking lot

There are free parking lot.

Assembly point

8:15 Summer Resort Okinawa (1-2679 Yamada Onna Village Kumigami-gun)

Dissolution place

Summer Resort Okinawa

Transportation Companies

▼Schedule・Read the details▼
10:15 assemble Beach picnic & Snorkeling

Price

Adult (12 ~ 75 years old) &yen5,000
Child (5 ~ 11 years old) &yen5,000
Infant (2 ~ 4 years old) &yen5,000

What is included

All equipment, Bait, Insurance, Tax

Schedule

10:15 assemble Summer Resort Okinawa
↓
Quick paper work! Wear wetsuit. Explain the rules.
↓
First, snorkeling on the ford. ( approximately 30 minutes)
↓
Second, let`s go to the sea and sea tropical fish and coral. ( approximately 30 minutes)
↓
Move back to shop.

What to bring

On the swimsuit wear, bath towel, sunscreen, shoes, please bring by yourself.

Price note

Meeting place・Time

10:15 assemble Summer Resort Okinawa

Parking lot

There are free parking lot.

Assembly point

10:15 Summer Resort Okinawa (1-2679 Yamada Onna Village Kumigami-gun)

Dissolution place

Summer Resort Okinawa

Transportation Companies

▼Schedule・Read the details▼
12:15 assemble Beach picnic & Snorkeling

Price

Adult (12 ~ 75 years old) &yen5,000
Child (5 ~ 11 years old) &yen5,000
Infant (2 ~ 4 years old) &yen5,000

What is included

All equipment, Bait, Insurance, Tax

Schedule

12:15 assemble Summer Resort Okinawa
↓
Quick paper work! Wear wetsuit. Explain the rules.
↓
First, snorkeling on the ford. ( approximately 30 minutes)
↓
Second, let`s go to the sea and sea tropical fish and coral. ( approximately 30 minutes)
↓
Move back to shop.

What to bring

On the swimsuit wear, bath towel, sunscreen, shoes, please bring by yourself.

Price note

Meeting place・Time

12:15 assemble Summer Resort Okinawa

Parking lot

There are free parking lot.

Assembly point

12:15 Summer Resort Okinawa (1-2679 Yamada Onna Village Kumigami-gun)

Dissolution place

Summer Resort Okinawa

Transportation Companies

▼Schedule・Read the details▼
14:15 assemble Beach picnic & Snorkeling

Price

Adult (12 ~ 75 years old) &yen5,000
Child (5 ~ 11 years old) &yen5,000
Infant (2 ~ 4 years old) &yen5,000

What is included

All equipment, Bait, Insurance, Tax

Schedule

14:15 assemble Summer Resort Okinawa
↓
Quick paper work! Wear wetsuit. Explain the rules.
↓
First, snorkeling on the ford. ( approximately 30 minutes)
↓
Second, let`s go to the sea and sea tropical fish and coral. ( approximately 30 minutes)
↓
Move back to shop.

What to bring

On the swimsuit wear, bath towel, sunscreen, shoes, please bring by yourself.

Price note

Meeting place・Time

14:15 assemble Beach picnic & Snorkeling

Parking lot

There are free parking lot.

Assembly point

14:15 Summer Resort Okinawa (1-2679 Yamada Onna Village Kumigami-gun)

Dissolution place

Summer Resort Okinawa

Transportation Companies

▼Schedule・Read the details▼
Precautions
Precautions

★Tour might be cancelled due to an insufficient number of participants.
We will contact to you in that event. Thank you for your understanding.★

【On tour day】
※Depending on the sea conditions, the tour may be cancelled due to bad weather. In that event, you may choose another date to participate in the tour or receive a full refund.
※Please arrange your own swimsuit wear, bath towel, sunscreen and shoes.
※Life jacket will be provided, please wear it at all times.
※Participating minors need a signature from their legal guardian to participate. Children under 12 years old need to be accompanied in order to join the tour.
※Free parking lot available.

【Precautions】
※Persons which the following conditions will not be able to participate in this activity: Circulatory or respiratory systems diseases, high blood pressure, otitis media, pregnancy, epilepsy, diabetes, liver failure, hangover or under the influence of alcohol. In addition, accordingly to your health condition on the day of the activity, you might not be able to join us.
※Before making the reservation, please read carefully the terms and conditions.

Cancellation policy

If for any reason, the customer cancels his or her reservations, he or she will have to pay the following cancellation fees. Furthermore, please keep in mind that any bank transfer fees will be the customer's responsibility.
Cancellation 8-10 days before reservation date・・・20% of the original price
Cancellation 2-7 days before the reservation date・・・30% of the original price
Day before the reservation date・・・50% of the original price
On the reservation date・・・100% of the original price