【Departure from Onna】Popular blue cave snorkeling or scuba diving tour ♪ Comfortable 10 minutes ride by boat ¥3,980~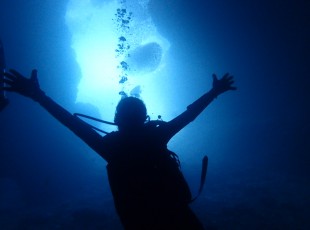 If you come to Okinawa, blue caves are a must see!!! They are a popular spot for all divers around the world.

BLUE CAVE

Just 10 minutes away by boat, making it viable even for those who suffer from sea sickness.

The inside of the blue cave holds a mysterious world

The blue light from the surface of the sea is reflected into the cave, offering a wonderful and mysterious sight.

And what about having a chance to meet some tropical fish inside the blue cave?

※ English speaking staff available at the shop at all times

※ Free camera for rent (Micro SD card not included, ¥1,000)

※ Free available shower room, dressing room, parking lot, locker, and toilet

※ Pickup service is also available (Naha city only)


プラン詳細
Travel days


All season.

Venue

Blue cave in Onna village

Time required

Approximately 2.5-5 hours
Snorkeling / diving time is approximately 1 hour.

Number of Travelers

2 adults.

参加可能年齢

6 years old ~

Pick-up guide

Pickup service is also available.

Deadline of reservation

2 days 12 before
Please contact us for any inquiries or reservations after the website deadline:
TEL 098-941-6828(8:00~21:00)

Payment method
【8:00】Blue cave snorkeling or scuba diving tour.

Price

Snorkeling tour (6-59 years old) &yen3,980
Scuba diving tour (10-59 years old) &yen9,800
(Pickup service included) Snorkeling tour (6-59 years old) &yen7,000
(Pickup service included) Scuba diving tour (10-59 years old) &yen12,000

What is included

Wet suit, equipment, Guide fee, Insurance.
※Free waterproof camera rental available (micro SD card not included, ¥1,000)

Schedule

8:00 assemble at Marine Station in Okinawa
↓ Paperwork, explain rules
9:00 departure

↓ Boat trip (5-10 minutes)

Snorkeling or Scuba diving (40-50 minutes approximately.)

↓ Back to port.


10:00 arrival at the Marine Station.



What to bring

Please arrange your own swimsuit, bath towel, sunscreen and shoes. Available shower room at the harbor.

Meeting place・Time

8:00

Note

If you choose the pickup service, we will let you know the exact pick up time the day before the tour.

Parking lot

Free parking lot available at the Marine Station.

Assembly point

Marine Station Okinawa in Onna village. (恩納村字前兼久9)
Map code: 206 096 321

Dissolution place

Marine Station Okinawa in Onna village.

Transportation Companies

▼Schedule・Read the details▼
【10:00】Blue cave snorkeling or scuba diving tour.

Price

Snorkeling tour (6-59 years old) &yen3,980
Scuba diving tour (10-59 years old) &yen9,800
(Pickup service included) Snorkeling tour (6-59 years old) &yen7,000
(Pickup service included) Scuba diving tour (10-59 years old) &yen12,000

What is included

Wet suit, equipment, Guide fee, Insurance.
※Free waterproof camera rental available (micro SD card not included,¥1,000)

Schedule

10:00 assemble at Marine Station in Okinawa
↓ Paperwork, explain rules
11:00 departure

↓ Boat trip (5-10 minutes)

Snorkeling or Scuba diving (40-50 minutes approximately.)

↓ Back to port.


12:00 arrival at the Marine Station.

What to bring

Please arrange your own swimsuit, bath towel, sunscreen and shoes. Available shower room at the harbor.

Meeting place・Time

10:00

Note

If you choose the pickup service, we will let you know the exact pick up time the day before the tour.

Parking lot

Free parking lot available at the Marine Station.

Assembly point

Marine Station Okinawa in Onna village. (恩納村字前兼久9)
Map code: 206 096 321

Dissolution place

Marine Station Okinawa in Onna village.

Transportation Companies

▼Schedule・Read the details▼
【12:30】Blue cave snorkeling or scuba diving tour.

Price

Snorkeling tour (6-59 years old) &yen3,980
Scuba diving tour (10-59 years old) &yen9,800
(Pickup service included) Snorkeling tour (6-59 years old) &yen7,000
(Pickup service included) Scuba diving tour (10-59 years old) &yen12,000

What is included

Wet suit, equipment, Guide fee, Insurance.
※Free waterproof camera rental available (micro SD card not included,¥1,000)

Schedule

12:30 assemble at Marine Station in Okinawa
↓ Paperwork, explain rules
13:30 departure

↓ Boat trip (5-10 minutes)

Snorkeling or Scuba diving (40-50 minutes approximately.)

↓ Back port.


14:30 arrival at the Marine Station.

What to bring

Please arrange your own swimsuit, bath towel, sunscreen and shoes. Available shower room at the harbor.

Meeting place・Time

12:30

Note

If you choose the pickup service, we will let you know the exact pick up time the day before the tour.

Parking lot

Free parking lot available at the Marine Station.

Assembly point

Marine Station Okinawa in Onna village. (恩納村字前兼久9)
Map code: 206 096 321

Dissolution place

Marine Station Okinawa in Onna village.

Transportation Companies

▼Schedule・Read the details▼
【14:30】Blue cave snorkeling or scuba diving tour.

Price

Snorkeling tour (6-59 years old) &yen3,980
Scuba diving tour (10-59 years old) &yen9,800
(Pickup service included) Snorkeling tour (6-59 years old) &yen7,000
(Pickup service included) Scuba diving tour (10-59 years old) &yen12,000

What is included

Wet suit, equipment, Guide fee, Insurance.
※Free waterproof camera rental available (micro SD card not included,¥1,000)

Schedule

14:30 assemble at Marine Station in Okinawa
↓ Paperwork, explain rules
15:30 departure

↓ Boat trip (5-10 minutes)

Snorkeling or Scuba diving (40-50 minutes approximately.)

↓ Back to port.


16:30 arrival at the Marine Station.


What to bring

Please arrange your own swimsuit, bath towel, sunscreen and shoes. Available shower room at the harbor.

Meeting place・Time

14:30

Note

If you choose the pickup service, we will let you know the exact pick up time the day before the tour.

Parking lot

Free parking lot available at the Marine Station.

Assembly point

Marine Station Okinawa in Onna village. (恩納村字前兼久9)
Map code: 206 096 321

Dissolution place

Marine Station Okinawa in Onna village.

Transportation Companies

▼Schedule・Read the details▼
Precautions
Precautions

*Please pay in advance.
*Snorkeling tour is only available for 5-59 years old. Scuba diving tour is only available for 10-59 years old.
*Please arrange your own swimsuit, bath towel, sunscreen and shoes.
*Persons which the following conditions will not be able to participate in this activity: Circulatory system or respiratory system diseases, high blood pressure, otitis media, pregnancy, epilepsy, diabetes, liver failure, hangover or under the influence of alcohol. In addition, accordingly to your health condition on the day of the activity, you might not be able to join us.
*At the time of your application, please provide us with a mobile phone number (Japanese number), age, height, weight, foot size, eyesight and hotel's name of all participating persons.
*Participating minors need a signature from their legal guardian to consent. Children under 12 years old need to be accompanied in order to join the tour.
*If the waves are calm, it is still possible to do snorkeling even in the event of rain.
*Depending on the sea conditions, the tour may be cancelled due to bad weather. In that event, you may choose another date to participate in the tour or receive a full refund.
*If you lose the camera that you take from our shop, you must to pay ¥25,000. Thank you for your understanding.

Cancellation Fees

If, for any reason, the customer cancels his or her reservations, he or she will have to pay the following cancellation fees. Furthermore, please keep in mind that any bank transfer fees will be the customer's responsibility.
Cancellation is 8-10 days before reservation date・・・20% of the original price
Cancellation is 2-7 days before the reservation date・・・30% of the original price
Day before the reservation date・・・40% of the original price
On the reservation date・・・50% of the original price
After scheduled activities have begun and/or not contacting us at all・・・100% of the original price