【Departure from Onna】Popular blue cave snorkeling or scuba diving tour ♪ Comfortable by boat in 10 minutes ¥3,980~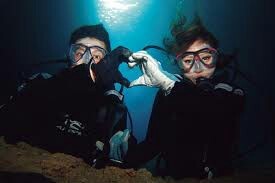 When you come to Okinawa, you must to come here!!! The popular point for all the diver in the world. 

BLUE CAVE

 It takes only 10 minutes by boat, even you are weak in boat you could easy join this tour

Inside the blue cave, it`s a mysterious world

The surface of sea of the blue light is reflected in the cave, beautiful and mysterious sight.

 How about having a chance to meet the tropical fish inside the blue cave


Always have English instructor or English staff in the shop


Free camera for rent (no included SD card ¥1,000)


Shower room, dressing room, parking lot, locker, and toilet are all FREE


The pickup service is also available (only for Naha city)


Plan to detail
Travel days


All season.

Venue

Blue cave in the Onna village

Time required

Approximately 2.5-5 hours
Snorkeling / diving time is approximately 1 hour.

Number of Travelers

2 adult.

Age limit

6 years old ~

Pick-up guide

The pickup service tour is also available.

Deadline of reservation

1 days 12 before
Please contact us after the deadline of WEB reservation.
TEL: +81-98-941-6828 (8:00~21:00)

Payment method
【8:00】Blue cave snorkeling or scuba diving tour.

Price

Snorkeling tour (6-59 years age) &yen3,980
Scuba diving tour (10-59 years age) &yen9,800
(included pickup service)Snorkeling tour (6-59 years age) &yen7,000
(included pickup service) Scuba diving tour (10-59 years age) &yen12,000

What is included

Wet suit, All equipment, Guide fee, Insurance.
※Free waterproof camera (not included SD card¥1,000)

Schedule

8:00 assemble in Marine Station in Okinawa
↓ paper work, explain rules
9:00 departure
↓Move to boat. It`s takes 5-10 minutes by boat.
Snorkeling or Scuba diving approximately 40-50 minutes.
↓
Back to port.
↓
10:00 back to the Marine Station and dismissed after shower.



What to bring

On the swimsuit wear, bath towel, sunscreen, shoes, please bring by yourself.

Meeting place・Time

8:00

Note

If you choose the pickup service tour, we will let you know the exact pick up time 1 day before the tour date in the evening.

Parking lot

There are free parking lot in the Marine Station.

Meeting place

Marine Station Okinawa in Onna village. (恩納村字前兼久9)
Map code: 206 096 321

解散場所

Marine Station Okinawa in Onna village.

Transportation Companies

アズワン沖縄

▼Schedule・Read the details▼
【10:00】Blue cave snorkeling or scuba diving tour.

Price

Snorkeling tour (6-59 years age) &yen3,980
Scuba diving tour (10-59 years age) &yen9,800
(included pickup service)Snorkeling tour (6-59 years age) &yen7,000
(included pickup service) Scuba diving tour (10-59 years age) &yen12,000

What is included

Wet suit, All equipment, Guide fee, Insurance.
※Free waterproof camera (not included SD card¥1,000)

Schedule

10:00 assemble in Marine Station in Okinawa
↓ paper work, explain rules
11:00 departure
↓Move to boat. It`s takes 5-10 minutes by boat.
Snorkeling or Scuba diving approximately 40-50 minutes.
↓
Back to port.
↓
12:00 back to the Marine Station and dismissed after shower.


What to bring

On the swimsuit wear, bath towel, sunscreen, shoes, please bring by yourself.

Meeting place・Time

10:00

Note

If you choose the pickup service tour, we will let you know the exact pick up time 1 day before the tour date in the evening.

Parking lot

There are free parking lot in the Marine Station.

Meeting place

Marine Station Okinawa in Onna village. (恩納村字前兼久9)
Map code: 206 096 321

解散場所

Marine Station Okinawa in Onna village.

Transportation Companies

アズワン沖縄

▼Schedule・Read the details▼
【12:30】Blue cave snorkeling or scuba diving tour.

Price

Snorkeling tour (6-59 years age) &yen3,980
Scuba diving tour (10-59 years age) &yen9,800
(included pickup service)Snorkeling tour (6-59 years age) &yen7,000
(included pickup service) Scuba diving tour (10-59 years age) &yen12,000

What is included

Wet suit, All equipment, Guide fee, Insurance.
※Free waterproof camera (not included SD card¥1,000)

Schedule

12:30 assemble in Marine Station in Okinawa
↓ paper work, explain rules
13:30 departure
↓Move to boat. It`s takes 5-10 minutes by boat.
Snorkeling or Scuba diving approximately 40-50 minutes.
↓
Back to port.
↓
14:30 back to the Marine Station and dismissed after shower.

What to bring

On the swimsuit wear, bath towel, sunscreen, shoes, please bring by yourself.

Meeting place・Time

13:30

Note

If you choose the pickup service tour, we will let you know the exact pick up time 1 day before the tour date in the evening.

Parking lot

There are free parking lot in the Marine Station.

Meeting place

Marine Station Okinawa in Onna village. (恩納村字前兼久9)
Map code: 206 096 321

解散場所

Marine Station Okinawa in Onna village.

Transportation Companies

アズワン沖縄

▼Schedule・Read the details▼
【14:30】Blue cave snorkeling or scuba diving tour.

Price

Snorkeling tour (6-59 years age) &yen3,980
Scuba diving tour (10-59 years age) &yen9,800
(included pickup service)Snorkeling tour (6-59 years age) &yen7,000
(included pickup service) Scuba diving tour (10-59 years age) &yen12,000

What is included

Wet suit, All equipment, Guide fee, Insurance.
※Free waterproof camera (not included SD card¥1,000)

Schedule

14:30 assemble in Marine Station in Okinawa
↓ paper work, explain rules
15:30 departure
↓Move to boat. It`s takes 5-10 minutes by boat.
Snorkeling or Scuba diving approximately 40-50 minutes.
↓
Back to port.
↓
16:30 back to the Marine Station and dismissed after shower.


What to bring

On the swimsuit wear, bath towel, sunscreen, shoes, please bring by yourself.

Meeting place・Time

14:30

Note

If you choose the pickup service tour, we will let you know the exact pick up time 1 day before the tour date in the evening.

Parking lot

There are free parking lot in the Marine Station.

Meeting place

Marine Station Okinawa in Onna village. (恩納村字前兼久9)
Map code: 206 096 321

解散場所

Marine Station Okinawa in Onna village.

Transportation Companies

アズワン沖縄

▼Schedule・Read the details▼
【16:00】Blue cave snorkeling or scuba diving tour(April~Oct Only)

Price

Snorkeling tour (6-59 years age) &yen3,980
Scuba diving tour (10-59 years age) &yen9,800

What is included

Wet suit, All equipment, Guide fee, Insurance.
※Free waterproof camera (not included SD card¥1,000)

Schedule

16:00 assemble in Marine Station in Okinawa
↓ paper work, explain rules
17:00 departure
↓Move to boat. It`s takes 5-10 minutes by boat.
Snorkeling or Scuba diving approximately 40-50 minutes.
↓
Back to port.
↓
18:00 back to the Marine Station and dismissed after shower.


What to bring

On the swimsuit wear, bath towel, sunscreen, shoes, please bring by yourself.

Meeting place・Time

16:00

Note

※Hotel pick up serviece is not included.

Parking lot

There are free parking lot in the Marine Station.

Meeting place

Marine Station Okinawa in Onna village. (恩納村字前兼久9)
Map code: 206 096 321

解散場所

Marine Station Okinawa in Onna village.

Transportation Companies

アズワン沖縄

▼Schedule・Read the details▼
Precautions
Precautions

*Please pay in advance.
*Snorkeling tour is only available for 5-59 years age. Scuba diving tour is only available for 10-59 years age.
*On the swimsuit wear, bath towel, sunscreen, shoes, please bring by yourself.
*Circulatory system, respiratory system disease, high blood pressure, otitis media, pregnant, epilepsy, diabetes, liver failure, hangover, who is like drinking all day, does not offer participation. In addition,due to the health condition of the day, we may not be able to join us.
*At the time of your application, please inform the mobile number(contact possible way from Japan), age, height, weight, foot size, eyesight, hotel`s name all of you.
*The minority need a signature of the guardian to consent. The children under 12 years old have to join the tour with parents.
*There are no pick-up service. Please go to the meeting place by yourself.
*If the waves are calm, it is possible to do snorkeling even raining.
*Depends on the sea conditions, if the condition is bad the tour may be cancel. You could change to the other date or get all refund.
*If you lose the camera that you take from our shop, you must to pay ¥25,000. Thank you for your understanding.


Cancellation Fees

If, for any reason, the customer cancels his or her reservations, he or she will have to pay the following cancellation fees. Furthermore, please keep in mind that any bank transfer fees will be the customer's responsibility. Cancellation is 8-10 days before reservation date・・・20% of the original price Cancellation is 2-7 days before the reservation date・・・30% of the original price Day before the reservation date・・・40% of the original price On the reservation date・・・100% of the original price After scheduled activities have begun and/or not contacting us at all・・・100% of the original price