【Taxi or Private charter car】Star gazing at famous spots in Okinawa!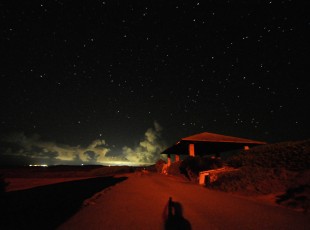 Recommended by the locals, this tour visits perfect spots for stargazing of the Okinawan sky.
Usually unavailable to tourists, this tour is perfect for a romantic escape

Okinawa is not just beaches and sunny days. At night time the Okinawan sky lights up with thousands of stars. If the weather is good enough you can even spot the milky way at plain sight!
※This tour does not include a guide. We will show you to the spot and then you can freely enjoy the tour on your own.
Plan Details
Operating days


All year round.

Venue

Southern part of Okinawa

Time required

Approximately 3 hours

Number of passengers required

2 adults

Reservation deadline

2 days 16 before
For any inquiries after the WEB reservation deadline, Please contact us at
TEL: +81-98-941-6828 (8:00~21:00)

Payment method
Stargazing tour (Taxi)

Price

What is included

Pick up service, Insurance

Schedule

※we will inform you about the exact pick up time 1 day before the tour.

20 : 30 Aprox. Pick up at your hotel (Naha city only)

~ Departure to the stargazing spot (Mibaru beach . Oojima)

23 : 00 Back to the hotel

Meeting place・Time

Naha city Hotel (we will let you know the exact pick up time the day before the tour)

Additional options

Assembly point

Hotel in Naha city

Dissolution place

Hotel in Naha city

Transportation Companies

CeruleanBlue

▼Schedule・Read the details▼
Precautions
Precautions

・We will contact you the day before the tour to inform you about the pickup time and place.
・We will guide you to the spot and then you can freely enjoy the tour by yourselves.
・Schedule is subject to change due to weather conditions.
・Underage participants need a written consent of their legal guardian.


Cancellation policy

If for any reason, the customer cancels his or her reservations, he or she will have to pay the following cancellation fees. Furthermore, please keep in mind that any bank transfer fees will be the customer's responsibility.
Cancellation 8-10 days before reservation date・・・20% of the original price
Cancellation 2-7 days before the reservation date・・・30% of the original price
Day before the reservation date・・・50% of the original price
On the reservation date・・・100% of the original price