【Naha departure only/Reasonable set plan】 Meet the world biggest mammal! Whale watching tour & appreciate Ryukyu traditional dance! Okinawa homemade dishes Dinner set plan ¥8,280→¥7,780~‼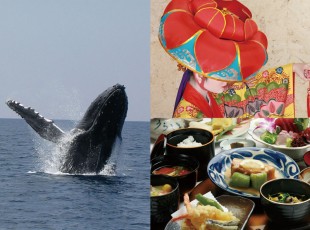 This is an activity recommended for the winter season. The Humpback Whale migration's period is from December to April.
Every year, these whales come to the warm waters of Okinawa's Zamami Island to breed and feed before continuing on their journey.
Our tour offers a fun and educational encounters with these magnificent creatures.
The Humpback whale average size is 15m length and 30t weight.
Don't miss this chance to live an unique and wonderful experience!
After the tour, dinner at the Okinawan pub with traditional live music and homemade dishes!
Now with a 500¥ discount!
プラン詳細
Operating days

2018-12-22 〜 2019-04-07

Venue

The waters between Okinawa main island and Kerama islands.

Time required

Approximately 5 hours


Number of passengers required

At least 2 adults

参加可能年齢

No limit

Pick-up guide

If you wish to start the tour from Naha, free pick-up service is available from your hotel (Naha city hotel's only). If you wish to use this service, please inform us at the time of the reservation.

Reservation deadline

3 days 18 before
Please contact us for any inquiries after the WEB reservation deadline:
TEL: +81-98-941-6828 (8:00~21:00)

Payment method
【Departure from Naha】 AM tour& 「Ura-shima」 Dinner set

Price

Adult A course(12~/11kinds of dishes) &yen7,780
Adult B course(12~/13kinds fo dishes) &yen9,400
Adults C course(12~/14kinds of dishes) &yen11,560
Kids(5~11/children menu) &yen5,160
Infant(under4/no meal) &yen1,500

What is included

Boarding fee/Insurance/Dinner expense

【Meal】
【A course】 Mimi-ga dish / Vermicelli / Sashimi / Rafute (simmered pork) / Okinawa pork shabu shabu / Fried foods / Egg steamed rice / Miso soup / Pickled vegetables / Dessert

【B course】 Mimi-ga dish / Vermicelli / Jimmami tofu (peanut tofu) / Sashimi / Rafute (pork simmered) / Okinawa pork shabu shabu / Sea urchin and shrimp grilled / Egg steamed rice / Miso soup / Pickled vegetables / dessert

【C course】 Appetizer dish / Mimi-ga dish / Vermicelli / Jimmami tofu (peanut tofu) / Sashimi / Rafute (simmered pork) / Spiny lobster Sea urchin grilled / Deep-fried food / Egg steamed rice / Rice / Crab Miso soup / pickled vegetables / dessert

【Children's menu】 Sashimi / Jimmy tofu (peanut tofu) / Rafute (simmered pork) / Umukushi andaki / Egg steamed rice / miso soup / pickles / dessert

Schedule

8:30 Meeting at the Miegusugku port waiting room
9:00 Departure
~Tour proceed for 3 h (maximum)~
Around noon, return and dismiss

19:00~
Move to the restaurant by yourselves.
Enjoy the meal and the live music.



What to bring

Preparation for cold weather, Water poof stuff

Meeting place・Map

Naha Miegusuku Port
3 Chome-20 Nishi, Naha-shi, Okinawa-ken [Map]

Dragon King's Palace of Taste and Dance ""Urashima""
2 Choume-10-6 Kume, Naha-shi, Okinawa-ken [Map]



Meeting place・Time

8:30 Meeting at the Miegusugku port waiting room

Note

Parking lot

Fee parking lot ¥500 per day

Assembly point

*The hotel you stay (requester that stays in Naha hotel/pick-up time will be announced the day before.)
*Meeting 8:30 at the Miegusuku port

Dissolution place

*The hotel you stay (requester that stays in Naha hotel)
※please go to the restaurant until 19:00 by yourselves.
*Around 12:00, return at the Miegusuku port
※after the dismiss at the port, please go to the restaurant until 19:00 by yourselves.

Transportation Companies

▼Schedule・Read the details▼
【Departure from Naha】 PM tour& 「Ura-shima」 Dinner set

Price

Adult A course(12~/11kinds of dishes) &yen7,780
Adult A course(12~/11kinds oAdult B caourse(12~/13kinds fo dishes)f dishes) &yen9,400
Adults C course(12~/14kinds of dishes) &yen11,560
Kids(5~11/children menu) &yen5,160
Infant(under4/no meal) &yen1,500

What is included

Boarding fee/Insurance/Dinner expense

【Meal】
【A course】 Mimi-ga dish / Vermicelli / Sashimi / Rafute (simmered pork) / Okinawa pork shabu shabu / Fried foods / Egg steamed rice / Miso soup / Pickled vegetables / Dessert

【B course】 Mimi-ga dish / Vermicelli / Jimmami tofu (peanut tofu) / Sashimi / Rafute (pork simmered) / Okinawa pork shabu shabu / Sea urchin and shrimp grilled / Egg steamed rice / Miso soup / Pickled vegetables / dessert

【C course】 Appetizer dish / Mimi-ga dish / Vermicelli / Jimmami tofu (peanut tofu) / Sashimi / Rafute (simmered pork) / Spiny lobster Sea urchin grilled / Deep-fried food / Egg steamed rice / Rice / Crab Miso soup / pickled vegetables / dessert

【Children's menu】 Sashimi / Jimmy tofu (peanut tofu) / Rafute (simmered pork) / Umukushi andaki / Egg steamed rice / miso soup / pickles / dessert

Schedule

13:00 Meeting at the Miegusugku port waiting room
13:30 Departure
~Tour proceed for 3 h (maximum)~
Around16:30, return and dismiss

19:00~
Move to the restaurant by yourselves.
Enjoy the meal and the live music.



What to bring

Preparation for cold weather, Water poof stuff

Meeting place・Map

Naha Miegusuku Port
3 Chome-20 Nishi, Naha-shi, Okinawa-ken [Map]

Dragon King's Palace of Taste and Dance ""Urashima""
2 Choume-10-6 Kume, Naha-shi, Okinawa-ken [Map]



Meeting place・Time

13:00 Meeting at the Miegusugku port waiting room

Note

Parking lot

Fee parking lot ¥500 per day

Assembly point

*The hotel you stay (requester that stays in Naha hotel/pick-up time will be announced the day before.)
*Meeting 13:00 at the Miegusuku port

Dissolution place

*The hotel you stay (requester that stays in Naha hotel)
※please go to the restaurant until 19:00 by yourselves.
*Around 16:30, return at the Miegusuku port
※after the dismiss at the port, please go to the restaurant until 19:00 by yourselves.

Transportation Companies

▼Schedule・Read the details▼
Precautions
Precautions

*This plan requires advanced reservation and pre-payment.
*Please get to the restaurant by your own means.
※Adult passengers will be asked to pay a facility usage fee (¥100 per person, cash only).
※If you drive by yourself to the Naha meeting place, the parking fee is¥500/day.
If you wish to start the tour from Naha, free pick-up service is available from your hotel (Naha city hotel's only). If you wish to use this service, please inform us at the time of the reservation. We will inform you of the pick up time. Pick up time might vary according to the number of customers using the pick up service, we recommend you getting by your own means to the port when possible.
2. We will offer you a special present.
3. The time of return may change In the event of whales being spotted early.
4. During winter season, sea conditions might be extreme. Pregnant women or infants might not be able to join the tour under extreme sea conditions.
5. Since whales are wild animals and their behavior is not under our control, spotting them is not guaranteed. In that event, you might get a refund or try again.
(Except from 23rd December to 31st January and 1st April to 8th April)
Additionally, if one of the following conditions is met, the tour might be deemed as concluded:
●If a whale's blow is spotted from a long distance.
●If only part of the customers observe the whale.
6. Due to weather or sea conditions, the schedule is subject to change, or the tour might be cancelled. In that event, full refund or date change will be offered.
7. Please have your belongings readily protected against cold and waterproofed beforehand, no means to do so will be provided at the boat.
8. Any passenger prone to seasickness should take the adequate medicine before starting the tour.10. 9. Life jacket will be provided, please wear it at all times when riding the boat.
10. Before making the reservation, please read carefully the terms and conditions.
11. Before boarding, please read carefully our safety instructions.

Cancellation policy

If for any reason, the customer cancels his or her reservations, he or she will have to pay the following cancellation fees. Furthermore, please keep in mind that any bank transfer fees will be the customer's responsibility.
Cancellation 8-10 days before reservation date・・・20% of the original price
Cancellation 2-7 days before the reservation date・・・30% of the original price
Day before the reservation date・・・50% of the original price
On the reservation date・・・100% of the original price